---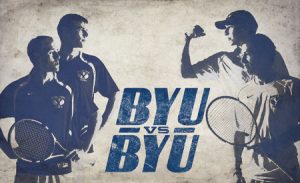 When the balls stopped bouncing in the men's doubles portion of the USTA/ITA Mountain Regional Tennis Championships, two teams were left standing—both from BYU. But the final would be played on a Sunday, meaning BYU would forfeit, twice. Under the unusual circumstances, however, BYU was granted permission to hold the Cougars vs. Cougars matchup in Provo the following Tuesday.
Coach Brad D. Pearce (BS '99) expressed admiration for how his players "[took] the Sunday issue in stride," particularly since three of the four players involved are not Latter-day Saints. In the same tournament, BYU's Evan V. Urbina ('11) had qualified for the singles semifinal but forfeited because the match would be played on a Sunday as well.
In the regional doubles final, Thomas Q. Shubert ('11) and Spencer E. Smith ('13) faced Patrick B. Kawka ('14) and Urbina. The standing-room-only match, held at BYU, was surprisingly quiet at first. "I think everyone was a little confused about how to support one team or the other," says Pearce. His solution? He divided the crowd in half and told one section to cheer for the team in blue jerseys and the other to cheer for the team in white. "Things picked up after that," he says with a smile.
"Who people were cheering for really didn't matter because it was all BYU," says Shubert. "It was a win-win situation."
The match ended in a 9–7 victory for Shubert and Smith, who went on to the National Indoor Tennis Tournament in New York City, held at the site of the U.S. Open. Losses in the first round and the consolation round ended the duo's tournament hopes. The team is now entering the winter season, ready to defend last year's undefeated MWC and NCAA Mountain Region season. "We've got some great guys on the team and have a lot to look forward to," says Pearce.