A high-pressure lab prepares journalism students for the frenetic world of broadcast journalism.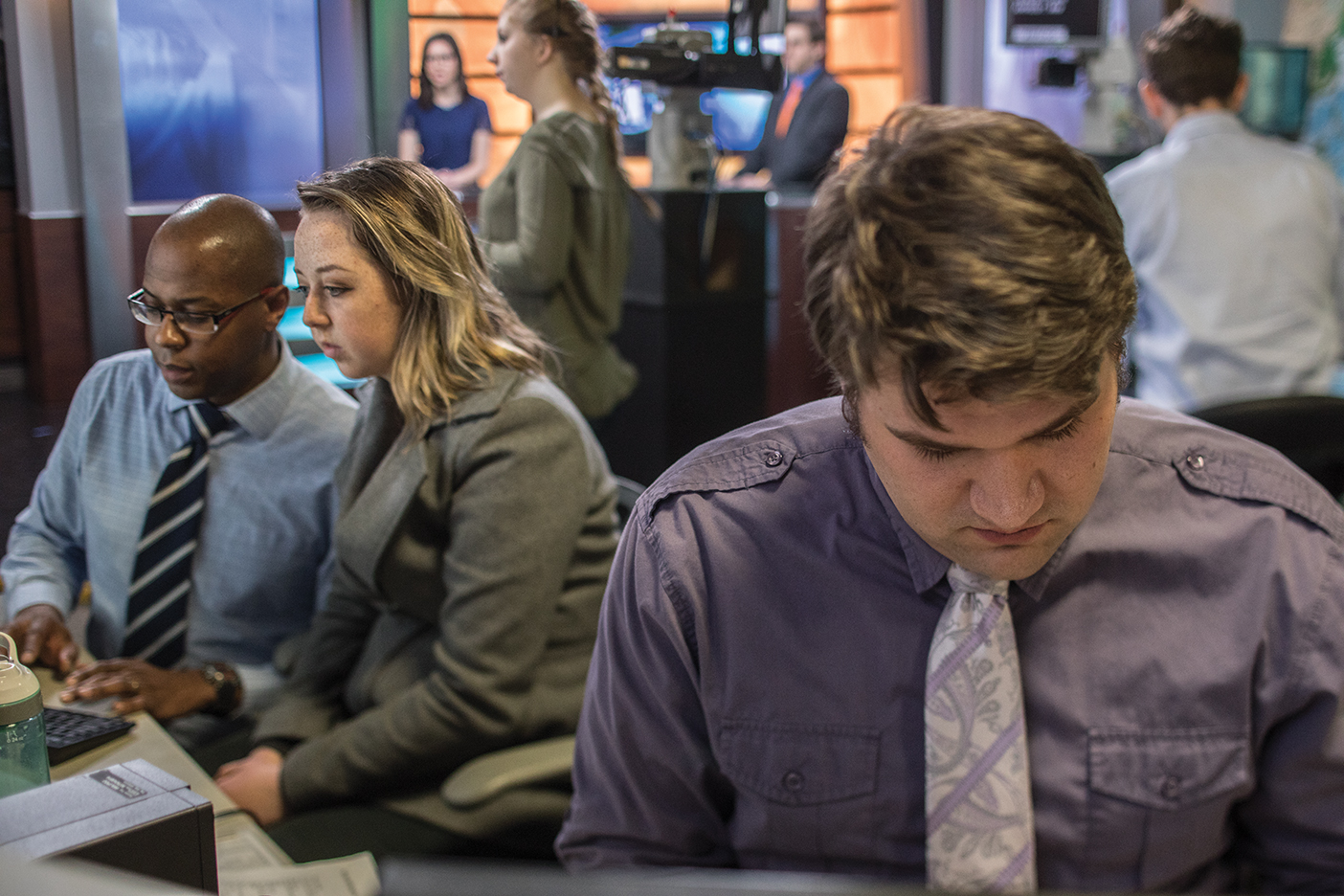 11:04 a.m.: The room pulses with humming voices, clacking keyboards, and buzzing urgency. The rehearsal was due to start four minutes ago. Earpieces are adjusted, cameras shifted, and lights tilted.
It's go time in the ElevenNews Broadcast Lab on a snowy February morning, and the first live broadcast of the winter 2017 semester is less than an hour away. For several students, this will be their first time working with live news, and the anticipation—mingled with some anxiety—is palpable.
11:11: "Yes, we should have started rehearsal already," says news director Othello L. Richards Jr. (BA '03). A voice calls out: "Aley, we need you on set!"
Under the guidance of faculty mentors, students report, produce, and anchor ElevenNews at Noon, a live 27-minute show, every weekday for viewers on KBYU-TV and the internet. In the collaboration between four broadcast-reporting and -producing classes, students cover everything from local court cases to national elections as they prepare for the broadcast-journalism industry. The nationally recognized program regularly receives awards—including the prestigious Hearst and Gracie Awards—and graduates are in high demand. "You could go to almost any city in America and you'll find a BYU graduate working in television," says professor and TV reporting veteran J. Robert Walz (BA '82).
11:15: The preshow run-through is underway. Cameras pan to the student anchors, monitors display opening graphics, the teleprompter starts to roll.
Off set, producing student McKenna K. King ('18) applies foundation to one reporter while others whisper through their scripts. "The camera emphasizes everything," says King. "So, when you're shiny, you look shinier. It's good to just touch up."
For the first four weeks of the semester, beginning students learned and practiced the basics of interviewing, filming, editing, and reporting. "The greatest satisfaction in this job," says Richards, "is watching them start off scared, intimidated, and nervous, and then by the end of the semester, they're confident and smooth on the air. It's incredible."
11:22: "We've got to change that script," calls Richards from the control room. "We can't convict someone if they're still in court—he's not a murderer yet."
From day one, students air their homework on live television for anyone to see. "Everything has to be A work that goes on the air; . . . everything has to be accurate," says Richards. "It's real life. We're telling the stories of real people, and our stories affect them."
11:41: The run-through is finished, and the lab's operations coordinator, L. Alan Neves, gives some final tips before the live broadcast: "Put a bit more space before and after the sound bites so the video doesn't freeze."
Preparations for the noon show began much earlier that morning, with some reporters coming in at 6:30 a.m. "Everything has to be done by 10:45," says Alexandra F. Burch ('17), a reporting student. "It's a lot of work and not a lot of time, so you've got to put in some extra hours."
"The most stressful part is that you're a one-man band," says King of reporting. "It's all you. You film your video. You write your script. You edit your video. You present the story. And you've got to meet all your deadlines."
11:52: "Getting close, guys," says Richards. "It's critical that we start the show at 12 o'clock dot zero zero."
Burch says working in the lab can sometimes feel frenzied. "You face a hard deadline of going on live TV, and it's merciless. It definitely can be chaotic and loud, but good stuff comes out of the madness."
11:59: The noise settles down as everyone makes their final preparations. "Are you ready for this?" "Quiet on set." "10, 9, . . ."