A trio of BYU students made it to the semifinals of NBC's Capital One College Bowl.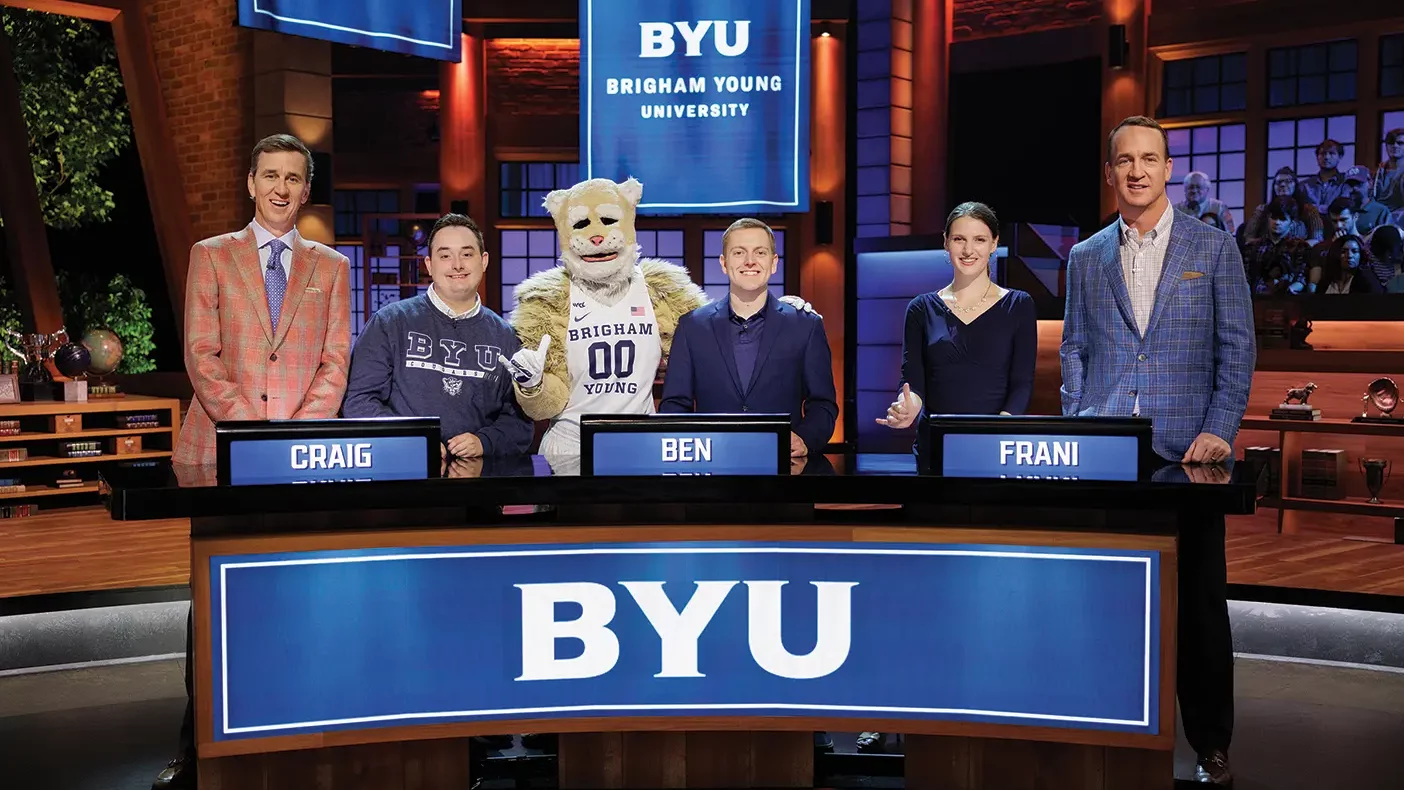 "What is the national spice of Hungary?"
The answer hovered just out of reach for Benjamin C. Potter ('23), captain of a team of BYU students on NBC's Capital One College Bowl, a primetime trivia show that had students from 16 schools competing for scholarships—and bragging rights. After defeating Notre Dame and Penn State, they were up against Columbia for a spot in the finals. The pressure was on.
Potter turned to teammate and cooking aficionado Craig A. Walker ('25) and shared the one thing he could remember about the spice in question: "You put it on deviled eggs." With that cue Walker nailed it—paprika—and won 20 points.
"That moment encapsulates our team," says Potter. "We were well balanced." The trio was rounded out by Frances E. King ('23). Walker adds: "I had no clue about the national spice of Hungary—that's not something a normal person would know. But we deciphered the question together. None of us could answer it alone."
Ultimately Columbia won the match with a record-high score before falling to Georgia in the finals. College Bowl originated in the 1960s and was rebooted last year with football hall-of-famer Peyton Manning and his older brother, Cooper Manning, as hosts. The Mannings, says King, "made a point of welcoming us. Even off camera Cooper was cracking jokes and Peyton chuckling."
King, Potter, and Walker all competed in quiz bowl before college. At BYU they joined an unofficial trivia group, and eventually they were cast by NBC for College Bowl. On set the trio was cheered by a backflipping Cosmo, and between takes they watched Jeopardy!, now cohosted by Kenneth W. Jennings (BS '00), BYU's most famous trivia champion.
As semifinalists each of the BYU students won $20,000 in scholarships.
"No regrets," says Potter, who earmarked his prize to help fund medical school next fall. "We were really happy with how it all went."