---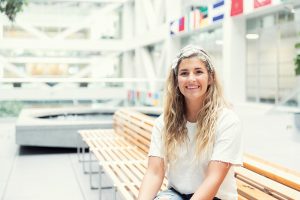 Not many 19-year-olds are established business owners, selling products across the country, but junior Savanna Allred Gallacher ('19) is anything but typical. And her beauty company, Tossd, has been helping a South American orphanage stay afloat for the past three years.
At 16 Gallacher decided to spend part of her summer in the heart of the Andes, taking care of 30 children at Los Pequeñitos de OSSO, a special-needs orphanage in Cuenca, Ecuador. With conditions from cerebral palsy to severe autism, most of the children at the orphanage could not walk or talk.
All day, every day, Gallacher looked after the orphans, from toddlers to bedridden adults. She changed their diapers; fed them breakfast, lunch, and dinner through feeding tubes; gave them their medication; and played with them. The children captured Gallacher's heart.
Shortly before she planned to return home, Gallacher discovered the orphanage had a serious problem—it was out of money. "It was horrible," she remembers. If the orphanage were to close, the children "would literally be on the streets."
The orphanage was able to scrape by and stay open, but Gallacher knew they needed long-term help. That's when she started selling Tossd's first product—an organic salt spray made from Hawaii Kai salt and coconut oil. With every bottle sold, Tossd donates $1 to Los Pequeñitos orphanage.
Now the entrepreneurship major continues to grow her company with the help of professors and fellow students. "Everyone is so willing to help and give input on things that I can do better," Gallacher says.
A key mentor has been entrepreneurship professor Craig W. Earnshaw (BS '77), who advises Gallacher on the strategy of expanding her company and brand. "We talked about logistics," says Earnshaw, "how to expand her market, get into stores, build her brand, and expand her company."
And it's working. Tossd is now selling in 20 stores across nine states and on the company's website. "[Gallacher's] future is limitless because she has vision and grit," says Earnshaw. "She knows what she wants to do, and she has the perseverance to get there."
With her success, Gallacher is now donating funds each month to Los Pequeñitos. The orphanage uses the donations to buy vital supplies—medication, food, and clothing.
It's a lot of work for Gallacher, who is still a full-time student. But she says the children keep her motivated. Every month the orphanage sends her a handwritten thank-you note with pictures of the children for whom she is providing medical treatment. "I realize they are struggling so much more than I ever will be," says Gallacher. "So I know this is just something little I can do to help contribute."