---
Using her natural talents, creative determination, 
and hard work, Dian Thomas has overcome seemingly 
insuperable odds to achieve success.
Best-selling author, professional speaker, and television personality Dian Thomas (BS '68) can spark a fire using two batteries. She can then bake a meatloaf in a hollowed-out onion over coals lit from that fire. But this outdoor enthusiast says what really launched her career was her alma mater.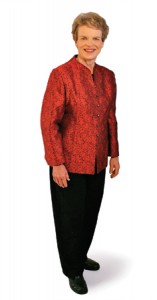 "BYU ignited my career and provided the foundation to take me all the way to national television," says Thomas, who was on The Today Show for eight years, ABC's Home Show for six years, and a cable show for three. She has also written 18 books, including several best sellers.
Thomas first studied to be an educator, but after teaching three years at Orem Junior High School, she returned to BYU to earn a master's degree in home economics education that would change her life. Her thesis detailed how she taught camping and outdoor cooking to students and became the basis of Roughing It Easy, the first of her New York Times best sellers.
"BYU was wonderful," she says. "BYU Press published Roughing It Easy in 1974, and Rick Bailey marketed it widely."
A year earlier, Thomas had joined the traveling BYU Education Week circuit. After her book's publication, she worked double-time on the road. She promoted her books and received interviews in the mornings and taught at Education Week in the afternoons.
Bailey set up her interviews, and Lynn McKinlay (BA '55), an educator and professional speaker, analyzed her presentations at Education Week, giving her suggestions for how to improve.
McKinlay's advice became particularly useful when Thomas landed a coveted spot on The Tonight Show with Johnny Carson in 1975. "He told me not to wait for Mr. Carson to lead me through that interview. I needed to take the lead and let him follow, thus setting him up to entertain the audience with off-the-wall comments."
She followed McKinlay's advice, and after a lively segment, Carson whispered during the commercial, "I'm going to promote your book." Roughing It Easy sold more than 1 million copies and stayed on the New York Times best-sellers list all summer.
"He really opened doors for me," she says. "Once you did the Carson show, everybody wanted you."
After that, Thomas made occasional appearances on The Today Show for three years before she saw an opening to make her presence more permanent. "I was promoting my third book, Backyard Roughing It Easy, on the set with Tom Brokaw. I had turned a wagon into a barbecue using dirt and coals. Brokaw was flipping burgers from a shovel used as a frying pan; I was heating hot dogs on the end of a pitchfork. Brokaw seemed incredulous and said, 'Dian, what if your friends are drunk and [accidentally] sit on your barbecue?' I said, 'Tom! Don't worry about it. You'll just have rump roast!'"
After that, the cast said she had outdone them all, and she knew the day had come to ask Brokaw for a regular spot. Within a week she had a contract and was on The Today Show for the next eight years.
Thomas' career took off. She continued writing books, made thousands of personal appearances, and became a national spokesperson for divisions of Kraft Foods, Procter & Gamble, and numerous other companies.
Everything came to a halt, however, when Thomas took three years off to care for her ailing parents. She had battled weight for several years, and after her parents' deaths, she realized her weight had become a health issue. "Through all the stress and the 25 years of travel and tasting wonderful food, I had gone from 180 to 326 pounds."
She was unhappy about the weight, but it took a vacation to change gears. "I went to New York City with a friend and could hardly move; my knees hurt so much. We had to take cabs, and when I got home, I said, 'That's it. I'm done.'"
She started swimming. She rode her bike two hours a day, even though it left her exhausted. She also found a counselor, Jackie Keller, who helped her create a health plan. Thomas still mails a food diary to Keller daily and consults with her weekly.
Six years later, Thomas has lost 125 pounds and gained a new life. "Last year I rode my bike across Iowa in one week, almost 500 miles. I did a 100-mile day, something I never dreamed I could do. I'm returning my body to health." Thomas plans to shed 15 to 20 additional pounds and has precise portions in her refrigerator and freezer. And she's written a book called Tipping the Scales in Your Favor.
Additionally, Thomas spends about a fourth of the year in China, where she directs several tours and spends time biking in the countryside with new friends. She says, "My passion is helping others put their lives together and have a healthier life."
So You Can't Read
What do you do if you want to go to BYU but spelling and writing are a challenge and you score 14 out of 100 on a reading skills test?
If you're Dian Thomas (BS '68), you apply anyway and figure out how to maneuver around the required tests. That's how the best-selling author and motivational speaker earned two college degrees.
"My first year was grueling," says Thomas. "I had struggled with reading all through school; college was worse."
Not willing to concede defeat, she got an idea while working at the BYU Bookstore. "I was helping blind students find their books and thought, 'I'll get others to help me.'" Her parents read to her on the weekends. She surrounded herself with smart friends. And she took one-on-one reading lessons.
The irony of becoming a best-selling author is not lost on Thomas. "I like to tell others to go for their dreams. People will come into your life to help you reach your goals."
Watch Thomas tell how BYU ignited her career at more.byu.edu/dianthomas.