---
Communication for a Better Community
I had the chance to use my public relations degree right in my neighborhood. The homeowner's association board had taken action that was against the will of the community and in direct violation of the community bylaws. Rather than paying costly legal fees to fight it, I developed a communication plan to involve my neighborhood in protesting the action. Much like the campaigns I carried out in the classrooms of BYU, this one included creating flyers, collecting contact information, coordinating with volunteers, and writing accurate, convincing statements to inspire participation and deliver the message. Instead of receiving a grade for my effort, this time my end result was a new network of dedicated neighbors, the beginnings of a new community communication system, and the end to the inappropriate action by the board.
—Christina Broadbent Erickson (BA '01), Frisco, Texas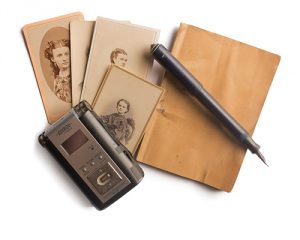 A Great Source of Strength
During my final semester at BYU, I took a family history class from Amy Oaks Long (BA '87, MLIS '88). Sister Long spent a portion of the semester teaching us how to interview family members in order to document their personal histories. That course, coupled with the training I received through BYU's editing minor, gave me the skills to help my loved ones put their life stories into writing.
Four summers ago I spent many hours interviewing my paternal grandparents. After a lot of transcribing, editing, and scanning old photos, the end product was a 300-page volume. That Christmas my grandparents distributed their published life history to their 32 children and grandchildren. I am currently working with my mother-in-law on her life story (when I'm not taking care of toddlers), and I hope to do the same for all of my children's grandparents in the coming years. I look forward to having a library of life stories to draw from during family home evening lessons, talks, and even leisure reading.
I know that our ancestors' stories can be a great source of strength and testimony, and I am grateful that my courses at BYU gave me the skills to help my family record their stories for posterity.
—Emily Ellsworth Miller (BA '07), Toledo, Ohio
Tip: Budget for Life
In these tight economic times, among the greatest tools of my BYU education are the financial management principles I learned. My family and I implement these principles by cutting back on non-fixed expenses like recreational spending and eating out. We also buy groceries on sale, cook simpler meals, and create our own games and musical entertainment. We check out movies, CDs, and books from the library. As I recently cut back on fuel expenses by walking instead of driving, I discovered a gorgeous stream and got some great exercise at the same time.
—Aimee Merrill Wilson (BGS '02), Orem, Utah