---
Abigail Clawson Low (BFA '99) faced a difficult choice. Fresh from graduation, she had to choose between job offers at two graphic design firms in New York City—one on prestigious Fifth Avenue and a smaller firm called Design MW on the lesser-known Wooster Street. Wanting opportunities to learn as well as work, she chose the smaller firm and has never regretted it because there she had wonderful mentoring and more opportunities to stand out. Low's talent and emphasis on continual improvement eventually led her to create her own design studio in New York City.
Low became interested in digital artwork as an 8-year-old, when her father brought home their first computer. "I loved that you could create anything on the screen and print the digital artwork onto an actual piece of paper," she says. Low created drawings of dinosaurs and made play IDs for her siblings with equal zeal. When she was accepted to BYU, she decided to pursue graphic design.
Her BYU professors were design professionals and experts in both theoretical and practical aspects of design. With their help and through BYU's yearly trip to New York City for design majors, Low put together an impressive student portfolio and secured an internship at Design MW, which was the start of her career in New York.
Low's work specializes in the unconventional, and New York designer Kate Spade's company identified her work as having a "one-of-a-kind sensibility [that] is simple and bold, modern while classic, sophisticated with a hint of innocence."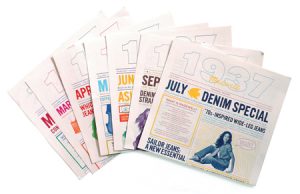 After leaving Design MW, she became senior art director for the award-winning Kate Spade and Jack Spade lifestyle brands. Eventually, though, Low decided it was time to break out on her own.
"I think that once you get too comfortable in your work and stop learning, it's time to move on," she says.
In 2007 she started her own studio, HI + LOW, in Manhattan. She designed for clients from J. Crew's Madewell to New York Magazine until fall 2010, when she gave birth to her son. Now, she runs her studio from home to pursue both her career and motherhood.
Low encourages surrounding oneself with people and things that challenge and inspire. "There is always something new to learn, see, do, and hear," she says, "I also recommend not being afraid to step away from the computer and to enjoy the process. We should all try that a little more."