---
Restoring Hungary's royal relic helped lead Robert King to North Korea.
Oh, the places Robert R. King (BA '66) has been, from negotiating with North Korean officials in Pyongyang to visiting with Muammar Gaddafi in the Libyan leader's tent in Tripoli.
"Those were some very interesting discussions," recalls King—to say the least.
Ambassador King lives a life that makes for interesting juxtapositions. There is King, ward choir director of 19 years now, baking his specialty—chocolate chip cookies—with his grandchildren at home in Virginia; and then there's King, U.S. special envoy for North Korean human rights, finalizing a March 2012 agreement for 240,000 tons of U.S. food aid after an agreement on a moratorium that froze North Korea's nuclear activities.
Equally interesting, perhaps, is the path that led to the special envoy post, with ambassadorial rank. In one way, it began with a faux crown.
"This is really old stuff," King jokes, retelling a story that begins on BYU's very first study abroad. It was 1965 and King was in Europe with 125 fellow students. On a weekend trip to Hungary, he toured Budapest's Matthias Church, where the last Hungarian kings were crowned. Only the crown on display at the church wasn't the Holy Crown of Hungary. "The real crown," King learned from the curator, "was in the United States." And it took no small journey getting there.
At the end of World War II, just as Russia's Red Army was marching on Budapest, the crown was spirited away, buried in Austria, then dug up and ultimately given to American occupation forces, only to be secured along with U.S. gold reserves in Fort Knox.
It was quite a tale, this study-abroad discovery—one that stuck with King years later when he applied for a White House Fellowship. "The application required a mock memo to the president," says King, who was then working for Radio Free Europe in Germany. He suggested ways the United States might improve relations with Eastern Europe. "Among the steps that I proposed was the return of the Hungarian crown," says King. Little did he know, he was of the same mind as the Carter administration. From King's first week as a White House Fellow on the National Security staff, he helped make the arrangements, and he was a member of the delegation that returned the royal diadem.
As the crown—the one that had crowned every Hungarian king since the 13th century—was presented on a red velvet pillow in the Hungarian Parliament Building, "an audible gasp went up from the people in that hall," says King. "It was the preeminent symbol of Hungarian nationhood coming home. It was very, very emotional."
"And to think," he continues, "that for me it started when I was an undergraduate."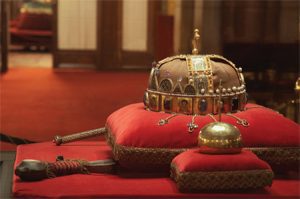 That wasn't the end of the crown's impact on King's life, however. As oil prices surged during the Iranian crisis of 1979, King got involved in energy development. But as the price of oil stabilized, it appeared he'd soon be out of a job, making one of his colleagues, the son-in-law of California congressman Tom Lantos, "very excited," says King. Lantos—a Holocaust survivor and, moreover, a native Hungarian—was looking for a chief of staff. And the son-in-law knew just the man for the job.
King and Lantos met just briefly during an airport layover. "I gave him my résumé, we chatted for five minutes, and the plane was off," says King. "The next day I got a call saying, 'Come to Washington. You start the day after tomorrow.'"
With that, King began a 25-year career on Capitol Hill working on items of import to the San Francisco Peninsula, campaigns every two years, and, thanks to Lantos' involvement in foreign policy, some of the most pressing international issues. From 2001 to 2008 King was also staff director of the House Foreign Affairs Committee, a committee Lantos chaired. For Lantos, says King, "the U.S. commitment to human rights was of paramount importance. I gained a lot of experience on human rights while working with him."
And human rights is a primary focus in his new job: in 2009, a year after Lantos died, President Barack Obama nominated King as special envoy for North Korean human rights issues, putting King in a select cadre tasked with navigating one of the United States' most sensitive relationships.
In reality, little of Ambassador King's work is actually done in North Korea. Most of his time is spent working with U.S. allies in Asia and Europe and with the State Department and others in Washington, D.C. He briefs think tanks, nongovernmental organizations, congressional committees, and the like. He also works closely with the United Nations—a responsibility that came with a heavy mantle. "My first trip to Geneva for U.N. Human Rights Council meetings was two weeks after I was sworn in," says King. "And suddenly it dawns on me that I'm the voice of the United States of America; what I say here is our official position." Of the U.N., he adds, one thing is clear today: "Human rights are an important part of what is expected of any nation, . . . a key aspect of the legitimacy of a country."
In many ways King has been prepared for this post, harking back to his Radio Free Europe days. "When we were broadcasting to Central Europe in the '70s and early '80s, it was important for these countries to know what was going on beyond their borders," he says. "As we look at what we're doing in terms of North Korea, information is one of the most important things." And while the wheels of human-rights change grind slowly, King has seen change happen. At Congressman Lantos' side, King was heavily involved in legislation to provide assistance to Central Europe as it shed communism. And he's seen countries like Libya abandon their nuclear weapons.
"Congressman Lantos was actually quite interested in Libya," says King—which explains their multiple visits with Gaddafi. Did King's wife worry about him on those trips? "On several of them, she was with me," King says. His wife, Kay—coincidentally a sorority sister of now–BYU first lady Sharon Samuelson when the two were students at the University of Utah—finished a PhD and raised their three sons to school age before she also joined Lantos' staff.
Of his work for human rights with Lantos, King says, "In some cases we made great progress. And in some cases, 20 years later we're still looking at the same problems." It gives him perspective in his current work. "This is not an easy job," says King. "This is not something where you have immediate success."
Yet he says progress is being made. King was the most senior U.S. official to visit North Korea in the past two and a half years. During his May 2011 visit, he was able to obtain the release of an American citizen who had been imprisoned for seven months. And recently, in December and March, King met with North Korean officials to work out the details for the recent humanitarian-aid deal. He also held conversations on human rights.
"We need to strengthen support for human rights in North Korea and other places around the world as well," says King, describing what drives his efforts in a difficult task. "I'm very stubborn, and I don't give up."