---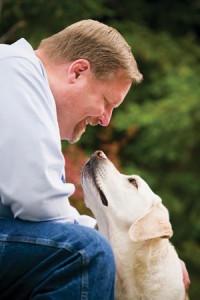 Mark L. Ruefenacht (BS '86) of Pittsburg, Calif., has discovered that people with diabetes have another reason to consider dogs as man's best friend, especially when it comes to their health.
"Several years ago I became a volunteer puppy raiser for Guide Dogs for the Blind," Ruefenacht says. "I took Benton, one of their puppies, with me to New York. It was chilly and I purchased a hot chocolate. To 'cover' the hot chocolate, I took an extra dose of insulin and went to bed without checking my blood sugar—big mistake." During the night Ruefenacht's blood sugar fell, which alarmed Benton. "He was instrumental in waking me so I could treat myself. This experience prompted the question, 'Could dogs be trained to help diabetics?'" And the research began.
With a background in forensics, he applied his knowledge of breath science to train dogs on scents. Armstrong, a Labrador retriever from Guide Dogs for the Blind, was the first trainee. Ruefenacht collected his own sweat when his blood sugars were low and trained Armstrong to recognize the scent. The dog became proficient at finding hidden items with low-sugar diabetic sweat on them.
The theory only needed to be tested to see whether Armstrong could detect the scent of another diabetic, so Ruefenacht solicited the help of a diabetic friend, Jeannie Hickey of Concord, Calif. Hickey hid a paper towel with her sweat on it in the garbage with other disposed towels. Armstrong was sent to retrieve it and came back about 30 seconds later with the correct paper towel.
In 2004 Ruefenacht founded Dogs4Diabetics, a nonprofit organization that trains assistance dogs to help identify the onset of hypoglycemia in insulin-dependent diabetics.
"It's just a game for the dogs to recognize the scent of rapidly dropping blood sugar, and they get a treat for it," says Ralph L. Hendrix (BS '71) of Clayton, Calif. Hendrix volunteers as the director of business operations for Dogs4Diabetics.
"We also discovered dogs have the ability to alert diabetics a few minutes before they get low blood sugar," says Ruefenacht, "so individuals can treat themselves in advance."
The dogs are in demand.
"We train about 30 dogs a year and get thousands of inquiries a year worldwide," says Hendrix.
The Schuhmacher family of Petaluma, Calif., was fortunate to get one. "At the time I applied, I had two diabetic boys," Meri Schuhmacher says. By the time Lawton, a Labrador retriever, was placed with the family, they had three boys with diabetes. The dog's role is crucial.
"He has saved my boys from having to go to the hospital more than once," Schuhmacher says. Before Lawton came, she would wake up multiple times in the night to check the boys. "I know if there is going to be a problem, he'll wake me up—he's my safety net."