---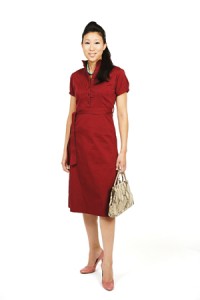 Tired of the challenge of finding attractive yet modest dresses, Emily Bell McCormick (BA '01) and her friend, Athelia LeSueur, decided to open their own clothing store. They grew increasingly frustrated, however, after attending design shows and visiting several designers. The dresses they wanted were not being made.
After some searching they located a factory willing to produce clothing from their own designs, and in 2006 they launched an online boutique, Shabby Apple.
Even though McCormick's background was in communications instead of fashion design, she and LeSueur designed all
the dresses. "I had a collection of dresses in my mind from years of wishing I could find the right dress," McCormick says. "It worked to our advantage having the academic background I did because the first stages in any startup require strong marketing."
The pair asserts that Shabby Apple is about empowerment for women. "Immodesty disempowers women," says LeSueur. "When women dress respectfully, they are given respect. Dressing modestly communicates to others that one deserves to be treated as a person with a mind and a strong sense of self."
McCormick and LeSueur also seek to help women in less fortunate circumstances: a percentage from each Shabby Apple purchase goes to charity. After a long partnership with Unitus, which provides microcredit loans to women in India, they now support Reach the Children, a nonprofit organization dedicated to the well-being of underprivileged children. "I was very blessed growing up," McCormick says. "We wanted to share those blessings and opportunities with other women."
While Shabby Apple is expanding its online offerings, McCormick, who lives in Richmond, Va., sold her share of the company in late 2010 to focus on raising her three children with her husband, Adam, who is an oral and maxillofacial surgery resident. She remains involved, however, with Shabby Apple and volunteers for organizations supporting African widows and children.