---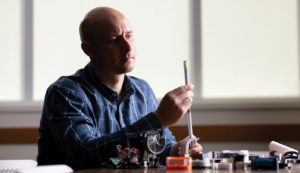 Laparoscopes have made many surgeries safer and less invasive for patients, but their tiny cameras do have a drawback: the scope must be removed, cleaned of bodily fluids, and reinserted every 5 to 10 minutes during surgery. Frequent removals frustrate surgeons and increase a procedure's length, cost, and risk.
Two BYU mechanical-engineering students hope to change that. Jacob L. Sheffield (BS '20) and Amanda Lytle Bartschi ('22) have created a tiny, origami-based device that serves as a "windshield wiper" for laparoscope camera lenses.
Sheffield and Bartschi met with medical professionals across the country about another technology, but laparoscope removal kept coming up. "We talked to many surgeons so that we were certain we understood the actual problem," says Bartschi. "Then, instead of solving the original problem, we solved an even bigger problem."
For their creative concept, Bartschi and Sheffield won the 2021 Student Innovator of the Year award. The competition, hosted by the BYU College of Engineering and Rollins Center for Entrepreneurship and Technology, provides kick-starter money plus connections to potential investors, mentors, and business partners. The duo's next step is to license and market the device and seek FDA clearance.