---
Advertising professor Doug McKinlay took an unconventional step to help his students excel.
A small sign in the office of Douglas R. McKinlay (BA '68, MA '69) reads, "Growing old is mandatory. Growing up is optional." Advancing years certainly didn't hold McKinlay back from enlisting last spring in an experience normally reserved for the young: an internship.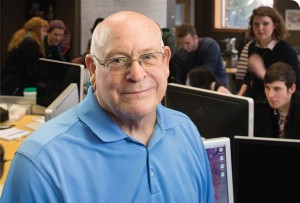 For eight weeks the 72-year-old BYU advertising professor proudly wore his self-selected nickname, the World's Oldest Intern, while working in Dallas at the country's largest independently owned advertising agency, the Richards Group.
Landing the internship wasn't too difficult for McKinlay, considering his extensive experience. Nearly 15 years ago McKinlay founded a creative track in BYU's advertising program and later assisted in creating the BYU AdLab, an award-winning, student-run advertising agency. Despite his contributions to the program's success, McKinlay wanted to give his students more. "I realized I'm teaching essentially the same material as I was 10 years ago, and the application of and the venues for creative advertising have changed drastically," he says. McKinlay decided that returning to the workplace was the best way for him to update his curriculum.
"I've always been a hands-on kind of person," he says. Before teaching at BYU, he owned his own ad agency for 17 years. As president of McKinlay and Partners, he would accompany clients on their sales calls to better understand their business and customer feedback. "I want to hear it all first person," he says. "I want to get involved. I want to actually do it."
That same ardor fueled his desire to revamp what he was teaching his advertising students, so in January 2013 McKinlay approached acquaintance David W. Morring (BA '89), a creative director at the Richards Group, to inquire about doing an internship. At the beginning of McKinlay's internship, many of the other interns assumed he was just one of the company's full-time employees.
"I was kind of like this enigma," McKinlay recalls. "People didn't know exactly what to do with me or how to treat me." But he always had a good response to the questioning looks: The agency's founder and sole owner, Stan Richards, remains heavily involved with the day-to-day operations of his company at 81 years old. "I would say, 'Well, I'm younger than Stan!'" McKinlay laughs. "And that would usually end all the conversations."
While his internship consisted mostly of writing copy in digital mediums for clients (like AAA, Orkin, and Glasses.com) and contributing ideas at staff meetings, McKinlay also asked his coworkers—some of the best and brightest in the industry—for advice on teaching creative advertising. He even added to his curriculum a book on account planning written by an acquaintance he met through the Richards Group.
Before this internship, McKinlay would give his students traditional advertising assignments and then ask them to add digital elements. Now, after working in digital media as an intern, he preaches the importance of the digital campaign: "It has to start in the digital world," he says. "I may be old, but I totally get it today."
McKinlay hopes educators realize the importance of staying flexible and not becoming complacent, especially in fields that are evolving as quickly as communications. "Occasionally, just touch down," he says. "If you don't do that at least every five years, you're behind."
But for McKinlay, five years isn't nearly frequent enough. The lifelong learner keeps up on advertising news and social media daily and is looking at other internship opportunities for spring 2015.
Amanda Fowler, director of recruitment at the Richards Group, adds, "What I hope the student interns took away from working with Doug is that it's never too late to continue to learn and get better at what you do."
—Natalie Sandberg Taylor ('14)