Where are they now?
It's been nearly 20 years since an adventurous team of advertising students became the first—and so far, the only—BYU student advertising team to win first place in the American Advertising Federation's national student competition. The client was Chevrolet, and five of the 11 winning students were selected to present their campaign for the Chevy Cavalier Z-24 at corporate headquarters near Detroit.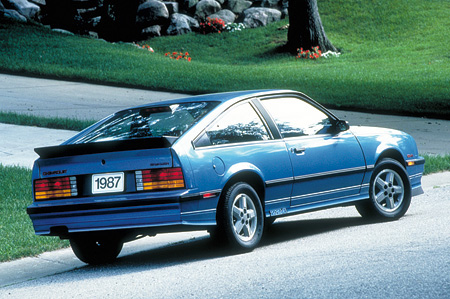 So where are the five now? Although they didn't all land in advertising, they each said the experience significantly influenced the trajectories of their lives.
For Robert W. Hess (BA '87), of Bountiful, Utah, the experience led directly to his first post-college job. First Security Bank's advertising team saw the Chevrolet presentation at a luncheon and called advertising professor Dennis G. Martin (BA '67) to ask if any of the students wanted a job. "First Security told me they would have taken any one of us," Hess explains. The job was the first of many he has taken over the past two decades, including working with Bonneville Communications and the 2002 Olympics and owning an ad agency.
Martin, who was an advisor for the team, says the 1987 victory may have come, in part, from the students' willingness to deviate from competition directives when their research persuaded them to take another course. The case study called for promoting six models of the Chevy Cavalier to 18- to 24-year-olds. When their research revealed that the audience liked only the Z-24 model, they developed a campaign around that one car and defended their choice so convincingly that Chevrolet named them the national champions.
Kristene Weight Allen (BA '87) of Portland, Ore., says, "Employers weren't as interested in BYU's campaign as they were in experience." She began her career as a receptionist for INS Advertising and advanced to coordinator of traffic and media. After the birth of her second child, Allen became a full-time mother but rejoined the job market in 1997 at a small newspaper chain. "I was only interested in getting a degree in a field I liked," Allen says. "But after the Chevy campaign, I looked at advertising as something I could really do."
Shellie Frey (BA '87), of Santa Ana., Calif., fielded several job offers before accepting a call to serve in the France Paris Mission. She returned to California, where she worked in video production and international marketing. Later she wrote articles and books, taught at BYU while earning a master's degree, wrote news for NBC radio, and became the director of communications for Golden State Foods. Frey says the student competition provided useful lessons. "I learned the value of teamwork," she says.
Ami Peterson Parker (BA '87) had work opportunities in Utah following her Chevrolet experience, but she turned her focus to motherhood when she and her husband moved to Seattle. She now has four children and says being part of a national championship team continues to provide her with self-assurance.
Michael W. Brown (BA '87), of San Jose, Calif., worked on the creative side of the student campaign, a focus he has continued. Brown has three enterprises: a marketing agency, real-estate ventures, and a home-staging and interior-design business. "At BYU I learned the value of teamwork and research," he says. "The Chevy campaign shaped my career and was the most valuable part of my university education. We all cared about each other, and it's amazing how well we worked as a team."
---
NOTE: While this article features five members of the team of BYU students who won the American Advertising Federation's national student competition in 1987, there were also six other former students who were also on the team but did not travel to the competition. Their names are Stewart C. Anstead (BA '93), Shelly A. Boyd (BA '87), Julie Stickel Bowcutt (BA '87), Diane Holmstead Benson (BA '87), Sue Ashton Davis (BA '87), and Marielena Barros Spence (BA '87).