---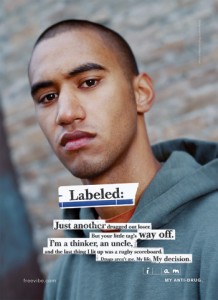 WHEN Ford Motor Company's ad agency told the company it would be cost prohibitive to do the market research for a specific ad campaign, Ford came close to dropping that chunk of their plan.

But BYU's Ad Lab offered an appealing alternative. The students in the lab could do the desired research about women and Hispanics by using the university's diverse student body. It was a win-win—saving Ford money and giving BYU students a great learning opportunity.

It's opportunities like this that the Ad Lab loves to give its students. The lab is designed to offer advanced advertising students real-life experience managing accounts and producing award-winning projects that run on network television, in national magazines, and on billboards in major cities.

"Through this avenue, students have literally been able to create as professional advertising as any agency in the world," says lab director Jeffrey A. Sheets (BA '98).

The Ad Lab began in 2004 after advertising students drafted an anti-drug campaign—"Scan Me"(above)—that beat out their NYC- and LA-based agency competitors. The U.S. government gave $25 million in funding to distribute the winning print ads and public service announcements, and soon the Ad Lab was born. After this high-profile success, advertising faculty were ready to give students more opportunities.

Working in conjunction with the companies' ad agencies, the lab has done work for a clientele that includes Electronic Arts, Yahoo!, Black & Decker, the Huntsman Cancer Institute, Walden Media, and the movieCharlotte's Web. Students have also been involved in a new approach for the Church of Jesus Christ in utilizing media to spread the gospel. The lab recently completed an Ad Council project for the Coalition for Healthy Children.

In helping students design ad campaigns, Sheets says the Ad Lab tries to strike a balance between messages that benefit society and messages that are purely commercial. But in everything students produce, they try to approach advertising with integrity and propriety. 

Sheets also teaches students that advertising's power to transmit messages must be understood and exercised carefully. "We have the ability to influence people for good or for bad," he says. "We have the same potential for acclamation as we do for blame."

To learn more about the Ad Lab, go to adlab.byu.edu.