---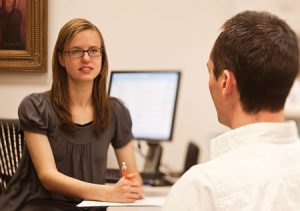 As Bryce K. Dalton (BS '07) learned more about legal matters in his job as a financial analyst, he started thinking about going to law school. After reviewing some LSAT preparation materials, Dalton decided to contact the Prelaw Advisement Center on the BYU campus. "I am an alumnus," he wrote in an e-mail message. "Can I still use your services?"
"We are here to serve you" was the response.
At BYU's Preprofessional Advisement Center, both BYU students and alumni can counsel with an advisor and submit application materials to be edited and examined for law, MBA, and MPA programs as well as health careers.
"I went to see Kris Tina Carlston, the prelaw advisor at the preprofessional center to make sure I wasn 't crazy for wanting to go back to school," Dalton says. Carlston (JD '06) explained to Dalton that his interest was not abnormal. Although BYU graduates often go straight to law school because they already took a break for a mission, nationwide many future lawyers take time off from school before applying to law programs.
Dalton, who works in Park City, began communicating by e-mail with BYU's prelaw staff. He also traveled to Provo to meet in person with an advisor. For those who live far from campus, advisors can offer counsel by phone and review materials electronically. Dalton plans to take the LSAT in June and apply for law school in September.
"I like to help alums because I took a few years off before applying to law school, " Carlston says. "I know what they are going through."
---
INFO: 801-422-3044, ccc.byu.edu, or prelaw@byu.edu