---
Six Cambodians—"or four foreigner," laughs Seyha Haem. Foreigners are bigger.
That's how many can fit in the tuk tuk he taxis around Phnom Penh. Tuk tuks—motorcycle-drawn carriages—are ubiquitous here, but Seyha's stands out.
"It is only one tuk tuk that has the sign BYU," Seyha explains. And his tuk tuk is BYU all over. There's a giant BYU decal on the back and two more Cougar emblems on each side. BYU insignia are even carved into the wooden footboards.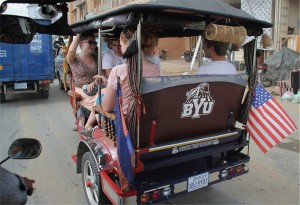 The BYU-emblazoned tuk tuk is one of sociology professor Ralph Brown's "wild-haired ideas." Brown grew up riding motorcycles and keeps one in each country where he conducts research—Jordan, Indonesia, Thailand. "Why not a tuk tuk in Cambodia?" he says.
He was already traveling by tuk tuk there; as director of BYU's international development minor, Brown has led a study abroad in Cambodia every summer for six years. In the open-air tuk tuks, the students can smell, even touch, the city, he says. "You're in the midst of the melee," says Brown. "I've even seen water buffalo transported by tuk tuk." With his own funds, he added the BYU tuk tuk to the fray.
Seyha, a returned missionary hired by Brown, drives the tuk tuk year round. Before, the best job Seyha could find paid $100 a month. "When I drive BYU tuk tuk I can get $200 or $300," says Seyha. The increased income has enabled him to enroll in English courses, which he hopes one day to teach. He packs his books in the tuk tuk, studying "while I wait for customer." Seyha practices with BYU students too, as he shuttles them to the Reproductive and Child Health Alliance, the NGO they come to Cambodia to work for and study.
While overseeing the study abroad, Brown pursues his own research interests—one of which, unsurprisingly, is motorcycles. Specifically, he is looking at how the motorcycle, introduced en masse to Southeast Asia in the '90s, has changed the region. "You can't introduce that much technology without having really interesting social changes," he says. Motorcycles, he argues, have have transformed life for rural women, giving them access to education and to labor markets, making them potential money earners and increasing stability for themselves and their children. "You want to make a difference in the developing world, you focus on the life of a 12-year-old girl and what her life opportunities are going to be," says Brown. "These things are just incredibly emancipating."
Seyha is working to buy the BYU tuk tuk interest-free and own it outright. "I'm hoping that in five years he's not driving that tuk tuk because he's teaching English with a college degree," says Brown. Indeed, a motorcycle can change a life.
—Brittany Karford Rogers (BA '07)
note: Last fall Ralph Brown discovered he has cancer and will not be in Cambodia this summer. Despite undergoing chemotherapy, he is still riding motorcycles.