---
By Grant Madsen
As part of an industrial design class that teams education with industry, BYU students helped hatch the original concept behind Motorola's TalkAbout radio, a high-tech walkie-talkie that is currently the best-selling recreational radio on the market. And recently, at Motorola's request, BYU students sent the company designs that may someday reinvent the look of the company's pagers, making them more visually appealing to today's consumers.
John F. Marshall, a professor of visual arts, is in charge of BYU's industry partnership program. He says teaming with corporations like Motorola has been invaluable to students eager for experience and to corporate leaders interested in new ideas. "Most students coming out of a regular design school don't get the chance to work in industry. It's strictly 'blue-sky' designing with very little practical application," says Marshall. "But BYU is pushing the outer limits. Our partnership with Motorola has been great for both of us."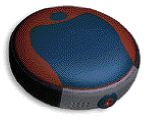 The partnership began four years ago when Motorola studies found that hand-held, two-way radios–long known for their use in law enforcement–suffered from an "uncool" image. Hoping to change this notion and break into new markets, Motorola charged BYU students to investigate the lifestyles of customers who might use hand-held radios and then to design some new looks.
Student research discovered that skiers, bicyclists, and other outdoor enthusiasts would readily accept the reinvented technology for use in their sporting activities. With this market segment in mind, the 34-member class developed its designs, choosing the best two. The students who created those top designs helped BYU faculty present the class's concepts to Motorola engineers and designers.
Drawing inspiration from the students' ideas, Motorola designer Glen A. Oross–himself a 1995 graduate of BYU's industrial design program–added his own sense of style and completed the final design for the TalkAbout radio, a 7-ounce, 4.5-inch-tall communication device with a two-mile range. "The students came up with ideas that, quite frankly, inspired me," says Oross, whose final TalkAbout design earned him the Industrial Design Society of America's 1998 Gold Award for Design Excellence.
Because of the TalkAbout's success in the marketplace, Motorola asked Marshall's students to work on a similar project involving pagers. As members of market research groups, students recorded the daily activities of different types of customers to see how a pager would fit into their communication lifestyles.
Mark C. Solomon, a senior from Gaithersburg, Md., was on a team that researched high school and college students. After surveying Utah County schools, he developed a design to attract young customers. "I'm part of the target market I was designing for," says Solomon, whose disc-shaped design resembles an unidentified flying object. "I pretty much created something I would want myself."
April Marley Hopkins, Solomon's classmate, created a design that caters to her customers' lifestyles. Hopkins, from Twin Falls, Idaho, targeted businesswomen by designing a sleek, triangular pager that resembles a cosmetic case. "I made it with curved lines so it would look softer than the traditional pager you see on the belts of executives," she says.
But will Motorola use these students' ideas and begin producing pagers with new, unorthodox shapes? It's possible, says Marshall. The students signed an agreement giving Motorola control over anything designed as part of the project, and designers at Motorola are welcome to draw freely from students' ideas.
Whether or not Motorola uses her plans, Hopkins says the designing experience has been worthwhile. "What our class has done is so much like what we'll be doing in industry that it's been a great learning experience for all of us," she says. With one year of school left, Hopkins is already looking for a job, confident that BYU's design program gives her an edge over traditional design school students.
Kevin W. Ketchum, one of the two student designers who presented his plans to Motorola in 1997, credits landing his present job as a creative designer at General Motors to the strength of BYU's program. "Working on the TalkAbout taught me how industry works," he says. "It prepared me well for what I'm doing now."