---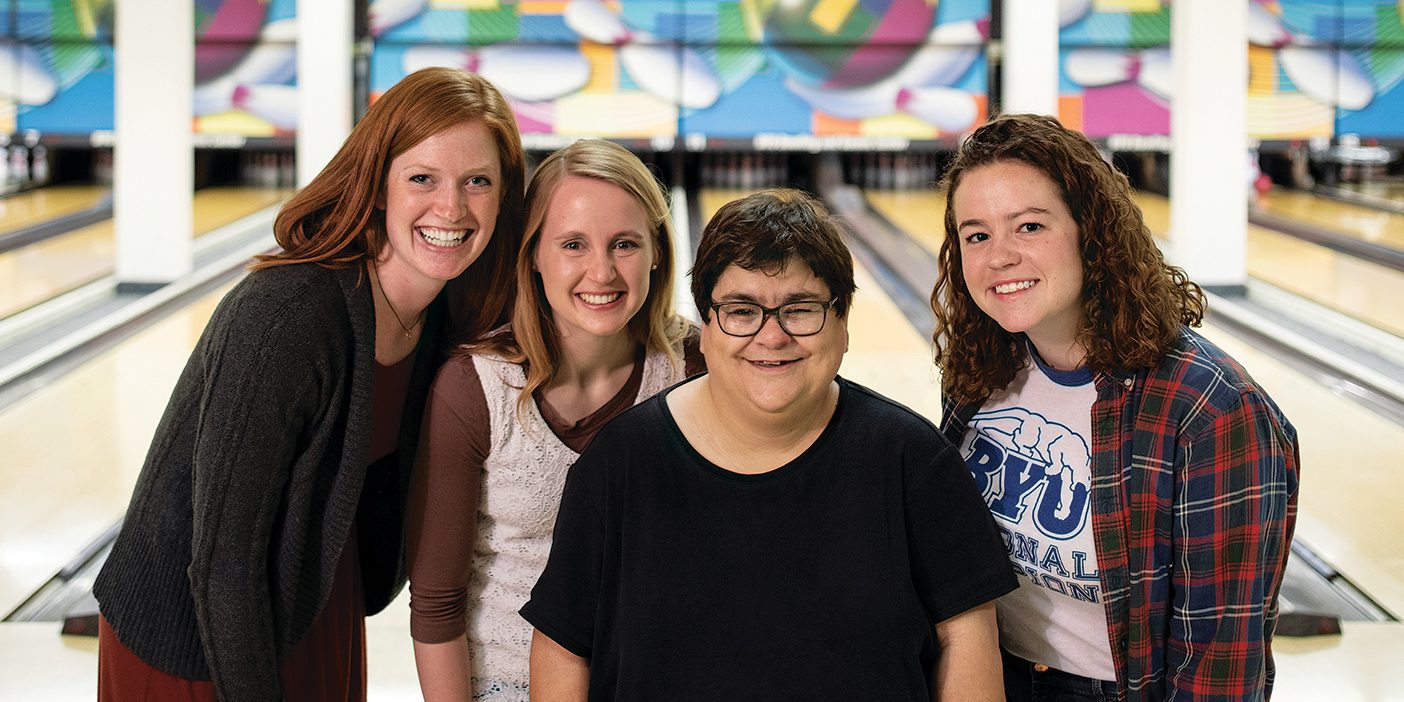 Conchetta "Chetty" Pino gets in the car toting a Utah Jazz banner. "This is for my friend Riah," she says, holding it up proudly. "It's an early birthday present. He loves the Jazz."
Arriving at the campus Best Buddies event, she is set on finding Riah—whose birthday is a month later—and spots him across the room. But Pino can't help herself. She stops each time she sees someone she knows, with a "Hey ya, Cutie!" and a hug, a warm "Hey, you're Dustin's friend Dallin!" or an affectionate "It's been too long!" On her way to Riah she stops three, four, five times . . .
Pino, who has a learning disability, is the longest-tenured buddy in BYU's chapter of Best Buddies International, a club that pairs BYU students with individuals of special needs. In her 26 years in the Best Buddies program, Pino has been paired with some 10 buddies—the last seven of them BYU students. And while each of them was assigned to be Pino's buddy, they say it is Pino who taught them how to be a real friend.
"You go anywhere with [Pino], and somebody knows her," says McKay Lindsey Jacobsen (BA '16), Pino's buddy in 2013–14. She accompanied Pino on individual outings—and even on dates with Pino's long-time boyfriend, Bruce. At monthly Best Buddies activities, adds Jacobsen, most buddies stick by their BYU peer buddy's side. Not Pino. "She loves people, and people love her too." Pino, says Jacobsen, taught her to expand her circle to include everyone.
Pino's current buddy, McKinsey Blount Guthrie ('19), says Pino showed her how to "make people feel special." Says Guthrie, "Every holiday she makes cards and gives gifts to everybody, and she remembers everybody's birthday."
Pino, she adds, loves to serve, be it with the 2-year-olds in her nursery calling or at her job washing dishes at a care center for women. As Best Buddies club photographer, Pino is always working the crowd, capturing everyone. She helps other buddies during activities, such as making cards: "If they don't know how to write, . . . I'll write it for them," says Pino. And Pino, ever the sports fanatic—and BYU supporter—gets shoulder to shoulder with her Special Olympics basketball team members to help them improve their shots.
Guthrie smiles remembering another wonderful aspect of Pino's friendship: honesty. After one football game, when Guthrie thanked Pino for inviting her, Pino responded, "Oh, yeah; I knew you needed someone to hang out with." And sometimes—though Pino always ate politely—she might break to Guthrie that her cooking, "y'know, it wasn't the best."
Pino, quick to get to know others, also works to maintain long-term relationships. Her 2012–13 buddy, Christinah Cross Mulder (BA '17), says that Pino wrote her throughout her mission. They still call regularly even though they were buddies five years ago. When Mulder had her first baby recently, Pino brought Mulder a gift.
Mulder says Pino has reminded her to "go back to the basics" of friendship: "Let someone know that you miss them, . . . that you're happy to see them. Make sure they know that you care about what's going on with them, and that you're excited to tell them about what's going on with you."