---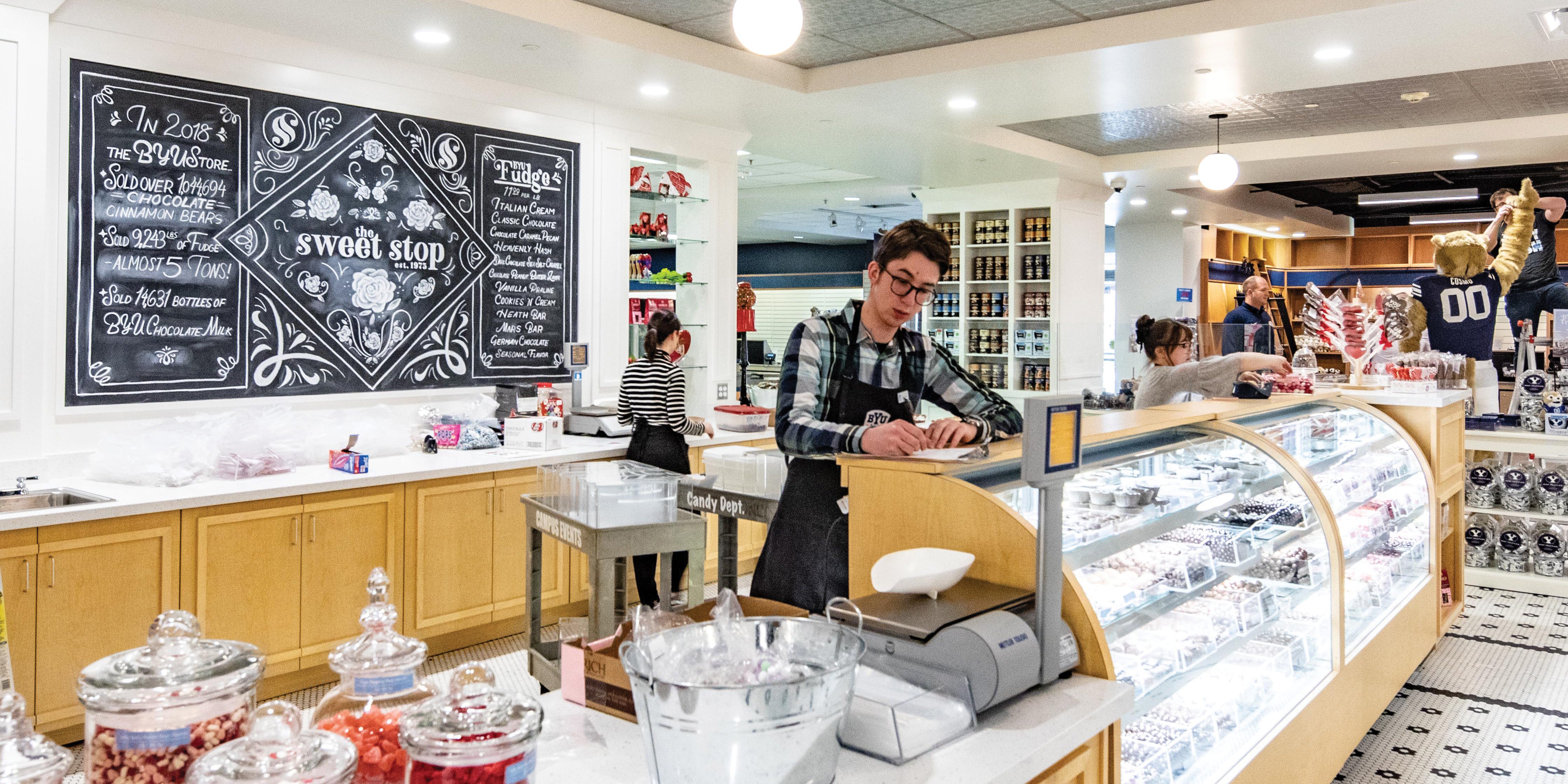 A new candy emporium—the Sweet Stop—opened inside the BYU Store in January featuring old-timey touches, like retro-tile flooring and candy-filled apothecary jars, walls of colorful new confections, and, of course, fudge.
The old candy counter—which caused many a traffic jam—is gone. The Sweet Stop is located where the children's books area used to be. Kids books will be moved to a new immersive area for families, complete with an 11-foot Y Mountain you can slide down—one of many BYU Store renovations in the works. In all, the Sweet Stop expands the space dedicated to candy by 1,700 square feet. Check out Sweet Stop specs below.
Throwback: The Sweet Stop pays homage to the then BYU Bookstore's 1974 candy counter of the same name.
New Treats: A big glass case shows off the store's new line of gourmet chocolate truffles—in 30 flavors.
Self-Service: Mix and match candy from the large tubes of candy hanging on the walls.
Front-and-Center Fudge: BYU's famous fudge is still a focal point in the Sweet Stop on a new marble cutting board. The BYU Store sold 9,243 pounds of fudge last year—some 4,300 pounds in August alone, thanks to Education Week.
Cougars Love Bears: Chocolate-covered cinnamon bears, that is. The first candy store on campus, the Candy Jar, opened in 1973 in the Wilkinson Student Center where Jamba Juice stands today and sold out of its first 60-pound stock of bears in a day and a half. The bears remain the most popular candy on campus: in 2018 the BYU Store sold 1,044,694 chocolate-covered cinnamon bears.