---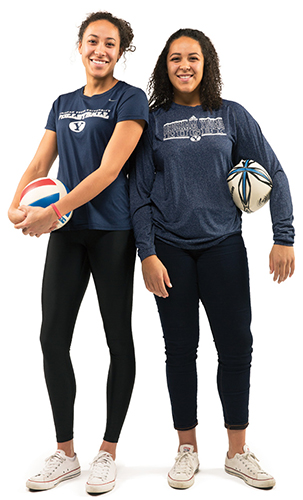 With 12 days 'til Christmas, the getting was already good for BYU volleyball outside hitter Alexa L. Gray ('16). The WCC Player of the Year was playing in the NCAA Final Four, and her best friend and rugby-star sister, Jordan N. Gray ('15), was in Washington to cheer her on.
It's a thing they do—being at all of each other's games. Jordan is a center on Women's Cougar Rugby, a Provo-based club team. According to BYU women's volleyball coach Shawn L. Olmstead (BA '05), Alexa has missed team events and experiences "because she promised to support Jordan in her rugby stuff."
The sisters room together in a house off campus, finish each other's sentences, and appear in each other's profile pics online.
"They have a stronger bond than just typical siblings," says Olmstead.
That may be because tragedy led them to rely on sports—and on each other.
In 2008 the sisters and their mother traveled from their home in Lethbridge, Canada, to a cabin in Montana for a vacation. On the drive home, their car hit an elk on the highway and rolled. Jordan, 15, and Alexa, 14, were able to climb out of the vehicle.
"My mom's side was more destroyed than our side, so she wasn't able to get out," Jordan recalled in an interview with BYUtv Sports. "By the time the ambulance got there it was a little too late. She passed away at the scene."
The sisters moved two hours north to Calgary to live with their aunt and uncle and six young cousins. "I kinda inherited six little siblings," Alexa told BYUtv. Their new family attended The Church of Jesus Christ of Latter-day Saints. About a year after moving in with their aunt and uncle, Jordan and Alexa started meeting with the missionaries.
"We were sold on the Church once we heard that we were going to be together forever and we could be sealed to our families," Jordan says. The sisters were baptized in 2010.
During this time, sports drew Jordan and Alexa closer together and kept them connected to their mother, who had coached them throughout their childhood. "We remembered how she taught us to play and what she thought was important in sports," says Jordan.
The sisters played rugby, basketball, and volleyball and even won high school championships together. "It kept us busy," says Alexa.
Sports are still keeping the Grays busy. Jordan came to BYU in 2011, and Alexa, recruited to play Cougar volleyball, followed in 2012. Now a junior, Alexa is training to play at the national and Olympic level.
Jordan is also reaching national heights. With duel citizenship, she played on the U.S. U20 National Team in 2012 and 2013 and is a 2014 first-team All-American. "She is a dominant player on the field," says Cougar rugby coach Tom Waqa. "[She] has the ability to turn the game around at any moment."
"[The Gray sisters] try to stay together in everything they do, which is inspiring to watch," says Waqa. "They have stayed positive."
Adds Alexa, "If you are going through hard times, you can always rely on your family. And the things that you love. We love sports, and I think that really helped us to not forget but . . . cope with what happened."