---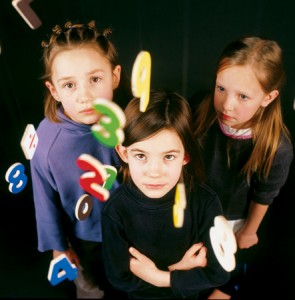 By Tad R. Walch, '92
BYU's Jacqueline Taylor Voyles—sometimes known as "Nerdmom"—is a mathematics crusader on a mission to subtract fear from math-hating students.
The three young children couldn't believe their ears. More than two decades later, they smile and use the word abuse to describe their mother's behavior that Christmas morning. Jacqueline Taylor, '76, told her two girls and little boy they each had to do a set of math problems before they unwrapped presents.
The game tickled the math teacher in Taylor, now Jacqueline Taylor Voyles: Each correct answer provided a number that corresponded with an assigned letter; the letters spelled a word that revealed where she'd hidden the presents. Camille and Nichole weren't enchanted with Mom's creation. They helped Ryan with his problems, and all the presents were recovered and unwrapped—but the game didn't become a family tradition.
Now adults, her children still haven't fully adapted to their creatively quirky math mom. Camille likes to haunt bookstores with her mother, but only until they reach the checkout stand, where Voyles finds herself left alone to purchase The Story of Pi or some other embarrassing title. The ongoing family joke is that the children will present Voyles with vanity license plates that read NERDMOM.
There is irony in the joshing: Voyles would welcome the gift and display NERDMOM proudly, as a badge of honor. It would fit nicely with the recognition flowing more steadily her way in the later years of a career that began with a detour.
It began, in fact, with a girl kicked out of a high school math class. That girl became a young woman advised by a counselor at Idaho State University in 1961 to surrender her math major and take up a field of study "more suited" to her gender.
Four decades later, that woman is BYU's Pied Piper of mathematics, her progressive teaching methods melodiously convincing the most strident math-hating and committed math-loving prospective teachers to make the subject more accessible to their students.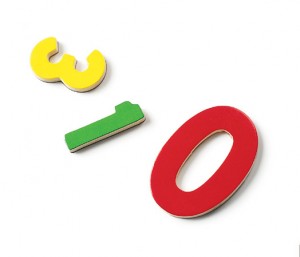 Bridging the Divide
It doesn't take much to make some people loathe math. One bad teacher, a single disheartening class, and the damage can last a lifetime. Voyles' crusade is to provide teachers with innovative tools to engross young learners, not alienate them.
Lisa J. Erickson, '01, a master's candidate in information systems, is a Voyles disciple. "Math is a very cold subject," says Erickson, who taught junior high school math for a year before returning toBYU for graduate work. "It can be emotionless. Jackie puts her heart and soul into math, and she helped me learn to convey that to my students."
Voyles uses videotape to show her BYU students how children talk their way through math problems like this one: 11 ducks are on a pond and more come. Now there are 17 ducks. How many ducks came?
"Adults immediately identify that as a subtraction problem," Voyles says. "Most children don't. They model the action of the situation; they start with 11 and count up to 17. They view the problem as joining, almost addition: There were some; now more came; now there are this many. It's not a subtraction story. No ducks flew away. The idea that many children think this way surprises my students."
But what Voyles wants her students to see is not backward thinking but a solid foundation, which teachers should exploit rather than "fix."
"The issue is how can we build on what grade-school children bring to the table rather than ignore that and teach them 'The Right Way,'" Voyles says.
Few BYU math professors can boast Voyles' range of practical teaching experience. She has taught at every level—elementary school, junior high school, high school, and college. She has taught the best and the brightest, the failures and the washouts.
Her success has something to do with her own mistakes.
Negatives to Positives

Jackie Taylor hung up the phone in shock. Later, she couldn't remember how long she cried, only that it was long and torturous. It was April 1978, and the secure career she had carefully constructed suddenly offered no prospects. She had armed herself with a master's degree in mathematics education from BYU, and she expected to return to the stability she craved in the Utah County school district where she had taught for nearly a decade and where she planned to retire.
Now that opportunity had disappeared with a phone call. The high school job she believed she'd been promised had been given to a man who could coach a sport.
The anger surged for two months. When BYU called and offered her the directorship of the school's fledgling math lab, Taylor surprised herself and took it, even though the position seemed temporary. The security she had sought throughout her life was no longer paramount in her decision making. The shift was liberating.
"Losing that high school job gave me the courage I never had when I was 18," Voyles says, explaining that a fear of failure kept her from pursuing her passion when she was younger. "In school I was much more interested in getting straight As than having a great career. That would be the thing I would change. I would be a B-minus student all the way through if I had to in order to get what I wanted."
The girl who needed to impress her parents with great grades skipped math as a high school senior, intimidated by the reputation of the teacher and the possibility she would struggle. Her need for that validation trumped her enjoyment of the subject. This was the same girl who so savored math that, when she was kicked out of algebra II as a high school junior, she taught herself in the lunchroom until the teacher invited her back.
The sin that got Jackie expelled from algebra was minor but proved far-reaching. An adult in her church congregation asked her how school was, and she said it was fine, "except for math." When he asked why, she said her teacher was a chemistry instructor thrown into math at the overcrowded school and he "wasn't teaching us anything." The comment made its way to the high school's principal, who upbraided the teacher. The teacher angrily informed Jackie she had nearly cost him his job.
Despite these unsettling experiences, Jackie later enrolled at Idaho State as a mathematics major. However, she capitulated at the first sign of trouble. "I got a grade I hadn't seen before in my life," she says. "I went to my advisor, and his counsel was that maybe I'd chosen a major that was too hard for me. He told me maybe I should choose a major more appropriate for my gender."
She chose elementary education over the man's other two suggestions, nursing and home economics. Some 17 years later she was named director of BYU's math lab. She had finally worked her way back to a mathematics career. "I felt like I'd gotten back what I'd lost," she says.
Fear Factor

Many of the students in Math Education 305 and 306 arrive at Voyles' feet with chips on their shoulders. They are elementary education majors, some of whom don't care for math.
Sofia Withers Lykes, '03, a junior from Reno, Nev., is blunt: "Math? I hate it."
Voyles, intent on building her students' confidence in their math skills, has dedicated herself to turning reluctant children on to math and teaching reluctant elementary education majors to join her quest. Reluctance, however, doesn't do justice to the feelings of Lykes and other prospective teachers who despise math. Many believe that everything they needed to know about grade-school math they learned in grade school.
"It's a very difficult course to teach and she does a tremendous job," says Rodney W. Forcade, a BYU math professor who has been in Voyles' shoes. "I don't know how she does it. She has a rapport with the students. Most of us have trouble with that class."
Lykes quickly learned Voyles made math palatable. "I really get it the way she teaches it."
Unwilling students surrender to Voyles because she makes herself and the math accessible by encouraging relaxed, non-threatening classroom discussion. A visit to her classroom reveals a teaching style that combines her energy and passion for math with preparation designed to entertain and engage each student.
Voyles calls the class to attention: "Okay, let's rock and roll." The lesson is sprinkled with intriguing tidbits. For example, students can impress at parties by dropping the name of mathematician Leonard Euler, who developed a formula to describe the relationship between the properties of polyhedra. "Be sure you pronounce it 'Oil-er,'" she stresses. "If you mispronounce it, the mathematicians will know you aren't well educated."
Later she mentions there are different sizes of infinities, and groans fill the room.
However, students answer each other's questions, create their own textbooks for use in the real world, and thrill at the hands-on models Voyles shows them for introducing difficult concepts. One is the Integer Elevator, a concept she learned from a young colleague's work. On the elevator, zero is the ground floor and children can visualize how to add and subtract positive and negative numbers.
"I keep a notebook of great teaching ideas," says Alisa Sproul, '03, from Sandy, Utah. "I wrote down that it would be great to dress up in a bellboy costume in a third-grade class and pretend you're an elevator operator. Or even just get the kids on an elevator somewhere. It's concrete, not abstract. I'm a visual learner, and I recognize I'll have kids like that. There will be children who learn no matter how you teach, but many want to hold something in their hands or see something that makes sense."
Sphere of Influence

Voyles knows her career arc hasn't followed the traditional pattern of boom, boom, boom—bachelor's, master's, PhD. While she effectively lost the opportunity to become a researcher when she forfeited her math major, she doesn't lament following a non-traditional track—eight years teaching public school before the master's, then a doctorate earned over eight years while running the math lab. "My focus is more on the connections between the mathematics and the student learning," she says.
She has had the rank of teaching professor since 1999. When she was promoted to an associate teaching professor a decade ago, the faculty advancement committee noted her outstanding contribution to mathematics pedagogy and expressed a desire for her to share her skills and insights with as many as she could. In the letter informing her of the promotion, Clayne L. Pope, '65, then an associate academic vice president, wrote, "This may be as significant a frontier as the more rarified atmosphere of theoretical advances in the field of mathematics itself."
She is overwhelmed that the university allowed her to be a professional teacher without making her take a backseat to the theoretical mathematicians, whom she reveres. She was surprised to be plucked out of the math lab to serve as assistant chair of the Department of Mathematics in 1992. In 1994 she began a two-year term as associate chair. She also played a critical role in the development of the Math Education Department, created in 2000. Recently, Steven R. Williams, '80, asked Voyles to be his assistant editor for The Journal for Research in Mathematics Education beginning in 2004.
The administrative opportunities result from her performance as director of the math lab and her doctoral degree in educational leadership.
As a graduate student, Jackie Taylor helped faculty member Charles N. Walter design the math lab to help students in large-population math and statistics classes where access to professors is limited. When she returned as director, she oversaw the project's expansion, including the establishment of satellite labs in the Morris and Cannon Centers and the Athletic Advisement Center. As the only faculty member assigned to the lab from 1978 to 1992, she hired 75 to 95 teaching assistants per year to help 6,000 students per semester with out-of-class questions and homework.
"The teaching assistants would work for us for two or three years at a shot," Voyles says. "It was a place where the kids got to know each other and talk mathematics without being embarrassed. We could be the biggest geeks we wanted to and have a lot of fun doing it."
About 90 percent of her dealings with students happened when they had problems. She became an expert troubleshooter.
"She virtually is the BYU math lab," says Gerald M. Armstrong, '63, chair of the Department of Mathematics Education. "When she took that job in 1978, it was a temporary position. It wasn't long until we discovered we really needed her and she was given permanent status."
Her excellence in problem solving and administration led to her appointment as assistant chair, which led to better teaching opportunities. Last year, the combination of her teaching skills, administrative service, and work on campus committees led the university to award Voyles the 2002 Alumni Professorship.
Multiplying Joy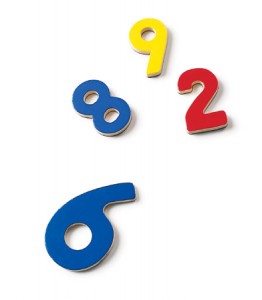 Voyles doesn't cook. She does math. Some men she dated didn't like the combination.
"Does it bother you I teach math?" she asked Herbert G. Voyles when the two were dating in 2001.
"Should it?" he answered.
"I knew I liked him then," she says now. "When he said, 'Get out of my kitchen,' while making me dinner on one of our dates, I knew I loved him. I knew if he asked me, he'd have a wife."
He asked her, and she says her second marriage is one of many blessings that have come to her. Her children are nearby—Camille, '89, lives in Salt Lake City, Nichole, '93, teaches dance at Payson High School, and Ryan is a firefighter in Salt Lake City—and Voyles became a grandmother in 2002, when Ryan's daughter, Cameron Nichole, was born. It all makes Voyles recognize the Lord's hand in her life. Camille was diagnosed with leukemia a month after Voyles accepted the math lab directorship, a job that gave her the flexibility to leave when Camille, who recovered, needed her. Experiences like that motivate Voyles to prepare her students.
"I tell my students they can't think up anything as grand as God can," she says. "Whenever I set a goal for something, it's always very much short of what happens when I prepare myself and let things happen."
Her neighbor and stake president is Daniel K Judd, '85, chair of BYU's Department of Ancient Scripture, who says Voyles displays her gratitude with every student who seeks her help.
"Every time I go to her office, there's a student with her and one or two waiting to see her," Judd says. "And this isn't during office hours. The door is always open, and I listen to her explaining a problem, and I think, 'If I had only had a math teacher like that.' She's so clear in the concepts and so warm and nurturing to the kids as she's teaching them.
"Elder Eyring spoke to deans and department chairs before the school year began," Judd continues. "And he said if we're concerned about the young freshman student who's scared to death, we're concerned about what the Lord's concerned about. Jackie is the embodiment of that very idea."
And Voyles is thankful for the chance to contribute in a mathematical way.
"I think it's a real gift to somehow end up in a situation where you get to chase your passion," Voyles says, "to think about what you want to think about and get paid for it."
It just took her a while to learn that she would have to solve a few problems before she could unwrap all her gifts.
---
Tad Walch is the Utah County bureau chief for the Deseret News.

FEEDBACK: Send comments on this article to magazine@byu.edu.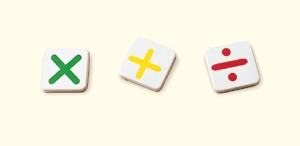 THE STORY OF A PROBLEM
By Tad R. Walch, '92
Seventeenth-century mathematician Blaise Pascal never had the chance to learn to hate math in school. His father removed all math texts from the family's Paris home and declared Blaise couldn't study the subject until he was 15.
It's doubtful Etienne Pascal intended to practice reverse psychology in 1635, but little Blaise found the forbidden irresistible and snuck geometry under his father's nose. He soon discovered on his own that the sum of the angles of any triangle are two right angles. Softened by evidence of his son's prowess, his father lifted the math embargo.
Unfortunately, a lack of mathematical knowledge leads some teachers today to force math on their students in a way that squelches their natural curiosity, says Steven R. Williams, '80, associate professor of math education. "If all a teacher knows is the procedure," he says, "if all a teacher can fall back on is 'I'll say it again louder . . . ,' some students will see the whys on their own, but a lot of them will grow up to be the people I see all the time who don't like math."
Some teachers recoil at the inevitably probing questions asked by elementary school students. "I'm never more curious than when I can't answer a question I haven't thought about," says Jacqueline Taylor Voyles, '76, mathematics education teaching professor. "Some teachers go the other way. They become less willing to allow students to explore, to ask questions, and to wonder. They tell them how it's done. They goad the children into getting the right answer, but if you ask the child what it means, they don't know."
That's why Voyles and her colleagues have worked hard to develop classes for prospective elementary and secondary education majors since the Math Education Department was founded three years ago. "I want teachers to have a rich enough mathematical and pedagogical background to have the confidence to allow true learning to occur," Voyles says. "Otherwise, we become little dictators, not because it's the best way but because it's the easiest way for us."
Voyles helps her students think about their own thinking and encourages them to model this behavior for their students. This deliberate look at one's own thinking is called metacognitive learning and helps teachers and students become more powerful thinkers and learners. This kind of thinking helps students not only learn math but also how to reflect on how they learn so they can use these skillful thinking techinques to learn more math.
"We want them to have a depth of mathematical knowledge," she says. "Why do we invert and multiply when dividing fractions? Why is a negative times a negative a positive? You model what kinds of questions you would ask yourself, how you would go about the problem if you hadn't seen it before. You model, then coach, then fade and let the student do it."
Voyles is the perfect ambassador for mathematics. She loves numbers. She was thrilled when her second child was born on March 14. The little girl was her Pi baby—as in 3.14.
"She is improving the teaching of mathematics in secondary schools nationwide by helping her students to realize and fulfill their potentials as teachers," says a former student, Lisa J. Erickson, '01.