---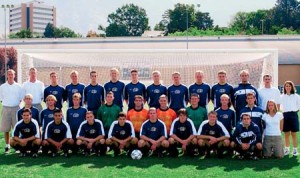 IN a grueling three-day, six-game tournament in Tuscaloosa, Ala., the men's soccer team won the Collegiate Club National Championship for the fifth time in six years.

The Cougars dominated the tournament, winning all six games, including a 4-1 win over rival and 2000 champion Penn State. John V. Morris, '02, BYU's starting goalie and the tournament MVP, helped the Cougars seal their championship with a 4-0 shut-out against Illinois in the final game.

Although several players are graduating or leaving on missions, Coach Christopher N. Watkins, '98, expects to be in the championships again next year. "We've got so much talent on this team, it's scary."
SPORTS SHORTS
Men's Basketball

Steve Cleveland has signed a multi-year contract to continue as head basketball coach. After taking over a program that had just completed a 1-25 season, Cleveland has improved the Cougars each year, posting records of 9-21, 12-16, 22-11, and 24-9–a total of 67-57 for his four years in Provo.

Women's Soccer

BYU finished the 2001 season with a 14-7-1 record, a third-straight MWC crown, and a fifth-straight appearance in the NCAA tournament.

Women's Volleyball

BYU finished the season with a 20-9 record but lost in the first round of the NCAA tournament.