---
Within 24 hours of arriving at BYU, Duane D. Oakes (BS '89, MA '90) found himself in a sleeping bag on the steps of the BYU administration building. Staring at the skies as he waited in line to apply for a campus job, he wondered what on earth he was doing in Provo.
His uncertainty grew as the semester progressed. A former student body vice president at Mesa Community College, he was accustomed to being at the center of activities and felt isolated and disconnected at BYU.
"I struggled to find a place at BYU. I did not know many people and had no family nearby for support," he explains. "One day as I stood on the second floor of the Cougareat, I pondered my future and decided to go home."
But just then, Tamara M. Quick (BA '69), a student-government advisor, saw him and said hello. Within a few moments the teary-eyed student explained that he was returning to Arizona. She immediately responded—"You are not going anywhere! You are staying here, and we are going to mentor you."
That moment changed Oakes's life.
"I remembered him from a leadership retreat earlier that semester," Quick recalls. "Unlike most of the new and transfer students, he had been eager to volunteer and had passed out lunches to the other students." Both Quick and Maren M. Mouritsen ('78), the dean of student life, thought he might do well in student government.
With their guidance, Oakes realized he could fit in and succeed. He made friends, got involved in student life, and thrived academically. "I found my passion for working with students andrealized this is what I wanted to do professionally," he says.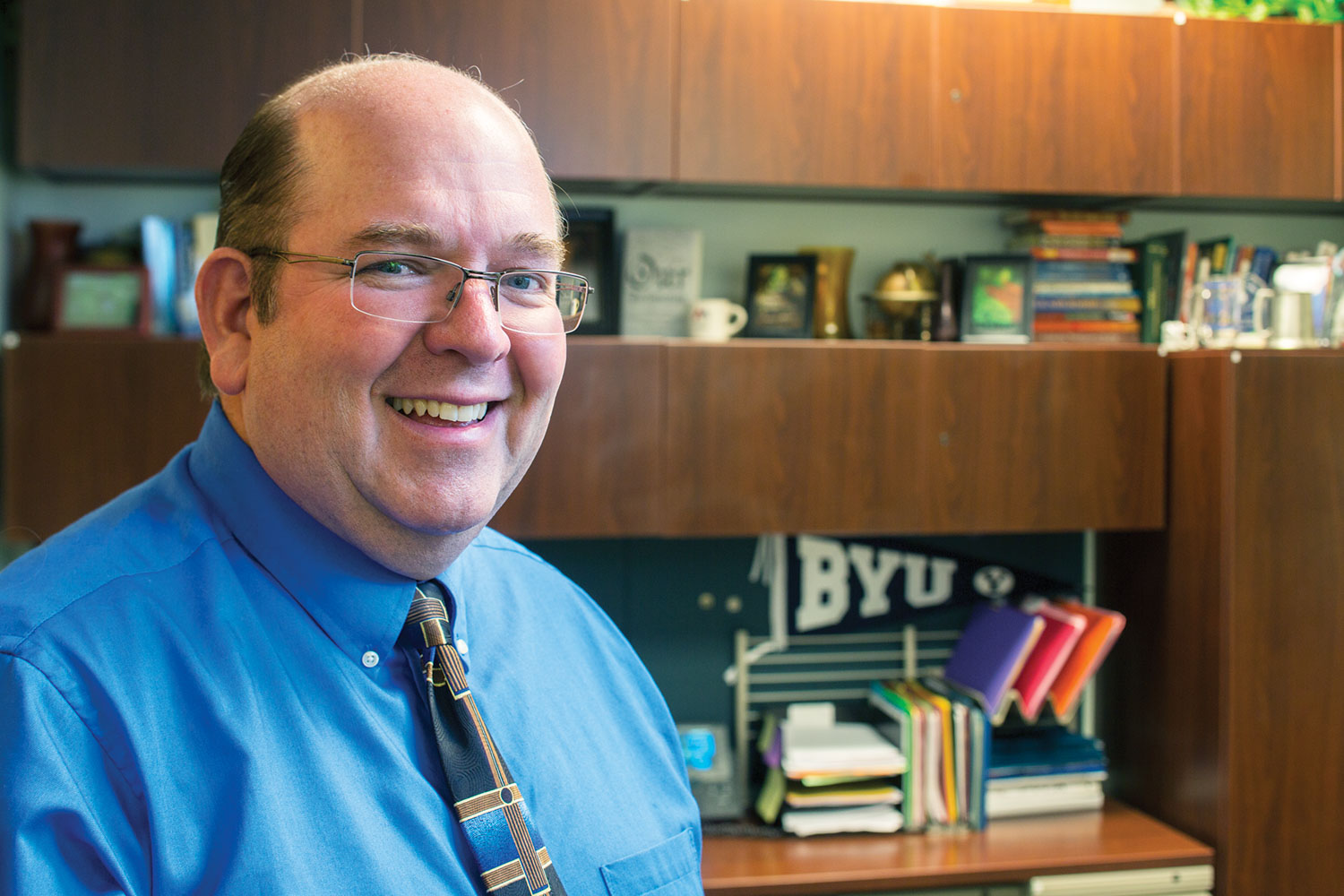 The word involvement only barely begins to describe the rest of Oakes's academic and post-collegiate experiences. While still a student he says he took the motto "Enter to learn, go forth to serve" seriously and immersed himself in BYU life. He was an ASBYU ombudsman and a BYUSA vice president; he even suited up as Cosmo. He helped plan Homecoming and danced at Christmas Around the World concerts. In 1989 Oakes received the Outstanding Undergraduate Student Award in recreation management.
More important, he found his life's work. After earning bachelor's and master's degrees in recreation management and youth leadership, Oakes continued working with students, first at the University of Wyoming, then at Chandler-Gilbert Community College. By 2000 he was back at Mesa Community College, this time as a faculty member and director for the Center for Community & Civic Engagement.
He's been recognized with a number of awards for his work, but his greatest joy is in changing the lives of students—just as his life was changed by caring BYU advisors.
"I have had the opportunity to help mentor thousands of students," he says.
Service is another Oakes hallmark. In 1992 he helped start Chandler-Gilbert Community College's Service-Learning Program, which became a national model. At Mesa he enhanced that model and strengthened it as a service-learning and civic-responsibility training program for the Community College National Center for Community Engagement and the American Association of Community Colleges. He has presented at local, national, and international conferences on service-learning, including at BYU, where he helped dedicate the Center for Service and Learning.
At Mesa a plaque he had as a BYU student leader still hangs by his light switch: "People before Programs."
"I hope I can always remember that I am building people first," he says.
In his efforts to build people, Oakes is again serving BYU. He and his wife, Geniel Seaman Oakes ('89), now chair BYU Alumni's Phoenix Chapter. "It is a privilege to help promote the Spirit of the Y and help others see and feel that spirit," he says. The two came to campus for Homecoming, where they hosted a reunion for 200 Arizona students. But the first thing he did upon arriving in Provo was show his family the steps where he had once slept in a sleeping bag.
But, he says, "this time I knew why in the world I had come to Provo."