---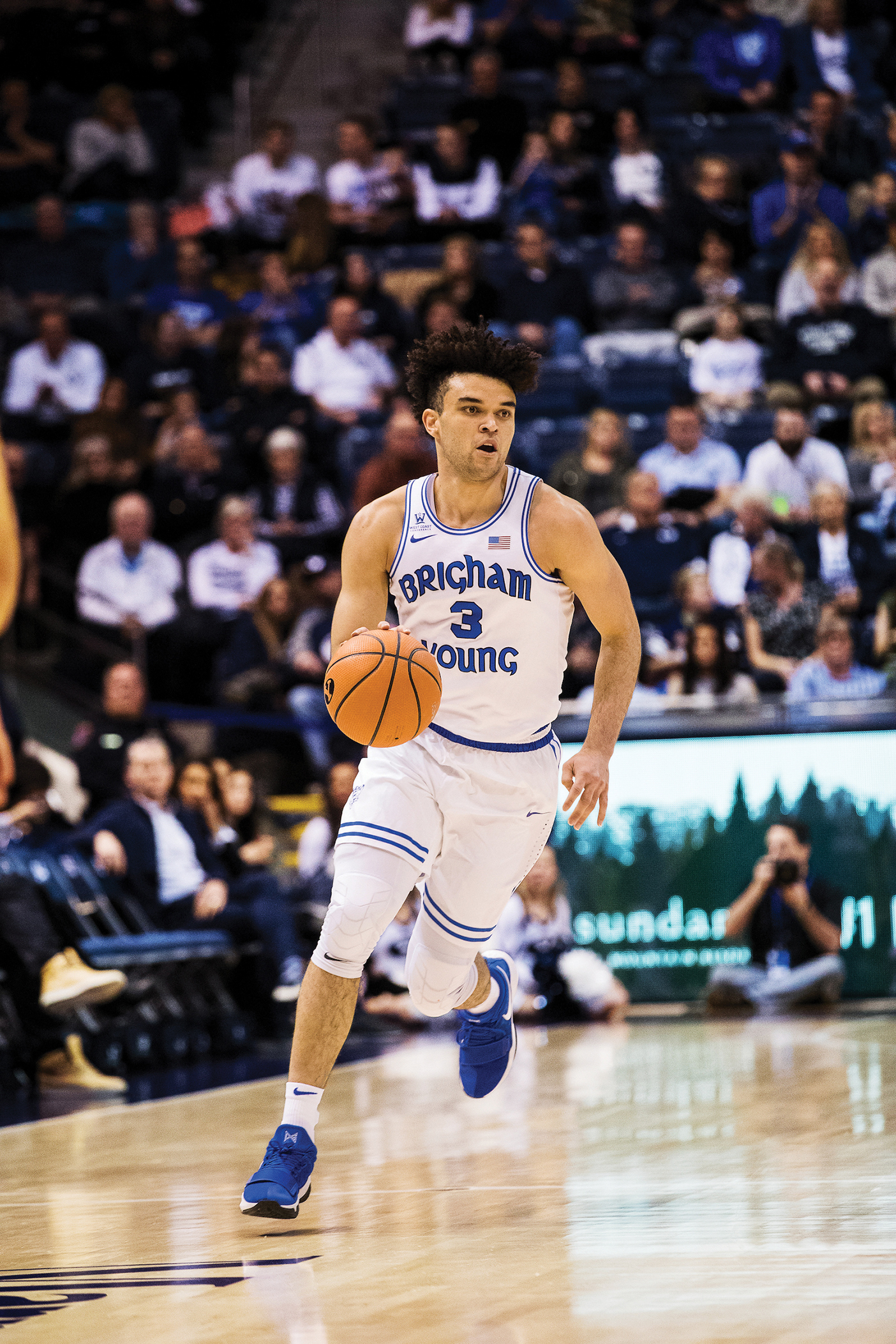 The 6'5″, 210-pound Cougar catches a pass in stride, gaining ground on his defender as he springs into the paint. Eyes fixed on the basket, he pounces, exploding off the baseline in two quick steps. Pawing the ball from his left hand to his right mid-leap, he puts up the shot, then looks back to see it swish softly through the net. Star guard Elijah B. Bryant ('18) roars, shaking his signature mane in victory.
Bryant overcame doubt, injury, and pain to reach this moment—leading his team to a victory over Mississippi Valley State in the first game of the 2017–18 season. Just a few months earlier, Bryant was in recovery as he dealt with a left knee injury his sophomore season, forced to the bench, missing the National Invitation Tournament in March 2017.
"With the injury, there were a lot of dark times," Bryant recalls. His wife, Jenelle, says seeing him so low was heartbreaking. "He was devastated like everyone was," she says. "He went through all the stages: anger, sadness, wanting to give up all his dreams."
Despite the doubt, Bryant was determined to recover, and head coach Dave Rose saw him slowly transform sadness into success. "[Elijah is] unique in the fact that he has great focus," Rose says. "He concerned himself with one thing, and that was: this is what I've dealt with, and now I'm going to tackle it and overcome it."
After two surgeries, Bryant attended physical therapy up to five times a week, met regularly with the team's mental-strength coach, and sat in on each team practice. And then every night he shot a thousand shots—a hundred from each position.
Even though Bryant spent more than half a year in recovery, his 2018 statistics show no half-effort. Bryant finished his junior season making an impressive 49.4 percent of field goal attempts, 41.5 percent of 3-pointers, and 85 percent of free-throws, flirting throughout the season with the 180 Shooters Club—a feat so rare only seven NBA players have finished a season with the 50-40-90 percentage. Jenelle says his injury was a "blessing" in a way: "He's realized that it's made him stronger."
Bryant shines brightest in his selfless attitude as a captain, Rose says. "He still has that same dedication and determination for his own game, but he's actually reached out and concerned himself with how others are playing," Rose explains, noting Bryant's increased ability to "get outside of himself" and help his team communicate well with each other. "That makes for a good basketball player, but it makes for a great person in anything that you do."
If Bryant had a chance to do it all over again, knowing what he knows now, he would tell himself, "Just continue to work, and good things will happen."