---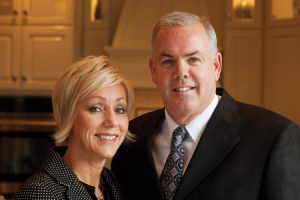 I wish cancer had never entered my life, but I am grateful for the lessons I have learned.
In June 2009 my wife, Cheryl, talked me into taking a much-needed vacation. I had become consumed with my job—she would tell me I was trying to sprint a marathon and something was going to give. My children had a hard time buying me Father's Day gifts because I had no interests beyond basketball. And after 27 years of coaching, the losses were still unbearable. The wins weren't even that exciting: with each win, I was simply relieved that I had done what I was expected to do. I had forgotten to enjoy the journey. So we took our family on a vacation to Disneyland.
The trip went so perfectly that it was truly the happiest place on Earth. After California, we flew to Las Vegas to see family, but on the flight, I began feeling dizzy and couldn't sit up. The flight attendants moved passengers so I could lie on the seats, administered oxygen, and called for medical help. That's when my journey with cancer began, and I learned my first lesson.
I knew that our family and friends loved us, but what was amazing was the kindness shown by total strangers. On the plane there were no pillows to put under my head, so a woman across the aisle volunteered her jacket. After the medical personnel came on board, the passengers disembarked, and when they moved me to the stretcher, there was the woman's jacket. The flight attendants hurried to catch her, but she was gone. I didn't even know her name, and I didn't know how to thank her. At the hospital the doctors said I needed emergency surgery and 10 units of blood. I will never know the names of the 10 people whose gifts saved my life. It bothered me that I couldn't thank them. I wanted those people to know how grateful I was for their acts of service and love. Then it hit me: the only way I could repay them was to be the stranger for someone else.
Cheryl and I made a commitment to do this, and we invited the basketball team to join us. It was amazing to watch them. From helping a young mother with her children and bags off the plane to becoming involved in the lives of children with cancer, they stepped forward, and it changed their lives.
The second lesson came after I had been transported from Las Vegas to Salt Lake City. BYU president Cecil O. Samuelson was at the hospital to meet Cheryl and me. The doctors had indicated that I had pancreatic cancer and that the survival rates were not good. Hopelessness and despair began to creep in, and President Samuelson could see it in our faces. He said, "Dave and Cheryl, none of us knows how long we have here on Earth. The important thing is what we do with the time we have. Make each day count, and enjoy the journey."
Cheryl and I made a commitment to do this as well, and I've learned a great deal. Cheryl introduced me to BYU's art museum. We hiked canyons that we have lived next to for years and never explored. I learned to play card games. But perhaps the best thing we do when trying to enjoy the journey is express love to the people we care about.
I was lucky. I had a rare, treatable form of pancreatic cancer, and I've been given a second chance. I'm excited for each new day. I'm excited to be the coach to some terrific young men. I'm grateful to be a grandfather. I'm thankful to be a father to three great children, and I'm glad to be married to Cheryl.
It's my prayer that as you experience the wonderful things Heavenly Father has prepared for you, you will be the stranger for someone along the way and you will always remember to enjoy the journey.
This article is adapted from an address given by Dave Rose, head coach of the BYU men's basketball team, at the Homecoming opening ceremonies, Oct. 5, 2010.