At 82 an alum is still dominating on the pickleball court.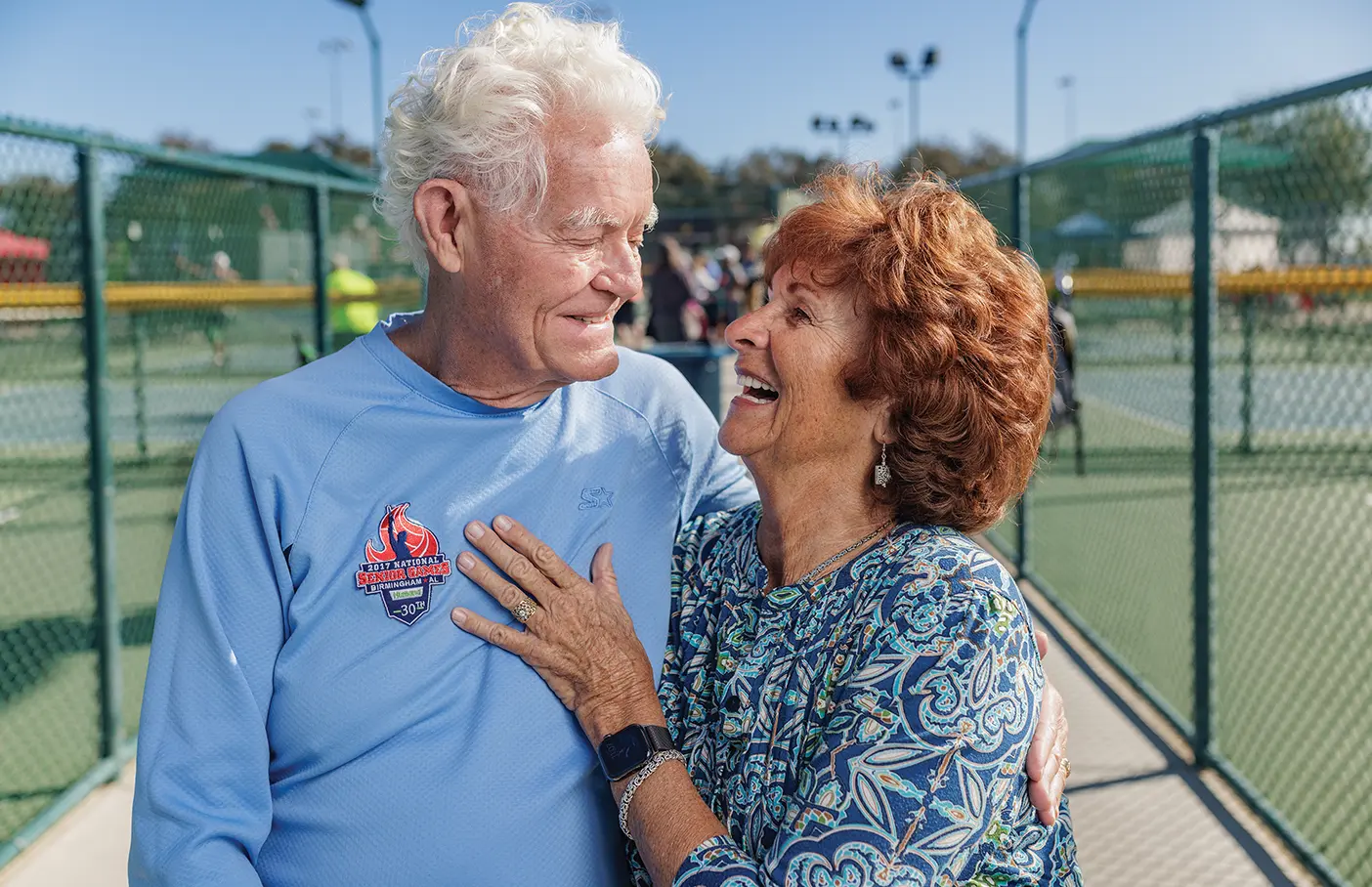 In a championship pickleball match at the 2018 Huntsman World Senior Games, 78-year-old Richard E. (Dick) Johnson (BS'64) lunged for a ball but stumbled. He mashed his face, broke his nose (and glasses), lacerated his forehead, and sustained a concussion. For Johnson, it was only an annoying delay—he insisted on carrying on. But the tournament director and USA Pickleball president told the bleeding athlete, "No, Dick, you're going to the hospital instead." Johnson had to settle for the silver.
Two days, one MRI, and 13 stitches later, Dick and his wife, Lawana Ogborn Johnson (BS'64), hopped on a flight to Texas for the Super Senior World Championships. Though many wondered if he'd be able to play at all, Dick took home two gold medals.
To say he loves competing is an understatement; this 82-year-old former tennis player is among the most medaled athletes in pickleball history.
Counting medals could be a fulltime job at the Johnson house. Dick has won 259 of them, mostly gold, in 129 sanctioned tournaments. In November at the USA Pickleball National Championships, in Indian Wells, California, he earned his second Grand Slam by winning gold at the year's six top tournaments. A few months earlier he was inducted into the Huntsman World Senior Games Hall of Fame—not bad for a fellow who only began pickleball at age 72.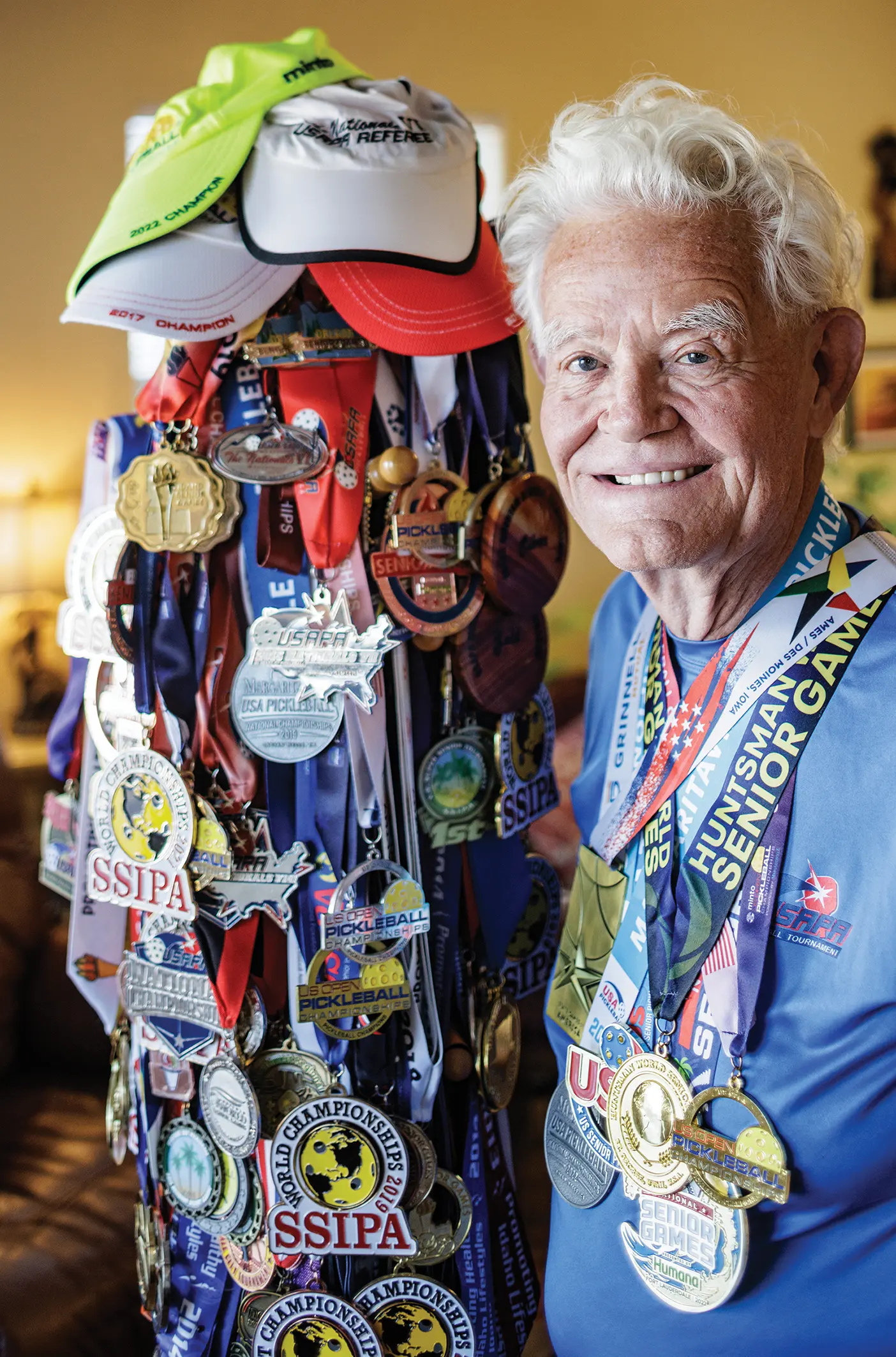 Dick grew up in Boise. He gave up academic and tennis scholarships to go on a mission and later the possibility of another tennis scholarship because of a significant church calling. Lawana was raised in a deeply faithful family in Pascagoula, Mississippi, where few members resided. Her convert family rented out their house and lived in a barn with no water or electricity to help pay for her brother's mission. At 17 she moved to Provo to attend BYU. "What I wanted in life I found at BYU," Lawana says. That came to include Dick Johnson, introduced to her by none other than Cosmo.
In their life together, packed with work, service, family, and fun, the Johnsons have always been active, and pickleball is emblematic of their drive.
Pickleball, invented in 1965 by a couple of dads with bored kids, is now America's fastest-growing sport with 5 million new players in 2021 alone. Many professional athletes from tennis and racquetball have joined its ranks.
Dick loves the game for the challenge of being the best, but he does it in his own way. "As a player, what I do is counter to conventional pickleball wisdom," he says, "which is to play defensively and let the other team make unforced errors. I do the opposite—I go for it. I always go for the winner." Health is another driver of the Johnsons' pickleball passion. Although Dick has had two knee surgeries since he took up the sport, he always says, "Pickleball saved my life," and he means it. In his busy life as an Ore-Ida executive and manager at the Idaho Department of Commerce—among heavy church, home, and civic responsibilities—he had gained weight, become diabetic, dealt with some heart issues, and had his back fused. Tennis, in which he had excelled—even making it to the US Open—and three of their daughters had won state championships, was now off the table.
Dick and Lawana thought they'd give pickleball a try.
They loved it. Dick lost 50 pounds and found his back tolerated the play much better than tennis. Neither of them ever looked back. "It's the most addictive game ever," says Lawana. "It's a welcoming, social, friendly sport," adds Dick. "It didn't come out of country clubs; it's for everyone, for us and our kids and grandkids. And it's so much fun!"
Lawana, once a serious player too, had to quit after crashing into a wall while chasing a lob, breaking her shoulder and hurting her spine. But she still loves to watch the game.
"She knows more about it than I do," Dick says. "She has refereed in all of the major tournaments, which few have ever done."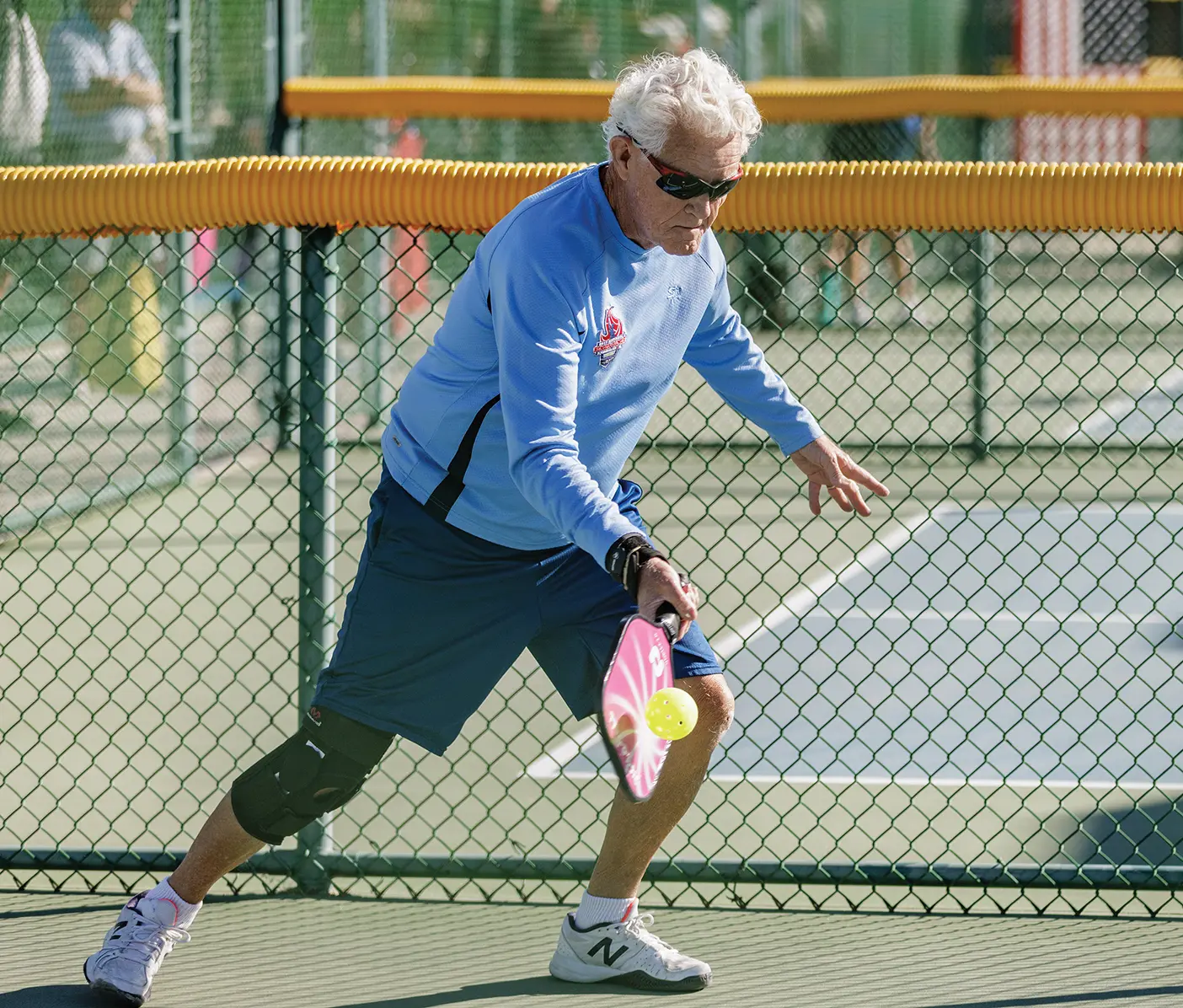 Although Dick competes alone or with others in men's and mixed doubles, "Lawana is my team and partner," he says. "Publicist, nutritionist, manager, and spouse." They are a team, planning, traveling, and celebrating together.
Although the odds of catching Dick and Lawana Johnson at home have always been slim—they've served four missions and been mission leaders— pickleball's wide-ranging circuit has become their de facto mission field. In their many interviews as top athletes, their faith in the gospel of Jesus Christ figures prominently. And among the countless friends they've made in officials, partners, fans, and volunteers, there is respect for the Johnsons' beliefs as well as for their pickleball prowess. "We've become so close to so many beautiful people," says Lawana. Dick adds: "Many of these athletes have come back from heart attacks, cancer, and terrible injuries; that takes courage and guts. They understand faith and belief, but they're also curious. So we take them to Church visitors centers or show them how to find their genealogy online."
As straining as pickleball is on the body, Dick says he'll retire soon. But just when remains to be seen, because, Lawana says, "his head and his heart are still all fired up to play."