---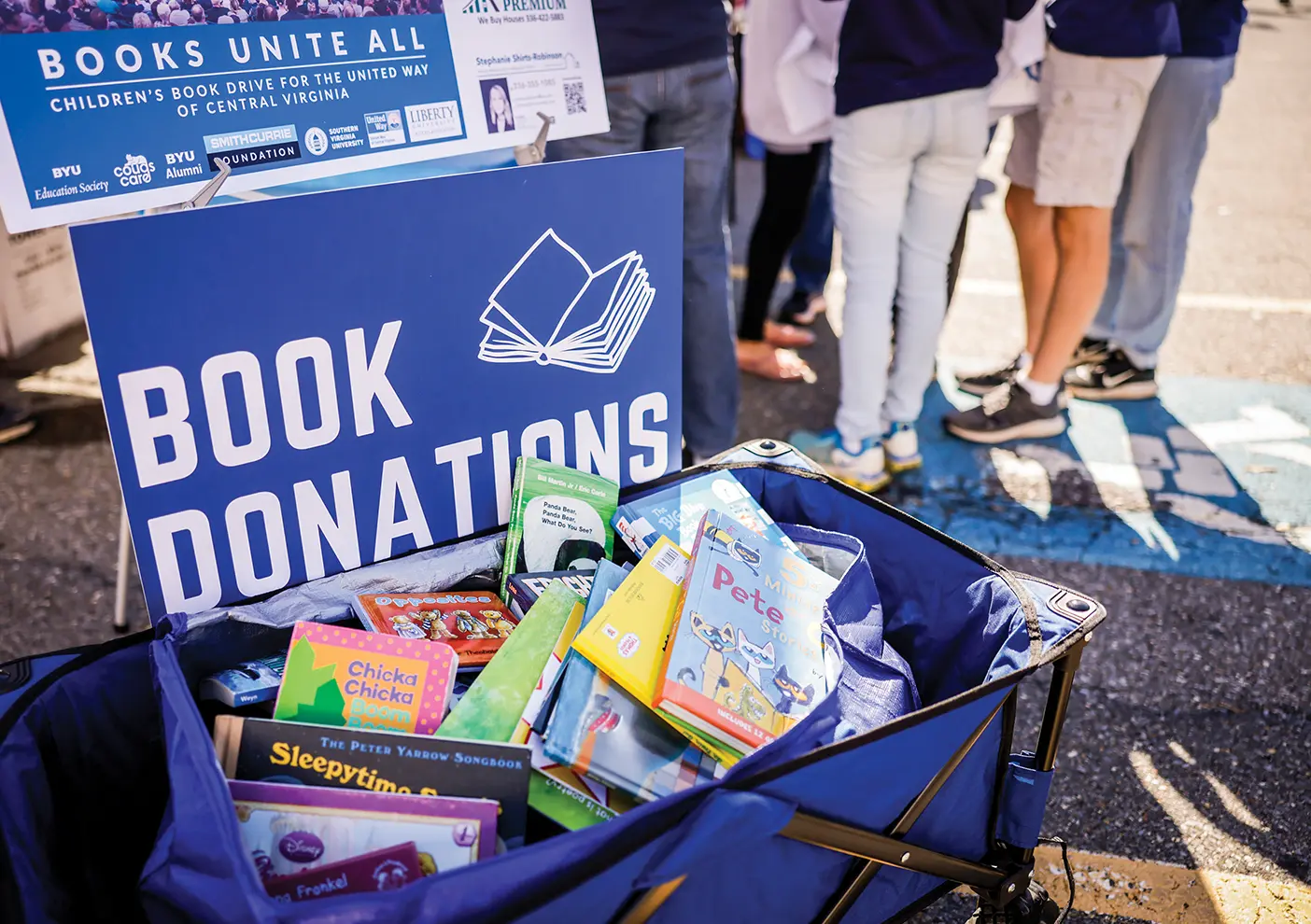 It's got all of the ingredients of a typical college-football tailgate: Royal-blue clad BYU alumni and friends belt out, "Rise and shout, the Cougars are out," in a church gym down the street from Boise State's Albertsons Stadium. BYU cheerleaders jump up and down as Cosmo cartwheels into the room to a roar from the crowd. There is music, food, and school pride in abundance. The fans are clearly pumped about the football game, but there's something more that has them excited and sets this tailgate apart from others.
The fans aren't here just to cheer their Cougs; they've also gathered to bring cheer to the local community.
Outside the building stacks of canned goods and boxed foods are piling up, while winter coats, gloves, and scarfs spill from bags deposited at the drop-off location. BYU Alumni Mountain Chapter director TJ Bliss (BS '06, PhD '13) says they originally only intended to gather warm clothing for the Boise Rescue Mission, but when he spoke to Marlene Tromp, president of Boise State University, she mentioned a need for canned food for the university's food pantry. "About 35 percent of Boise State students suffer from food insecurity or hunger," Bliss says. So Bliss and Tromp added a food drive to the tailgate service project and encouraged both BYU and Boise State fans to donate.
"Really, this service project is driven by Christlike love," Bliss says. "Whether it's to another church, the Boise Rescue Mission, or to a university that's a secular university, we do good for people because we follow Christ."
The Boise tailgate is not unique. After a trial run during the 2021 football season, a service project has become standard at every BYU away-game tailgate. These efforts, dubbed "Cougs Care," have been received with great gratitude and enthusiasm from the communities that BYU has visited—from Tampa, Florida to Eugene, Oregon.
Each project is tailored to the needs of the community. At the tailgate for the University of Central Florida game in Tampa, BYU alumni donated diapers, baby wipes, toddler clothes, and more to Pasco County Schools' Head Start programs. In Eugene alumni donated items for newly arrived refugees. Stanford saw piles of socks and laundry pods donated for mobile sanitary units, where people can shower, do laundry, and clean dishes as needed.
In Lynchburg, Virginia, a chapter volunteer suggested doing something to support literacy. "We haven't done anything like that before," says Curtis C. Isaak (BA '92, MA '98, MPA '16), events coordinator for BYU Alumni. He thought it was a great idea. BYU Alumni brought together BYU's David O. McKay School of Education, Liberty University, and Southern Virginia University to organize a book drive for the United Way of Central Virginia. Fans donated 1,541 books for distribution to local schools and young children in the area.
"We want to build bridges with these communities," Isaak says. "What better way than to find some way to serve that community? Our alumni love to give back and serve."