For Sam Payne, storytelling and the guitar go hand-in-hand.
Songwriter Sam Payne's storytelling savvy emerged over the strings of his acoustic guitar. "I found myself telling the stories behind the songs on stage," recalls Payne, who has been performing for decades. Finally, at a storytelling festival four years ago, he says, "I thought I would take that leap, put the guitar down, stand in front of a microphone, and focus on the story."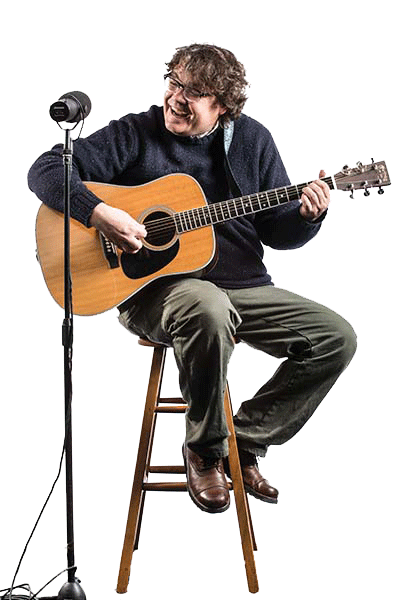 Today, Payne continues to perform at music and storytelling festivals all over the globe, and he lends his affable voice to hosting The Apple Seed: Tellers and Stories, an hour-long BYUradio show. "Storytelling is a way we can bring the world to each other—to bring our worlds together," he says.
Q: How much poetic license do you take in your storytelling?
A: Sometimes the stories I write are purposeful distortions of things that happened to me and to people I know and love. Other times, even when I think I'm adhering to the truth, I find I'm not; our memories of things vary widely. There's a story I've been telling for a long time about my brother from when we were kids, and I have told that story very much as I remember it. I recently got the story from his point of view, and his memories diverge from mine. That's one of the the reasons we tell stories. You and I might have an experience together, and 10 years from now, it's going to be a rich conversation recounting that experience over lunch. I'm going to learn from you, and you're going to learn from me.
Q: Do you think playing music makes people more receptive to the story itself?
A: Absolutely! A larger number of people know how to respond instantly when I start playing a song than when I stand on a stage and start telling a story. Having songs in my pocket is a way to develop a relationship, have a conversation with the audience in a language they immediately understand.
Q: How has storytelling impacted your life away from the mic and stage?
A: My grandfather passed away in his 80s, and we only shared the planet for about 20 of those years.I had a great love for my grandfather, a love born of my understanding of his life. But it occurred only recently, with some force, that my love for my grandfather was a product of my personal experience and the stories I'd heard of him.