---
By Alicia M. Moulton (BA '10) Andrew J. Kosorok (BFA '04) leans over a panel of glass, on which he etched an intricate floral motif. This piece is called Al-Mu'mim, Inspirer of Faith. It represents the growth of God's creations as they react to trials and blessings.
The Harold B. Lee Library recently displayed eight of Kosorok's glass sculptures in the exhibit 99 Most Beautiful Names. Each sculpture represents a name of God from the Qu'ran.
But Kosorok isn't a Muslim; he's a Latter-day Saint—he grew up in Washington, served a mission in Alabama, and now lives in Orem, Utah, with his wife and four children. And flat glass isn't typical for Islamic art; it's common in Christian architecture. Yet this combination, Kosorok hopes, creates just the right message of religious understanding.
"The sculptures are tangible records of my personal struggle against prejudice and ignorance," writes Kosorok in an artist's statement that hung near his library exhibit. "[They] allow me to share my journey toward understanding with others."
This journey began in his childhood. As a boy, he would gaze in awe at the stained-glass windows of his grandmother's chapel in Oregon. Stained glass decorated everything in that town, from the Victorian mansions to the restrooms.
When he discovered a stained-glass class at BYU, he was hooked. There was just one problem—only one class was offered. While working at a glass shop in Orem, he returned to BYU for more than 10 years so he could take the class enough times to graduate with an emphasis in stained glass.
Stained glass often goes with spirituality. As a missionary, Kosorok noticed a saying displayed in many Baptist homes: souls are like stained-glass windows. "I like that idea that the physical metaphor of the sunlight going through the stained glass is parallel to the light of truth shining through a person," Kosorok says.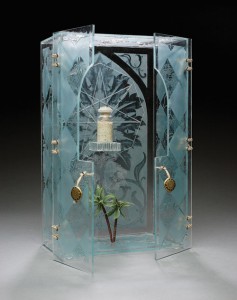 Kosorok's interest in Islam began in 2001, after the arson of a Muslim-owned restaurant in Salt Lake City. Kosorok noted the respect Church President Gordon B. Hinckley and other General Authorities showed for different religions, and he began contacting Muslims to learn about their faith.
Their open response surprised him. He heard not only from a Salt Lake City interfaith group, but from sheikhs in Egypt and Azerbaijan. "I started getting advice and blessings from holy men, from people around the world," he says.
When he began his project on the 99 names, Kosorok used his web of contacts to find inspiration for each sculpture, paying careful attention to get the meaning right. He incorporates traditions from all variants of Islamic belief and uses design motifs found in various countries, from Turkey to Morocco.
"I'm very pleased," says Ghulam Hasnain, a Muslim friend of Kosorok's who often speaks at his exhibitions. "None of us have to be corrective to him . . . [or] look over his shoulder."
Kosorok still works at the glass shop in Orem, Glass Images and Creations, but now, with a master's degree in studio arts, he teaches the BYU stained-glass class he repeated so many times. He has completed 10 glass sculptures for his 99 names project, with more in process. Within the next few years he plans to do all 99 as he uses his glass to create beauty and reflect shared religious values.
"The lines of separation between paths of faith are often due to differences of vocabulary," Kosorok says in his artist's statement, "rather than differences in where the heart is directed."
---