---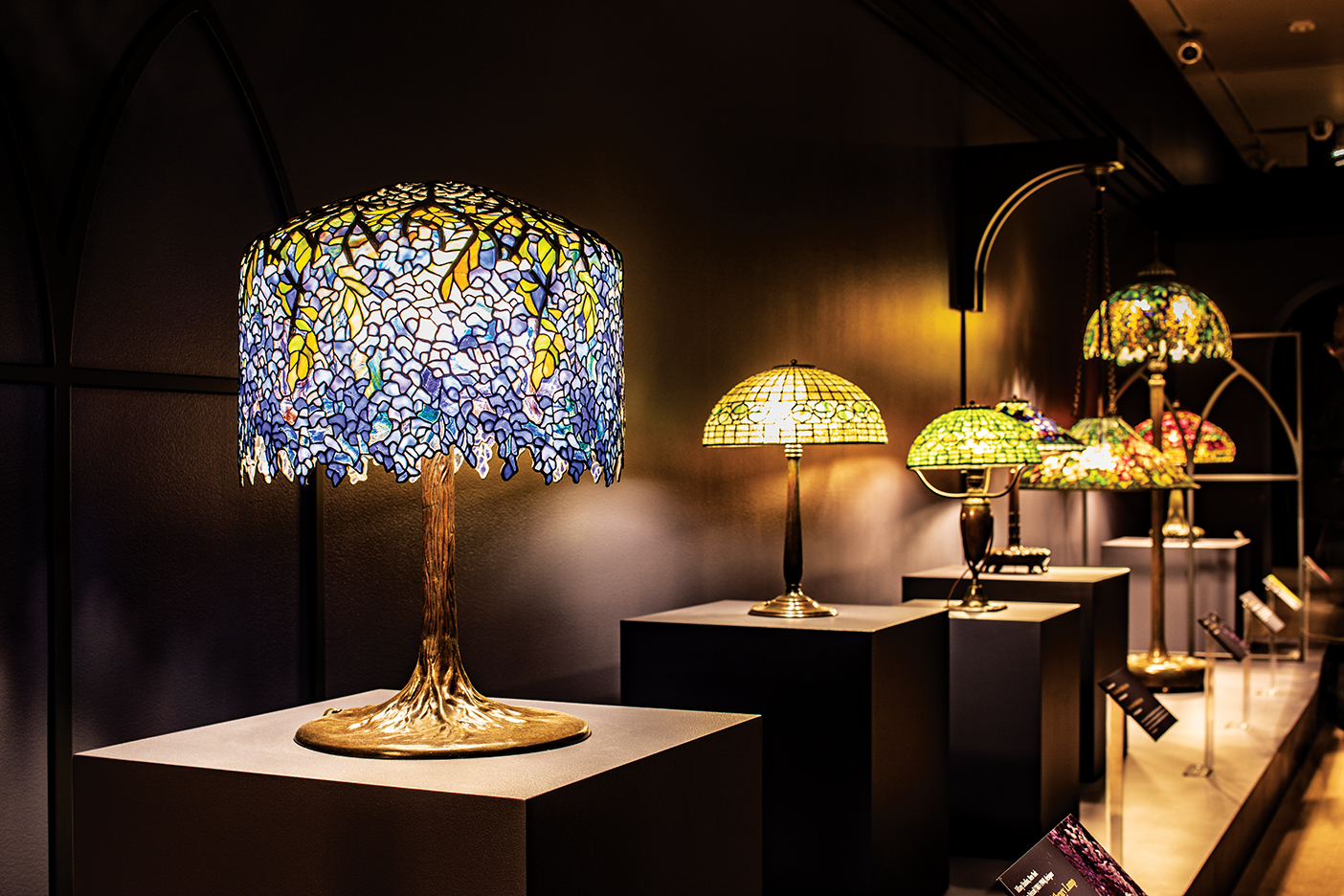 Four hundred dollars. That's how much Clara Driscoll's Wisteria Library Lamp first retailed for in 1906—the equivalent of $10,000 today. The lamp, with its 2,000 pieces of stained glass, now sells for around $800,000 and is one of the most expensive lamps ever created by Tiffany Studios.
Despite the steep price tag, lamps like Wisteria were "wildly popular" in the early 1900s, says Ashlee Whitaker (BA '05, MA '08), curator of the BYU Museum of Art's spring exhibition Tiffany Glass: Painting with Color and Light. Wisteria's subtle shifts of color between greens, lavenders, and blues, coupled with its bronze-tree base, added to the organic effect of Driscoll's design, making it "one of the greatest expressions of the detail and craftsmanship of [Tiffany] lamps," Whitaker says.
Wisteria was one of 20 lamps on display at the exhibition, which featured Tiffany creations including other naturalistic lamps, colorful glass jewels, and decorative landscape windows on loan from the Neustadt Collection of Tiffany Glass in Queens, New York.
Son of the famed jeweler Charles Lewis Tiffany, Louis Comfort Tiffany took advantage of the family name to form Tiffany Studios, building his reputation from a painter of oil on canvas to an artist of light and color in exquisite works of glass. "He was intelligent and restless, and painting was just not enough for him," explains Whitaker. "So he started to become enamored of stained glass."
Tiffany revolutionized the way stained glass was made, hiring chemists to develop new metallic oxide formulas that captured all kinds of colors and textures. "He wanted the full spectrum, any palette he could desire available to him," Whitaker says. He also hired talented artisans—often women like Clara Driscoll—who did everything from creating lamp designs to selecting, cutting, and soldering together the lamp's tiny stained-glass pieces.
Tiffany Studios' fame spread from New York, and even LDS Church leaders in Utah got wind of the extraordinary glass creations. Church architect Joseph Don Carlos Young commissioned five windows—including ones of the First Vision and of the angel Moroni delivering the plates—for the nearly completed Salt Lake Temple in 1892. "That wasn't in the [Tiffany Studios] catalog, I'll tell you that," said Tiffany expert Josh E. Probert (BA '01, MPA '03) at a lecture for the exhibition. "Young [wrote] a very detailed letter to Tiffany describing what it should look like. . . . In the description he wrote, 'No wings,' and underlines it three times."
Today windows, lamps, and mosaics designed by Tiffany Studios can be found everywhere from Mark Twain's Connecticut home to Mexico City's Palacio de Bellas Artes. Even now, the subtle hues and details of Tiffany's work are "incomparable," says Whitaker. "There's no stained glass . . . like Tiffany glass."