---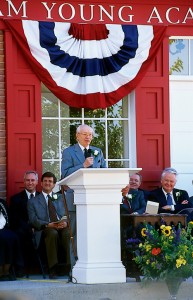 When, in 1884, Brigham Young Academy's Lewis Building burned to the ground, Reed Smoot bemoaned the end of the school to Karl G. Maeser. But Maeser reminded him that it was the end of the building only—the school would live on.
Yet, 120 years later, the building has also come to life again, this time near the entrance of This Is the Place Heritage Park in Salt Lake City. Renamed for the primary donors Stanley and Mary Ellen Smoot and their family, Smoot Hall was dedicated by President Gordon B. Hinckley during an outdoor ceremony on July 21, 2004.
As an audience of hundreds listened in 90-degree heat, President Hinckley reminded them of the heroism, courage, and faith of those who helped establish Brigham Young Academy, saying that those qualities are "important to preserve to remind those who come after."
The 9,000-square-foot Smoot Hall houses administrative offices, a 250-seat theater that plays a 33-minute film about the park, and a family history center, which allows visitors to explore their heritage.
"This building represents an anchor for the park," says Paul D. Williams, '88, president and CEO of the park. "It's an opportunity for us to really capitalize on our mission, which is the preservation of history." The family history area features products that allow visitors to be "interviewed" and to then create a soft-cover book or video with their family histories. Williams says that while people come to the park to experience pioneer history, now they will also be able to find "a link to their own family history."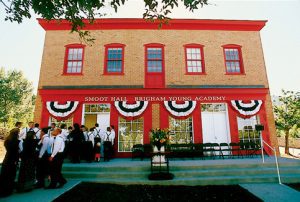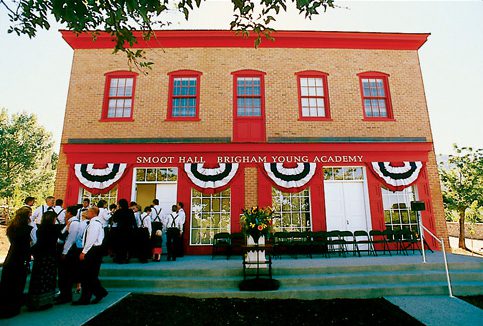 In addition to helping visitors learn about their past, Smoot Hall will provide a place to perform community service. The building's main level will be available to conduct humanitarian aid projects. "We want the women of the Church to feel what the pioneer women felt about serving one another and learning together," says Heidi S. Swinton, a member of the 2000 BYU Women's Conference Committee which raised several hundred thousand dollars for the project. "We wanted to be part of the heritage of this area." The building was completed, thanks in large part to the Smoots, who, after being contacted in February 2004, proceeded to contribute over half of the money needed to complete the building, which had stood unfinished for three years awaiting further funding.
Now that it's completed "what we're hoping is that visitors will get a strong sense of the past," says Janet S. Scharman, vice president of student life at BYU, "and that they will also look to the future—what it is that they can pass on to their posterity."