---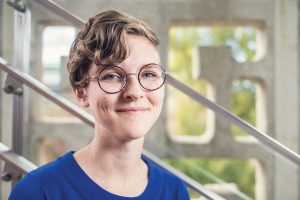 As part of Homecoming each year, George H. Brimhall descendants sponsor an essay contest paying tribute to an honored BYU founder. Sarah Kay Brimhall Miller ('18) won the 2016 contest, which recognized founder Susa Young Gates.
On the other end of the line, my surgeon told me that I had Hodgkin's lymphoma. I unconsciously felt my neck, fingering soft lumps, the cancerous lymph nodes. I sat on my couch, where I had waited for this call—one I now wished had never come. Just a week before I had sat in class with my friends, chatting about internships and preparing for our senior year. Now here I was, recently married, 22, and diagnosed with cancer. Fear flooded me.
Six months of chemotherapy brought a predictable routine. Twice a month, the acrid taste of saline and chemo brought nausea. After treatments, I'd curl up tight in my blankets and Miyazaki movies distracted me until I slept. The days usually ended in the bathtub. Just 83 pounds, I could feel my ribs and hips press against the tub.
On one of these days, I noticed a hummingbird building a tiny nest outside of our apartment window. She made me happy, flitting around busily, green and brown feathers flashing through the air. Searching for food or adding to her nest, she flew in and out of my view. Seeing a creature so active, I felt a sense of loss. This cheerful hummingbird reminded me of myself before I was diagnosed. Before.
I had been a busy, involved honors student at BYU: I had worked as a designer for several campus magazines. I had cooked and hosted dinner parties for friends. Flitting between graphic-design classes, work, and club activities, my days had been full and fulfilling. Now my own nest of blankets kept me warm, but I never left them.
Known for inspiring people to "keep busy in the face of discouragement," Susa Young Gates rarely rested and was active as a writer, editor, historian, and mother. At age 46 Gates became ill with what appeared to be cancer, and two doctors declared she would die soon. But in a blessing she was promised that she would live to do temple work. Gates said she "clung to that promise with all [her] dying and living strength!" Stubbornly courageous, she held on to hope as she recovered over the next three years. Amid Gates's lifetime of accomplishments, her illness is often overlooked. While the next three decades proved as prolific as before, during these three years of illness she had no audience and no accolades for her daily quiet courage.
As I fought cancer I slowly realized that my worth is not conditioned upon the good that I do. Bravery is not limited to grand achievements. Courage meant showing myself kindness, especially while sick. Courage meant holding on to hope day after day. Instead of bemoaning the fact that I was too weak to cook, I watched Julia Child chop, dice, and slice on The French Chef, tucking away tips for when I would cook again. Too fatigued to design, I watercolored my surroundings, including the friendly hummingbird.
Now—recovered and in remission—I see the hummingbird only occasionally, in between my graphic-design classes or during breakfast. She reminds me of my period of rest and reflection and my quiet revelation of courage.