Drawing from his experience as a new husband, a painter finds a spot in Washington, D.C.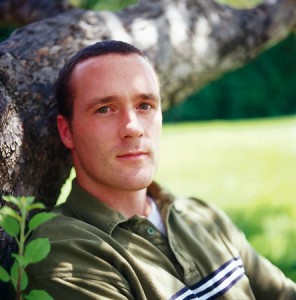 If Justin's parents had used Cheerios to keep him quiet during church, things might have turned out differently. As it happened, their pen-and-paper remedy for restlessness turned into a larger-than-life painting that now hangs in the Smithsonian's National Portrait Gallery in Washington, D.C.
Justin M. Hayward (BFA '03), part-time faculty in visual arts, is unassuming for a nationally recognized artist. He grew up in Traverse City, Mich., and—except for his fidgeting during services at their Baptist church—his parents describe him as a sweet, well-mannered child.
"Art was his first love," recalls his mother, Debbie Hayward. "As soon as he could pick up a pencil, he was drawing something."
He started drawing monster cars and caricatures of teachers—the latter sometimes landing him a reprimand. In high school his canvas was a 6-foot mural,
a tribute to the school's new campus. From there, he moved to Alma College in Michigan, ostensibly to play football, but still pursuing art.
Injured from football and newly converted to the Church of Jesus Christ, Hayward transferred to BYU in 2001, married his high school sweetheart, Marci Stirling Hayward (BS '02), and turned full-time to art.
After graduation, Hayward studied at the New York Academy of Art, where he overheard a professor talking about the Outwin Boochever Portrait Competition, a contest hosted by the National Portrait Gallery that she and thousands of professionals were entering. Already working on a portrait for his master's thesis, Hayward considered submitting the piece.
Producing an award-winning painting was not Hayward's biggest concern. "At the time, my wife and I were both students. It was $25 to even enter. I thought, 'That's so much money, but I'll try it anyway.'"
It may be the best $25 he's ever spent.
In a series of e-mail notices, Hayward found out that, out of over 4,000 paintings, his was a semifinalist, then a finalist (top 51), and at last, a short-list finalist (top seven). Young Marriage, a portrait of the Haywards in their cramped New York apartment, was officially commended.
When Hayward arrived at the steps
of the National Portrait Gallery for the exhibit's opening gala, he looked up at an enormous banner hanging from the colonnade to announce the exhibit and saw, printed on the banner, a detail of his painting. Inside the gallery, he felt "star struck" when his artist role models offered him congratulations.
Brandon Fortune, associate curator of painting and sculpture at the National Portrait Gallery, comments, "Justin's painting is quite realistic, quite well-painted, and harks back to images from the history of portraiture that gives it a depth and a richness that made it stand out. Clearly he's very serious about what he's doing and very talented."
Hayward continues working part-time for BYU and now lives in Bountiful. He has already received follow-up inquiries from the competition. But one thing stands out as he reflects on the show, "I liked having that banner more than anything."