As owner, manager, sound technician, ticket-taker, marketing director, favorite performer, and janitor, Jake Haws runs the show at Muse Music.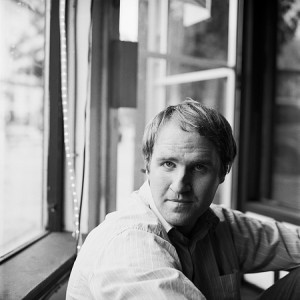 Muse Music exudes rock-and-roll chic. The concert area of the all-ages music venue on Provo's University Avenue is dimly lit, with exposed brick, mismatched furniture, and a stage just waiting for a guitar solo. The outer room features hundreds of translucent guitar picks hanging from the ceiling in pseudo-chandelier style and a counter tiled with record sleeves from Patsy Cline, U2, and everyone in between. Across the counter, smiling pleasantly as he scrambles to prepare for the night's event, is a clean-cut, slightly tousle-haired guy in a black T-shirt and jeans. Meet R. Jacob Haws ('08), the man behind Muse Music.
Everyone who's anyone in the Provo music scene—including Haws himself—has performed at Muse Music, and BYU students regularly throw down $5 to see a friend or a favorite band play there. Performing in this small venue that Jake Haws bought last year for $10,000 is a rite of passage for musicians in the area.
Haws, who plays both in solo shows and as the front man for the local indie rock band Declaration, frequented Muse as a performer and concertgoer before serving a mission to New York City. It was at one of these concerts that Melissa Dupree Haws (BS '07) fell for her singer-songwriter husband. A guitarist and music junkie herself, Melissa is fully supportive of Jake's endeavors at Muse. "It's like the business progresses with our relationship," says Melissa. "I couldn't imagine our lives without it."
Since purchasing the business, Haws has put his double major in sound recording and marketing to good use. In addition to the performing space and record store, Muse now has a fully functional recording studio that regularly produces albums for local bands, and plans are in the works to add a small café.
The combination of good music, a comfortable atmosphere, and a sense of community makes Muse Music a haven for local performers and music lovers, including droves of BYU students. Haws claims to have a list of 200-plus bands in the Provo area, all of whom need a place to play. "Some of them aren't any good," he admits with a smile. "But some of them are amazing. They could easily be on the radio."
Creating a space for those musicians—the veterans and the newcomers alike—is what drives Haws. It drives him to staff Muse almost single-handedly—doing everything from cleaning the floor to mixing the music. He recently received an entrepreneurship scholarship from the Marriott School, one funded by donations to the BYU Center for Entrepreneurship, that will help pay his tuition and provide him with a mentor who can help with the business plan.
Haws hopes eventually to hire someone to fill at least a few of the jobs he currently does himself. But the hard work is worth it. He listens to music every night, and his venue is instrumental in giving bands their start. "I've put my whole heart and soul into this place," says Haws. "I look around and think, 'I built that counter. I painted that wall. I did this and that.' And all these little things have pieced together to make a pretty cool place."