Kendra Last is restoring original scores of Casablanca and handcrafting award-winning books.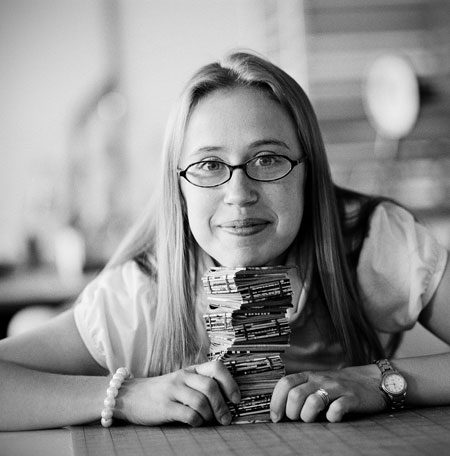 Kendra Maxine Mayer Last's ('10) love of books surrounds her—in the glue dried on her fingers and in the reams of crisp white paper, rolls of fabric, and jars of brushes that cover her kitchen table, her tools spread out like the instruments of a meticulous surgeon. "I'm always buying old used books," she says. "I love the way they feel, the way they look."
Last has been making handmade books at BYU for only two years, but she has already made a name for herself. Three of her most prized books—modeled after the first books ever made out of vellum and animal skin—were featured in an international exhibition held last year at Purdue University, where Last was also invited to lecture on the inspiration behind her work.
Her discovery of bookbinding was a happy accident. In 2006 she and her husband, Chris ('11), opened a stand in Provo's weekly farmers market to sell homemade granola. "This gal came one week with a stand of handmade books," Last recalls. "They were amazing, really amazing." As Last would find out, the artist had learned bookbinding through a class taught at BYU.
Offered through the Visual Arts Department, BYU's bookbinding course is immensely popular—the class fills up on the first day of registration. Luckily, Last was able to secure a spot. "I fell in love with it," she says. "Adults could go their whole [lives] now and never have held or touched a handmade book. [But] there's something special about that experience."
When her daughter, Abbi, was born with two congenital heart defects in 2006, Last took a break from bookbinding while she and Chris spent months shuttling Abbi to doctors' offices. Most of Last's days were spent entirely at home: public places were too risky for her daughter's fragile condition. "I felt like I was living like a hermit," Last says. "We decided that I needed to just take one class, something fun at a scheduled time where [Chris] would stay home with our daughter and I would get to go out and talk to other people." Last reenrolled in bookbinding. "Bookbinding was an escape for me when I really needed one," she says.
Last has worked for more than a year at the Harold B. Lee Library's conservation lab on some of the library's most prized possessions, including original Max Steiner scores for Casablanca and Gone with the Wind. "Training in the conservation laboratory provides an opportunity unlike any other for Kendra," says Mark B. Pollei (BA '93), head conservator for the L. Tom Perry Special Collections.
After completing her degree at BYU, Last would like to continue that training. Schools across the country offer academic-oriented degrees in bookbinding and rare-book conservation. With such a degree, Last could work as a head conservator at a university library or museum. In this digital age, Last says it's even more important to preserve handmade books. "Each book tells a story," she says. "Not just the story written on the pages, but the story of its making—who has held it and read it, and who will hold it and read it."
Today Last can be found selling her books at the farmers market in Provo, and this fall she will travel to India with the nonprofit organization Rising Star Outreach to teach bookbinding as a trade in leprous communities. "Bookbinding has brought so much joy to my life," she says. "I want to bring that joy to other people's lives."