---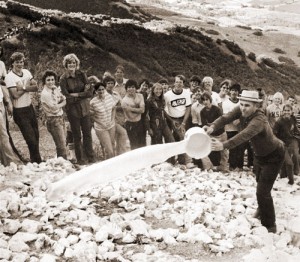 To enrich their BYU experience, all incoming freshmen this fall received a copy of the new Y Book, a volume that recounts BYU traditions of the past and present. Created by two dozen students under the direction of the Student Alumni Association, the book is available for purchase at a cost of $5.
"We know traditions bring families together, and we want traditions to bring the BYU family together," says Curtis C. Isaak (BA '92), program coordinator for the Student Alumni Association.
The book covers a range of traditions, from Homecoming and dances to True Blue Football, tunnel singing, and football games. One section gives a nod to traditions past, such as chrysanthemum corsages with a blue pipe cleaner in the center and whitewashing the Y. Creators consulted campus groups and others to gather the traditions. Isaak acknowledges that some traditions may have been overlooked, and he hopes readers of the book will share their experiences for future editions.
The book includes space for students to record their participation in BYU traditions. When they have finished 15 traditions, they will receive a traditions pin; when they complete 30, they will receive a Spirit of the Y pin.
"We hope this book will help students enrich their own BYU experience, says Steven G. Williams ('11), BYU's student alumni president.
Info: The Y Book is available for $5 at the Hinckley Center front desk or by phone (801-422-8569) or e-mail (studentalumni@byu.edu) for $5, plus shipping and handling charges.