---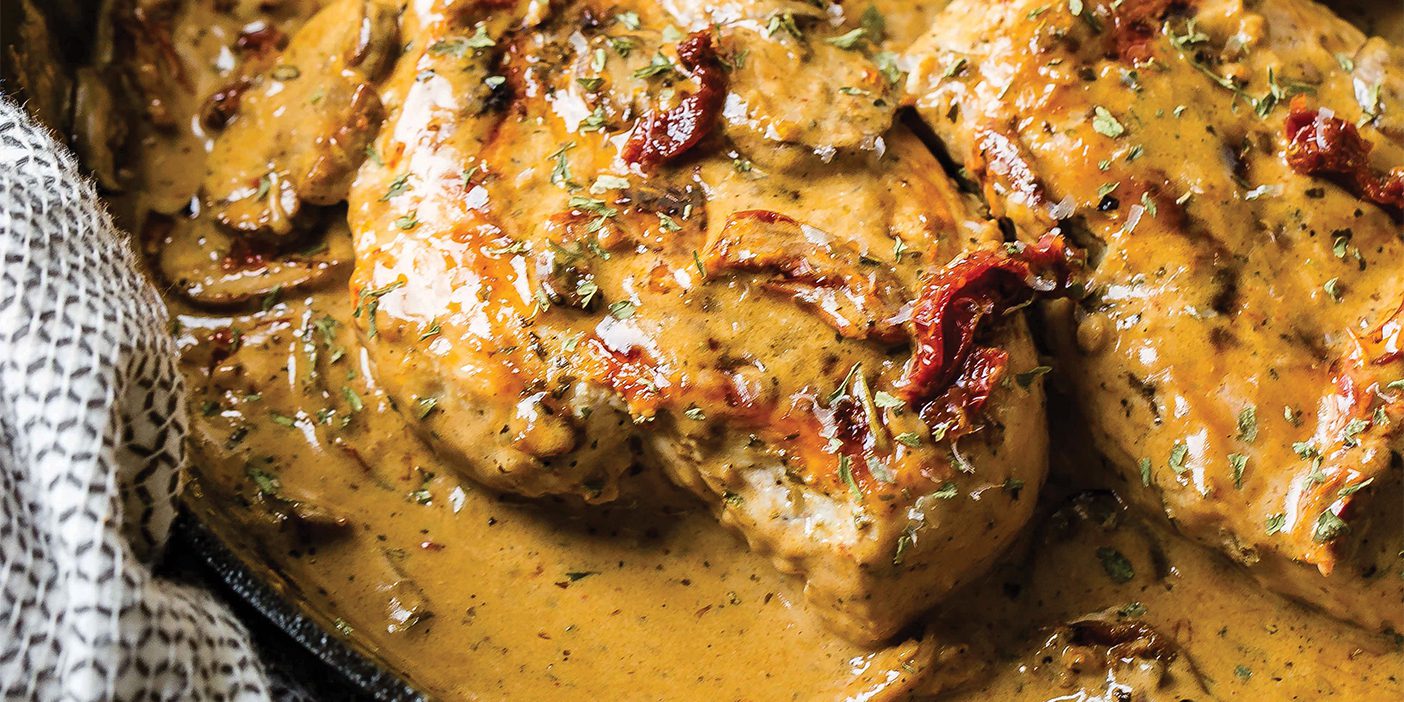 It began at a San Francisco café, where Cade S. (BS '10) and Carrian Cheney had ordered a pizza. As the simple pie came steaming out of the oven, Carrian recalls, "it was served with the most beautiful sprig of basil I think I've ever seen." Inspired by the city's rich cuisine, the Cheneys started a food blog they called Oh, Sweet Basil. From its humble beginnings in 2009, the blog has grown into a full-time job and a place to share recipes and stories. Check out the Cheneys' new cookbook, Raised in the Kitchen, for more culinary inspiration. ¶ Here are some spring favorites from ohsweetbasil.com.
Creamy Herb Chicken with Sun-Dried Tomatoes
Ingredients for the chicken:
3–4 boneless, skinless chicken breasts
2 tsp. kosher salt
2 tsp. onion powder
2 tsp. garlic powder (not garlic salt)
2 tsp. Italian seasoning
1 tsp. dried Italian parsley
Sauce ingredients:
1 Tbsp. butter
1 c. sliced baby bella mushrooms (optional)
4 cloves minced garlic
1 tsp. Italian seasoning
1/2 c. oil-packed sun-dried tomatoes
1 c. heavy cream
1/4 c. freshly grated parmesan cheese
Salt and pepper to taste
1 tsp. cornstarch mixed with 1 Tbsp. water
Parsley or dried parsley
---
Coat chicken breasts with the salt, onion and garlic powders, and Italian herbs.
Heat a cast-iron skillet over medium-high heat with a drizzle of olive oil.
Place chicken, breast side down, in the skillet.
Cook chicken until opaque and no longer pink inside (about 5–7 minutes each side). Transfer to a plate.
In the same skillet, heat the butter, add the mushrooms, and sauté for 3 minutes. (Add extra olive oil if needed.)
Add the garlic, seasonings, and a dash of salt and cook 1 minute, or until fragrant.
Pour off oil from the sun-dried tomatoes, then add tomatoes and stir quickly.
Stir in cream and cheese; season with salt and pepper to taste.
Bring to a boil and, while whisking, add the cornstarch mixture to the center of the pan until sauce has thickened slightly.
Reduce heat, add the chicken, and simmer gently while the sauce thickens.
Sprinkle the chicken with parsley or dried parsley if desired, spooning the sauce over the breasts.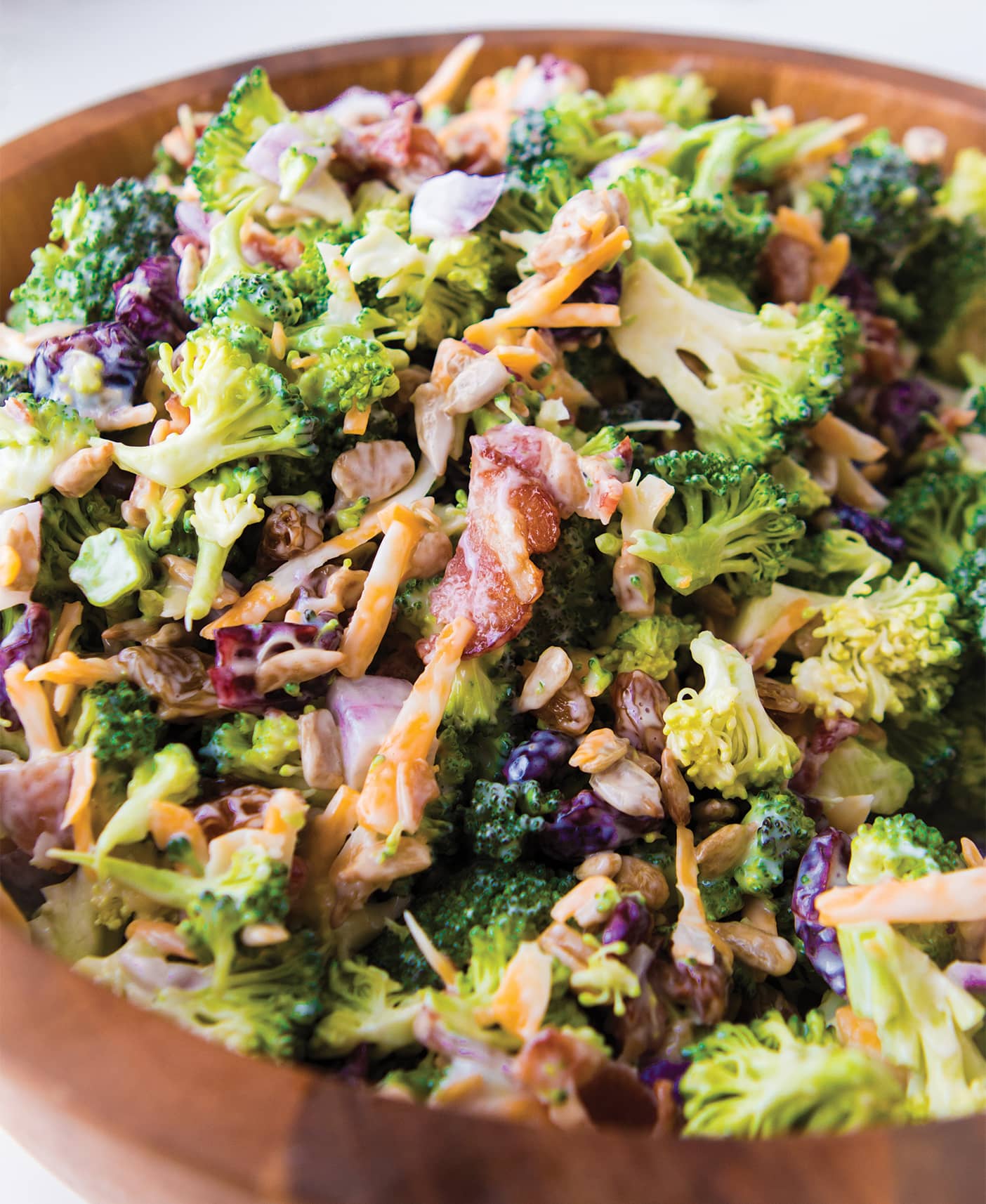 Simple Broccoli Salad
A crowd-pleaser at home or at picnics and potlucks, this broccoli salad is the perfect side dish to celebrate spring's long-awaited arrival. Use fresh broccoli florets.
Salad ingredients:
4 heads broccoli, chopped (8 c.)
1/2 c. golden raisins
1/2 c. craisins
1 c. roasted, salted sunflower seeds
8 slices applewood smoked bacon, cooked and chopped
1/2 c. frozen peas
1/2 c. finely diced red onion
Dressing ingredients:
1 c. mayonnaise
1/4 c. granulated sugar
1 Tbsp. apple cider vinegar
1 c. shredded Colby Jack cheese
---
In a large salad bowl, mix the vegetables, raisins, and craisins. Don't add the bacon and sunflower seeds until right before serving.
In a separate bowl, mix the dressing and pour over the vegetables.
Toss well to evenly coat everything.
Refrigerate for at least 2 hours.
Before serving, add the crumbled bacon and sunflower seeds. Toss to evenly distribute.