---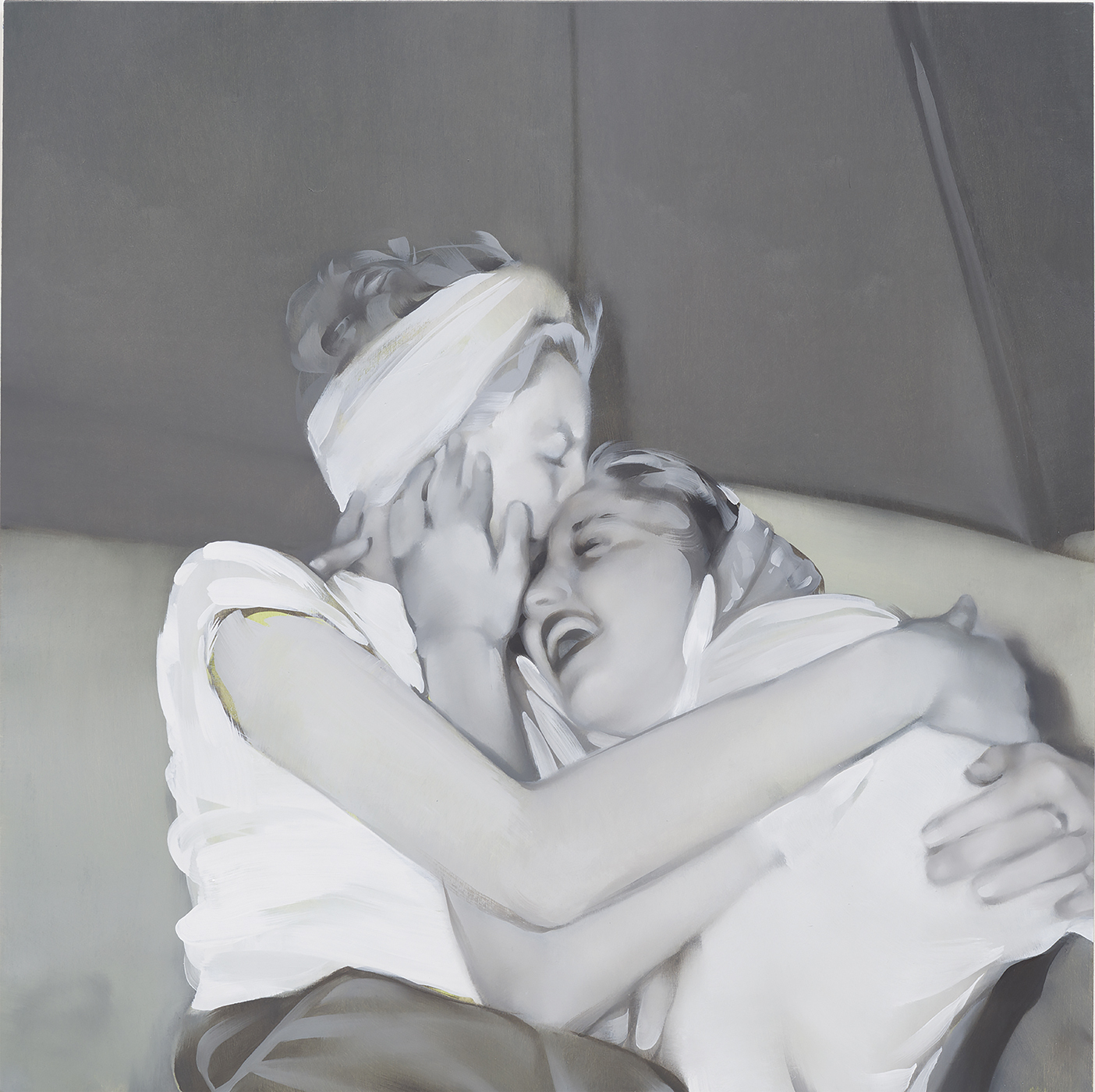 Painted in a dreamy grayscale, Rebecca Campbell's Big Sister depicts two of her aunts wrapped in each other's arms and laughing. Although imbued with jubilant neon-yellow brushstrokes, the image recreates a heavy scene, one captured around the time the sisters' oldest brother was killed in World War II and their newborn baby brother died. "What you might think when you look at that image, is 'Oh, that sentimentality of two women smiling.' But when I look at it, I see two women taking care of each other in a time of great hardship," says Campbell, a Los Angeles–based figurative artist. "And that's very different."
Nostalgia doesn't go far in the art world, says Campbell. It's often considered "frivolous and unimportant, almost a polluting aspect," she says, as are domesticity, family, and memory. But she champions them all in her exhibit The Potato Eaters, on display at BYU's Museum of Art through Feb. 18.
The exhibit's title directly references Van Gogh's work of the same name, which also defied contemporary norms by focusing on the nobility inherent in peasant life. Exhibition curator Kenneth Hartvigsen praises Campbell for "breathing new life into subjects often ignored in contemporary art discourse" and calls her art "intelligent, thought-provoking, and deeply relevant." For much of the exhibit, Campbell used photos from her family archive in Rupert, Idaho, as the basis for striking black-and-white paintings—paintings that show that nostalgia is essential to our humanity.
With a caveat, however: "There's a big difference between nostalgia and sentimentality," she says. "Sentimentality means you remember something in a way that bedazzles it, makes it all pretty and rosy. But nostalgia is . . . to return home" to the past, to remember reality in a way that helps you resolve difficulties and progress.
Campbell is also interested in the idea of memories fading over time, which she illustrates using a combination of realism and abstraction. The combination is the most pronounced in Mom 16, in which a trio of young women turns away from the viewer, their faces blurred with gauzy white and thick black strokes. A fourth woman, Campbell's mother, swivels toward the viewer, her teasing face and mischievous eyes more in focus.
When both realism and abstraction are integrated, Campbell says, "they really express something very essential to the reality of being a human being, which is the brain and the body having to live in the same unit." The brain and the body are not always reliable sources, she adds—especially when we try to recall the past.
In using her imagination to reconstruct her family's memories, filling in gaps as needed, she learned "there's a sweetness to it—an archetypally nurturing quality. There's also a sadness in it because it's something that's gone. . . . But the sweetness of it helps you sort it out in a way that's important for going forward."