---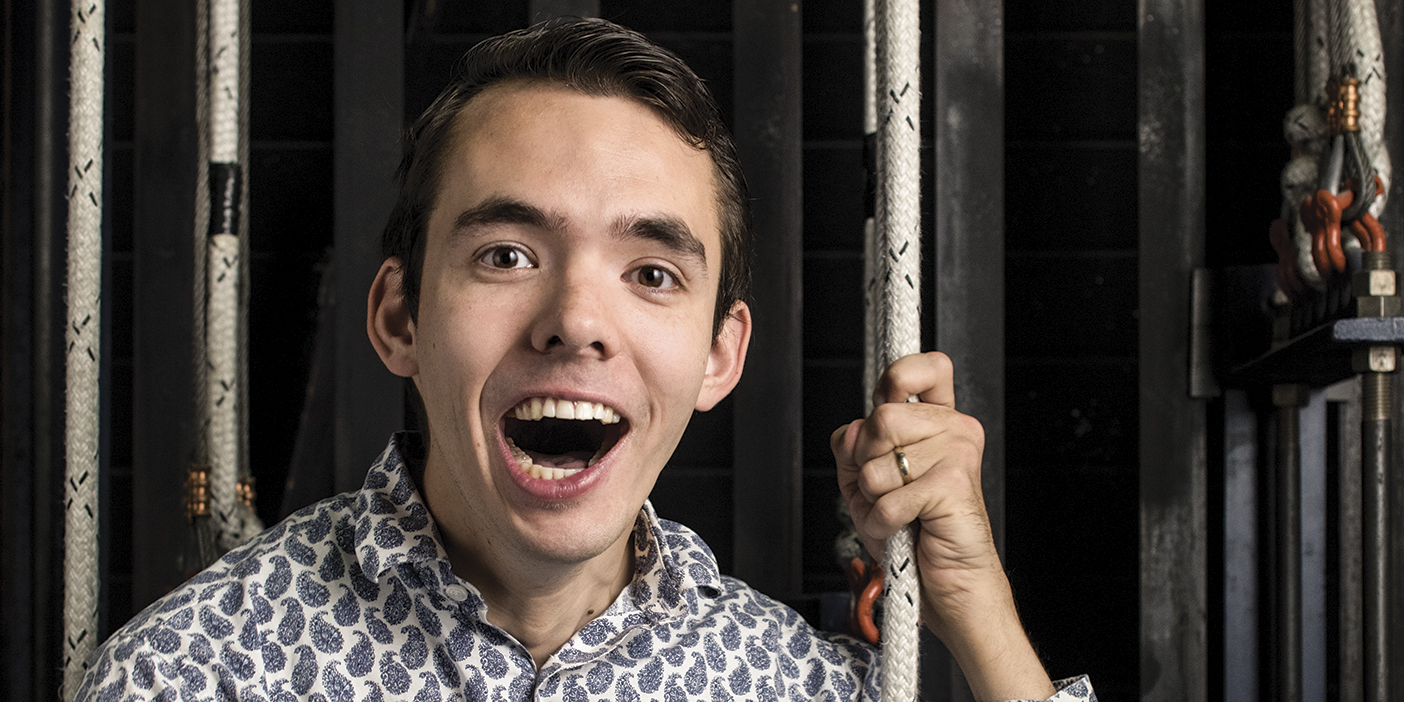 BYU student H. Andrew Justvig ('18) lives by the motto "It's kind of fun to do the impossible." Though he was diagnosed with cerebral palsy (CP) at birth and doctors told his parents he would never talk, walk, or complete an education, Justvig began proving them wrong from a young age. When he was 4 years old, his grandparents promised him a Disney movie if he could take a few steps. The bribes kept coming until Justvig had earned 100 movies. "With Andrew, we don't say, 'You can't,'" says his mom, Stacey. "If he sets his mind to something, he's going to do it."
Now at BYU, Justvig whizzes around campus in his motorized wheelchair—it's faster than his walking—with a grin on his face and a Mickey Mouse messenger bag on his lap. The senior majoring in theatre arts packs his schedule, attending play rehearsals, working on the umpteenth draft of his full-length play about a man with CP, and performing in stand-up comedy shows—all while carrying a full class load.
In 2015 Justvig received a commendation for achievement in performance from the Kennedy Center American College Theatre Festival in Washington D.C. for his acting in BYU's production of Our Town. The show garnered the most awards a BYU production has ever received at the festival. "When I take to a stage or am in front of a group," Justvig says, "I feel like I don't have CP." Fortunately, he adds, "I have never been shy."
During stand-up comedy routines for on-campus club Humor U, for example, Justvig isn't afraid to work CP into his routine. "If you can't understand me, it's because you don't have the gift of tongues," he joked at one show.
In school, Justvig works hard to avoid special treatment. Using a talent developed in elementary school, he succeeds by memorizing what teachers say, rather than taking notes. "Andrew won't let you overlook him; he won't let you cut him slack," says theatre and media arts professor George D. Nelson (BA '77), who has been Justvig's acting and playwriting mentor at BYU. "I don't cut him a bit of slack, and he rises to the occasion every time."
His confidence also makes him a pro at making others feel comfortable. It took just one grocery-store interaction to meet and connect with Carrie Ostler Justvig ('18), whom he later married. From their first date, the couple spent all their free time together. "As soon as we started talking, it was so normal," Carrie says. "It was just like this great friend I'd had forever."
A few months later, Justvig proposed (watch below) with the help of a dozen castmates from BYU's production of Mary Poppins and nearly a hundred friends and family members, who sang "Anything Can Happen If You Let It." It's the couple's theme song of sorts as they both strive to inspire others to overcome the impossible. "[The song] has a lot of meaning to us because amazing things are happening to us," says Carrie. "[Andrew] sees his whole life as a mission because everything he is able to do is because God has allowed him to do it."