---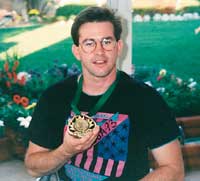 By Rachel L. Dahl
On Oct. 28 Mike P. Schlappi, '87 (Tami), Draper, Utah, became a four-time Paralympic medalist when the U.S. men's wheelchair basketball team defeated Britain to take the bronze medal at the Sydney Paralympics. A member of the team since the 1988 games, Schlappi says competing in wheelchair basketball "made me feel kind of normal again."
At age 14, Schlappi was paralyzed from the waist down by an accidental gunshot. Coming from an athletic background his father ran track and his sister played basketball at BYU he struggled with the belief that he would never play sports again, much less excel in them. But when the U.S. men's wheelchair basketball team won the gold in the 1988 Seoul Paralympics, Schlappi had proven to himself that people with physical disabilities can still be world-class athletes.
Looking forward to the Sydney Paralympics in October 2000, Schlappi remarked, "It's a great feeling to know you're competing against some of the best athletes in the world—whether they're in wheelchairs or not." The Paralympics is the second largest sporting event in the world, second only to the Olympics, and it includes comparable events. First held in Rome in 1960, Paralympic Games are always held "parallel" to the summer and winter Olympic Games.
While attending BYU, Schlappi was the sports manager of the men's basketball team from 1982-86. After graduating, he earned a master's degree in business and health care from Arizona State. He later founded Wheelchair Sports Foundation, a Utah group dedicated to organizing sports teams for people with disabilities. These days he travels across the country giving motivational speeches for the company he founded, Attitude Therapy, a division of Intermountain Health Care.
Besides competing in the Paralympics, Schlappi has been on the last 13 all-world wheelchair basketball teams. In April 1998, he was named to the Salt Lake Olympic Organizing Committee Board of Trustees.