On a Salt Lake Valley rugby pitch, Larry Gelwix has molded generations of championship boys.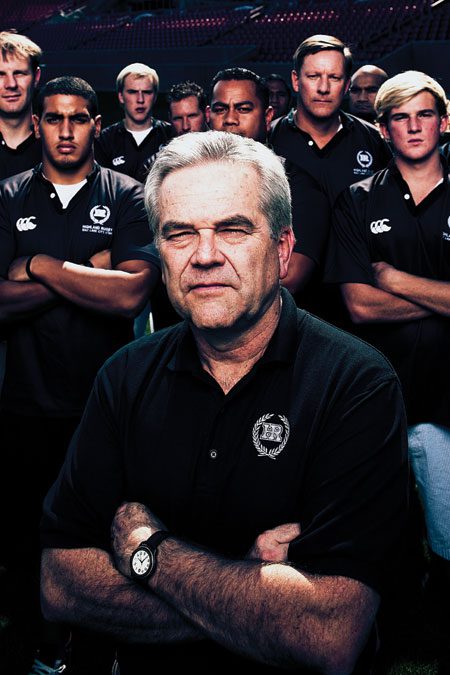 On a Salt Lake Valley rugby pitch, Larry Gelwix has molded generations of championship boys.


Matthew W. Cole's father wasn't around much during Cole's high school years. It was the late 1990s, and Cole's parents were getting a divorce. It was a critical time in the Salt Lake City athlete's life, and he looked around to find someone he could trust and in whom he could confide.
He didn't have to look far. Cole found a confidant in his rugby coach, D. Larry Gelwix (BA '74).
"Larry became a father figure and spent hours listening to me," Cole says. Even during practices Gelwix would pull Cole aside and tell him to come to his office, typically a nearby tree, the bleachers, a lawn chair, or the side of his car.
"Larry is almost incomparable," says Cole, now the president of Blue Streak Sports Training in Stamford, Conn. "He was and still is a powerful influence in my life."
"I'm in the business of building championship boys," says Gelwix, who has coached Highland Rugby for more than 30 years.
"That is much more difficult than developing championship teams. If this were only about rugby, I would have left years ago. It's all about the boys, and that's what keeps me in the game."
But don't think for a minute that Gelwix doesn't care about winning. Over his tenure at Highland, his name has become synonymous with high school rugby, and his 34-year cumulative win-loss record is a jaw-dropping 392 wins and nine losses.
"The expectation is that we will win, and we do," says Samuel N. Thorley (BS '09), who played for Gelwix and this year helped BYU win its first rugby national title. "The coach always told us, 'It doesn't matter who scores, it only matters that we score."
Gelwix's success inspired the 2008 movie Forever Strong and has filled his home with so many trophies that they require their own room. But in his eyes, more important is that his program has shaped generations of young men.
"[Coach Gelwix] inspires me when we sit and visit—and I don't even play on his team," says T. Ryan Little (BA '00), who directed the film. "He cares, and that makes all the difference."
Building Boys
"Playing with [Larry Gelwix] was like having a seminary teacher as a coach," says Cole. "Oh, he was still fiery, but he taught the gospel on the field in a way applicable to players of other faiths."
Gelwix actually taught seminary during his early years of coaching, and perhaps some of his approach emerged from the classroom. As a teacher, he challenged students to wrap their lives in honesty and integrity. As a coach, he charges teenage boys to live the same values as they compete in a demanding and, occasionally, bone-crushing game with neither helmets nor protective pads.
"Larry always told us to have respect for self, family, and team," says John G. Kimball (BA '93), a former Highland captain and now an executive vice president of Real Salt Lake and Rio Tinto Stadium. "There were not many places instilling those thoughts in 16-, 17-, and 18-year-old boys when I was in high school. He was there for me as he was for the other players. Three years ago my father died, and Larry stepped in and was there for me."
One particular crossroad from his youth stands out for Kimball. "I remember sitting in his white Volkswagen Rabbit and telling him I wasn't going to serve a mission. He said, 'John, when you decide to go, you will have two years to serve the Lord and the rest of your life to think about it.'"
Kimball changed his mind and served a mission, often thinking about Gelwix's advice. "I worked hard to excel as a missionary; I wanted to be able to look back on my mission and know I had given it everything I had."
Those are the kinds of stories that keep Gelwix on the field.
Gelwix does love rugby, however, and he played it at BYU. He jokes that in the '70s, people who were alive and breathing could make the BYU rugby team. "I was two for two," he quips, "so I was a shoo-in."
He talks with such zeal about the game, it would be easy to think rugby has always been part of his career plan. But with two degrees from BYU and an acceptance letter from a doctoral program at Purdue, Gelwix's dream was to teach organizational communications at the university level and become a communications consultant on the side.
"Because I was poor and single," he says, "I decided to give myself a year before heading east." In the meantime, he was offered a job teaching seminary.
In that year, Gelwix met Cathy Hales on a blind date, and he decided to teach one more year to see where the relationship was headed. The couple married, and Gelwix ended up working in the seminary system for two more years before solidifying his career plans.
When he accepted the seminary job, Gelwix was assigned to Highland High School and found joy in the classroom. "I kept saying, 'I'm getting paid to do this?'" he recalls. He also got a job as an assistant football and wrestling coach and liked it so much, he looked around for a spring sport to coach. Remembering his BYU rugby days, he created fliers about a new rugby club. Six students showed up, he says, and only one had any real talent. But it was a beginning.
"I fell in love with both teaching and coaching," he says. "I discovered my best teaching moments were not in the classroom, but on the field, in the locker room, and in the practice sessions."
So Gelwix modified his career plans. He put rugby in his future and added travel. A self-described travel junkie, he became an enthusiastic and successful travel specialist, an owner of Columbus Travel in Bountiful, Utah, and the Getaway Guru on radio and television. On the field, he stuck with Highland Rugby, where he gives the commitment of a full-time, highly paid coach to an after-school volunteer job.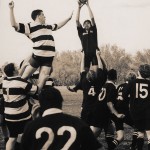 The First Monday in March
The first Monday in March this year—like every other first Monday in March for the past three decades—dozens of teenagers swarmed a Salt Lake City athletic field for the first day of Highland Rugby practice. As Coach Gelwix walked among the new and veteran players, his gait was confident, his handshake firm, and his smile easy. It was clear he expected another great year. (Incidentally, he got it: The team had an undefeated 2009 season and claimed its 19th national championship.) When the coach began his instruction that March afternoon, he used familiar sayings his players affectionately call "Gelwixisms." He advised them with such homilies as "Practice doesn't make perfect, practice makes permanent" and "If I can't trust you off the field, how can I trust you on the field?"
Gelwix moved up and down the turf observing his players. Some ran relays around the track. Others heaved lateral passes with a grayish oval ball about the size of a small watermelon. A pack of boys zigzagged rapidly across the field while others entwined their frames into a "ruck." The never-ending activity reflected the continuous-play aspect of the game.
Several minutes into practice, Gelwix directed one group of players to a corner of the field. They were the All Blacks, or varsity team, and they stood quietly and listened intently as he helped them prepare mentally for the first game. "The team is bigger than any player or any coach, and we put our personal wants and wishes aside for the team," he told them. "We sacrifice for the team."
The values Gelwix instills in his team build a strong team culture. Reminiscent of BYU's Honor Code, team rules require players to avoid alcohol, drugs, and tobacco. They also must live their lives honorably and be prepared for challenging, rigorous workouts.
The team rule is undeviating: "You do not do anything that would embarrass yourself, your family, the team, or your faith." Players who violate a team rule are suspended, and Gelwix meets with the player and his parents to discuss conditions for returning to the team. If the suspension is for dishonesty, however, the player is suspended for the season.
"You just don't cross the line," explains Cole, who served as a Highland team captain. "We played with a lot of guys who were not Mormons, and they stopped drinking, tobacco, and drugs. They didn't dare violate the standards. Some of my former teammates changed their behaviors permanently, and while I was there, one of them joined the Church."
Kimball says the emphasis on honor affects the team's success. "Most coaching I have experienced is done through fear or intimidation, but Larry earned our respect as a friend and a mentor first, and from there it was easy to have coached us home."
Cole recalls Gelwix's motivational tactics when the team played for the 1998 world championship in Africa. Highland was the only team from the Western Hemisphere included in the 12-team tournament. Although rugby is the second most-popular sport worldwide (behind soccer), in the United States it's eclipsed by football. "No one besides the sponsors thought anyone from America should be invited," Cole says. Predicted to finish last, Highland beat the odds and found itself playing for third place against Tonga, which had been favored to win the tournament.
After the first half of play, Tonga was up 19–5, and Gelwix told his team they were playing on "cruise control," Cole says. "And then he said, 'I don't care if we win this game; all I care is that you give your best. If you gel together, we can win this game.'"
In the second half, Highland stepped up its game and came within four of Tonga—20–24—by the end of regulation. "But we had five minutes of injury time," says Cole, so play continued and Highland scored a try to take a 25-24 victory and claim third place in the tournament. "It was one of the most thrilling moments of my life."
Forever Strong
Impressive as a 98 percent win record is, Gelwix's success was relatively unknown outside of Utah and the high school rugby world until 2008, when a feature-length movie about Highland Rugby hit theaters. Its title comes from the Highland team motto, kia kaha, Maori for "forever strong."
The film weaves true experiences of Highland players over the years into a dramatic sports tale. At the center of the story is a troubled athlete whose reckless lifestyle lands him in a Utah youth detention center. When it is discovered that he plays rugby, he is given time off to practice and play with the Highland team.
"All the stories are true," says Gelwix. "They just didn't all happen in one season."
Gelwix first learned someone wanted to make a rugby movie when he received a telephone call from two filmmakers in 2005. They had become smitten with rugby while making a movie in New Zealand, where the sport is a huge pastime. Producer Bradley D. Pelo ('90) and writer David Pliler arranged to visit Gelwix at his travel agency, explaining that as they researched rugby, his name and Highland Rugby kept popping up. They planned a 15-minute visit but stayed nearly four hours.
Gelwix says that when the actors came to Utah to make the movie, they were expected to live Highland Rugby standards during the filming. They learned the team's code of conduct and subjected themselves to Gelwix's boot camp so they would be believable as rugby athletes. Some of them would likely have made the team, Gelwix says, because they not only demonstrated athletic prowess, they also bought into the Highland system.
He recalls one particular highlight of working with the actors. "One player was injured during the filming and became despondent because he thought he was holding up the shoot," Gelwix says, "and I explained priesthood blessings to him."
The actor asked for a blessing, and other actors showed up as well. Some local movie extras had played with Highland before serving Church missions, and Gelwix invited one of them to assist with the blessing.
"Another actor asked me if he could have a blessing, and I said, 'Sure.' Another added, 'Could we have a prayer for all the actors and the team?' That day remains one of the greatest spiritual moments of my life."
One Boy or Thousands
The Gelwix legacy continues. Robert T. Nilsen of Salt Lake City, owner of the Café Rio restaurant chain, believes the reason so many teenagers yearn to play with Gelwix is because there is no limit to the coach's capacity to love—and they love him in return.
"I was on Larry's team the second year he coached Highland Rugby," Nilsen says. "I remember thinking he was so old—he must have been about 25—and he gave me one of the great experiences of my life. Larry instilled in me a desire to achieve greatness. He cared about me. He didn't coach by screaming, but used principles and values and friendship. He cares deeply whether it's for one boy or thousands."
Nilsen's son Josh plays All White, or junior varsity, rugby for Gelwix, and Nilsen says Highland Rugby makes all the difference in his relationship with his teenager. "We talk rugby, love to go to games, and pass the ball in our home, much to the chagrin of the windows and my wife. I just hope Larry keeps coaching. I've got 8-year-old and 11-year-old boys just waiting to play with Larry."
Kimball has a 12-year-old son on the Highland developmental team. "My son decided rugby was for him after seeing the movie. I'm thrilled to have him get to know this remarkable man. I would do anything for Larry Gelwix, and I know thousands of Highland alums feel the same way."
---
Feedback: Send comments on this article to magazine@byu.edu.
---
Watch Forever Strong on BYUTV
BYUTV will air Forever Strong, a feature-length movie based on Larry Gelwix's rugby team, in January. Please visit byutv.org in December for program schedule information.