---
"Food is my love language," says Lynnel Sanders Eads ('81) with a laugh. That love has been showered on many a missionary in and around Eads's hometown of Monument, Colorado. When COVID locked missionaries in their apartments during 2020, Eads began cooking enough food to feed a large army and delivered food to every missionary she could each week. She quickly gained the nickname Mama Eads from the more than 100 missionaries whose lives were blessed by her kindness. "I just want to be everybody's mom," Eads admits. In true motherly fashion, Eads shares two of her favorite fall recipes here.
Pumpkin Soup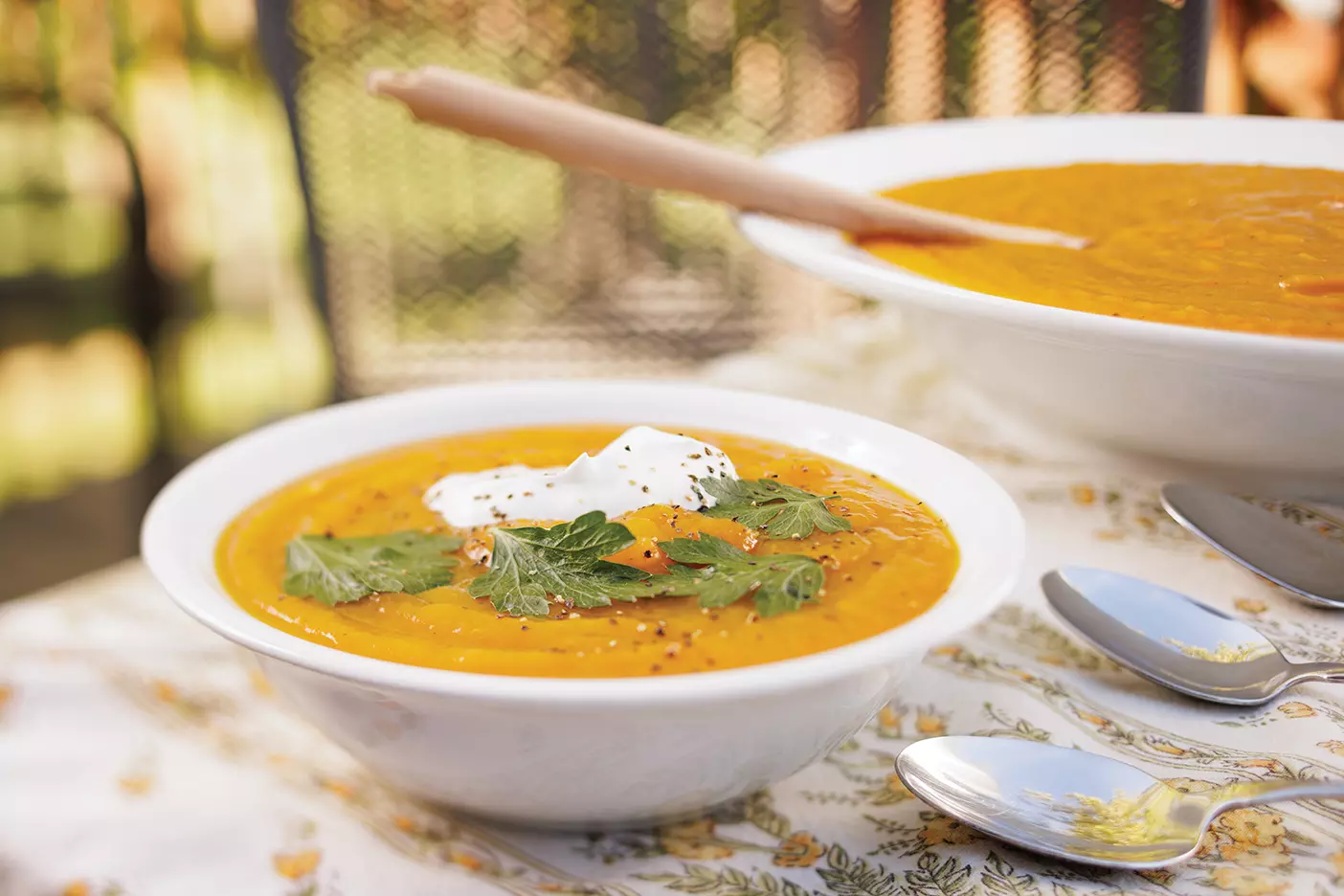 This soup is thick and flavorful. The best part, says Eads, is stirring in the cream at the end.
1 large baking pumpkin (or large butternut squash)
2 carrots, peeled and chopped
1 medium potato, peeled and chopped
1 onion, diced
1/2 tsp. ground cumin
1/2 tsp. ground nutmeg
1 tsp. ground ginger
2 Tbsp. chicken stock powder
2 c. boiling water, divided
Salt and pepper to taste
1/2 c. cream
Trim skin off pumpkin and cut into even-sized pieces. Place all vegetables into slow cooker. Optional: Coat the pumpkin pieces in butter or olive oil and roast in the oven at 375 degrees for 50 minutes before adding to the slow cooker.
In a mug, mix spices and stock powder. Add 1 c. of boiling water to mug and combine thoroughly. Add to slow cooker.
Add remaining 1 c. boiling water to slow cooker. Cook on low for four hours (or on high for two hours).
Blend all ingredients with an immersion blender, and season with salt and pepper. Add cream before serving.
---
Downeast Maine Pumpkin Bread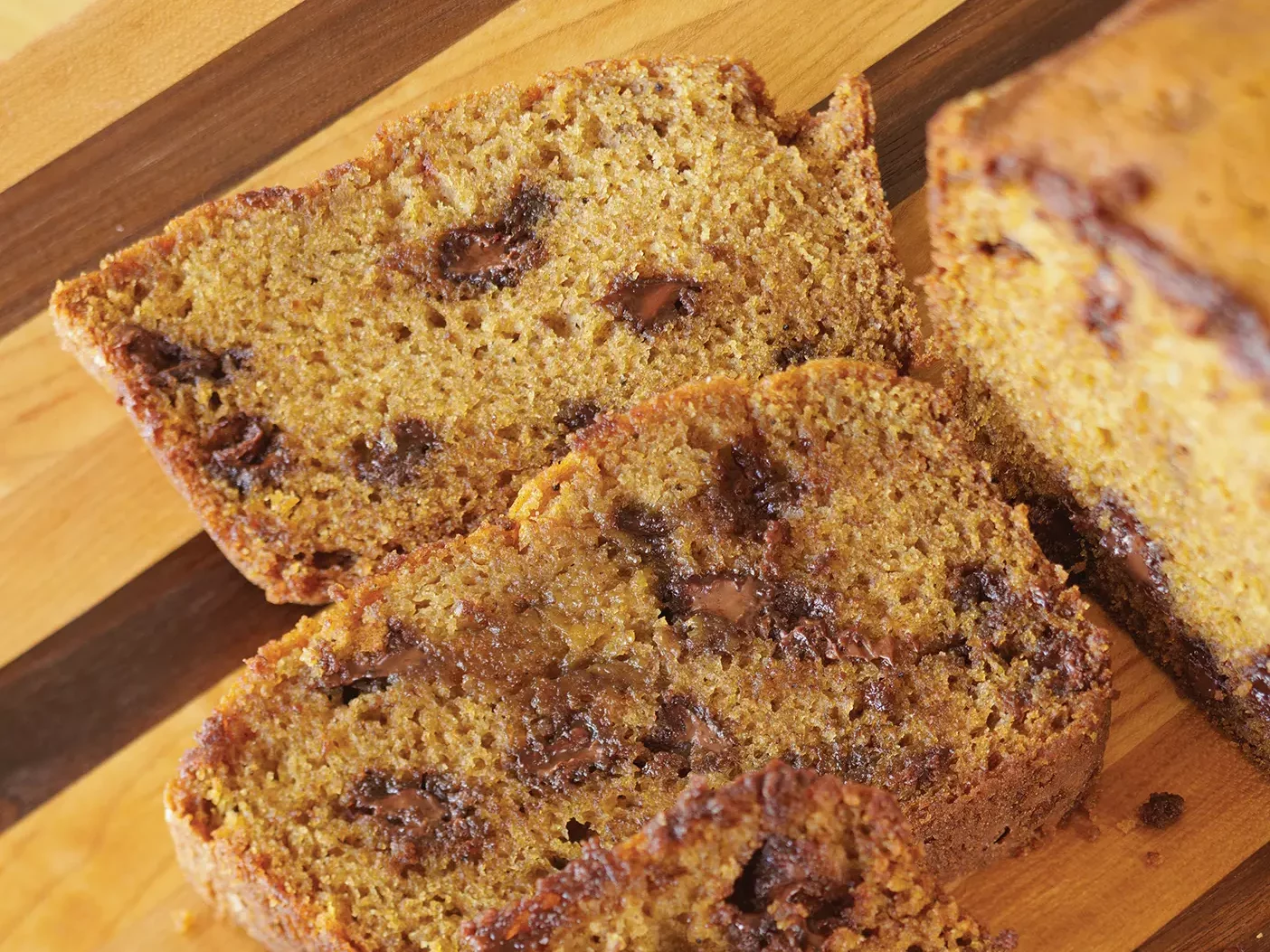 Pumpkin and chocolate are a winning fall combo. Despite what the recipe says, Eads says chocolate chips are not optional.
1 15 oz. can pumpkin puree
4 eggs
1 c. oil
2/3 c. water
1 1/2 c. white sugar
1 1/2 c. brown sugar
3 1/2 c. flour
2 tsp. baking soda
1 1/2 tsp. salt
1 tsp. ground cinnamon
1 tsp. ground nutmeg
1/2 tsp. ground cloves
1/4 tsp. ground ginger
2 c. chocolate chips (optional)
Preheat oven to 350 degrees. Grease and flour three 7 x 3-inch loaf pans.
In a large bowl, mix pumpkin, eggs, oil, water, and sugars together until well blended.
In a separate bowl, whisk flour, baking soda, salt, cinnamon, nutmeg, cloves, and ginger together. Stir the dry ingredients into the pumpkin mixture until just blended. Fold in chocolate chips, if desired. Pour into prepared pans.
Bake for 50 minutes or until toothpick comes out clean.