Lauren Ard has combined science and pop culture to captivate more than 10,000 students in her beloved online classes.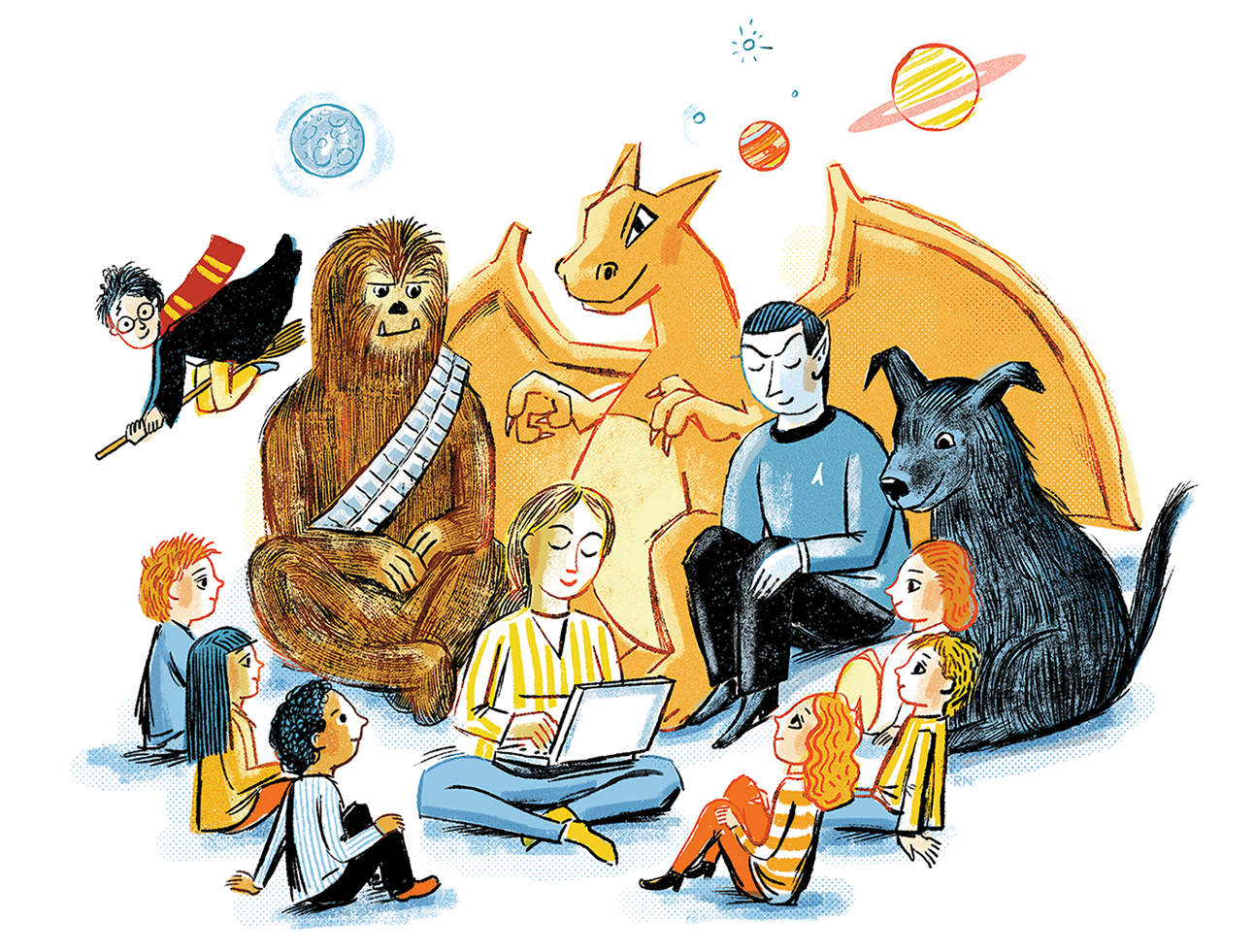 Pointing at Sirius, the brightest star in the winter sky and part of Canis Major, a hunting-dog constellation, Lauren Layton Ard (BS '06) asks, "Does that sound familiar, Harry Potter fans?" Her online students around the globe nod excitedly. The character Sirius Black, Harry Potter's godfather, can transform into a dog.
Ard might not have a magic wand, but she clearly has cast a spell on the students in her class Harry Potter: Astronomy, Astrology, and Greek Mythology. As Ard leads virtual tours of the night sky, her students marvel to learn that certain heroes and villains from the Harry Potter series share names and traits with constellations.
Ard's novel approach to teaching—mashing up science with such pop-culture classics as Harry Potter, Star Wars, and Pokémon—has transformed the classroom experience for many previously reluctant learners. Her wildly popular lessons have been a lifeline for families looking to fill educational gaps for their children in these pandemic times. After three years and more than 1,000 classes on Outschool.com, the self-described "Pop Culture Teacher" has racked up thousands of glowing reviews. As one parent wrote in July, "Lauren Ard has been one of the most engaging, excitement-inducing, fantastically informative teachers we have come across in all of my daughter's educational endeavors."
Ard credits her inspiring ninth-grade earth-science teacher with setting her on the path toward her bachelor's in earth and space science education at BYU. He'd show slides of interesting geological formations and bring in his rock collection to share with students. "We could learn just for the sake of learning," Ard says. She started an astronomy club at her high school in Newark, Delaware, and enthusiastically organized stargazing parties.
Ard was already a huge science-fiction fan. "I was obsessed with Star Wars," she says. "At one point, I owned 29 different Star Wars T-shirts. So one (leap year) February, I wore one shirt a day because there were 29 days that month."
After graduating from BYU, Ard taught science for two years at schools in Springville, Utah, and then for a year in Tucson, where she and her husband, Jason M. Ard (BS '07), moved when he took a job with Raytheon. She stepped back from teaching as their family grew by four children in five years. When she was ready to restart her teaching career, she looked for options that would better balance with her family's schedule.
The answer was tucked away in her bedroom closet. While teaching in Utah, Ard had created a portable planetarium—an inflatable dome in which students could crawl to see projected stars. Jason wrote a computer program to calculate the dimensions of each piece of blackout fabric, and she sewed them together into a dome. She used a box fan to inflate the dome and a toy projector to show the constellations to groups of 10 students at a time. "It combined her ability with crafts, skill at teaching, and knowledge of astronomy," Jason says. "It seemed like a great fit."
Ard dusted off their creation and launched Portable Planetarium Presentations, giving astronomy talks at libraries and schools around Tucson. She didn't want to give "plain vanilla" night-sky shows. Instead, she mined her own science-fiction fandom to create the Harry Potter astronomy class. Following a Kickstarter campaign to build a bigger planetarium, Ard added shows on Star Wars, Star Trek, and anime astronomy. "If I can get kids to use their imagination and look up at the sky, that's the first step to getting them interested in astronomy," she says.
"Lauren brings real science to real kids and shows them something they might not otherwise have a chance to experience," says Jennifer Caldwell, a former librarian at the Pima County Public Library who encouraged Ard's efforts. "She is a role model in science for girls, which is really powerful."
In 2017 Ard discovered Outschool, dubbed the "Netflix of Learning." While Outschool now offers more than 50,000 online classes for students ages 5 to 18, Ard saw a gap in its earlier offerings. "I was one of the first to have a Harry Potter class," she says.
Her students loved the class and asked for more. She added Pokémon-, Zelda-, and Doctor Who–related classes while expanding on her existing themes. "For a new hour-long lesson, I spend about 20 to 30 hours planning it," she says.
For example, her Science and Star Wars: Adaptations and Astrobiology class compares real-life animal adaptations to alien ones depicted in the films. "I teach this principle called convergent evolution that we use in science to explain why many animals look similar," she explains. "In Star Wars there are going to be some characteristics that space-traveling aliens are all going to have in common, like forward-facing eyes that allow for 3D vision and opposable thumbs that allow you to mess with controls on a spaceship."
Ard had a comfortable teaching schedule of 15 class hours per week. Then the pandemic hit. Over the course of one weekend in March, 20,000 students signed up for classes on Outschool—a 25 percent enrollment increase. Inundated with requests for more sessions, she started teaching 40 hours a week from a bedroom closet—one of the only quiet corners in her house. She hired a friend to help with scheduling and child care and three BYU students to help with lesson planning.
"Looking for and making connections like Lauren does with her classes can be an important skill to have," says Lucy A. Winkel ('23), one of her BYU assistants. "And she chooses such fascinating topics that it's fun to learn."
For Ard, a successful class strikes a balance between education and entertainment. "In some of my reviews, the parents talk about how they love that their own kids don't know that they're learning," she says. "It's kind of like Mary Poppins: a spoonful of sugar helps the medicine go down."
---
Kristin Rattini is a freelance writer living in St. Louis. Her favorite constellation is Orion.