---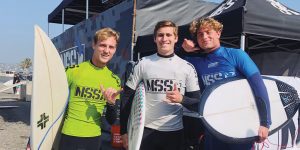 They're missing one kind of big thing—the ocean. But a scrappy group of BYU students is finding a way to catch some waves.
Last fall they started the new Brigham Young Surf Club, attracting student surfers who live 4,500 feet above sea level and more than 600 miles from the ocean. And in October, a team of nine club members became the first team from a landlocked state to compete in a National Scholastic Surf Association (NSSA) contest.
While catching a wave in Utah between contests is tough, there is one "undisclosed spot," according to team member Scott Zambrano ('21): "There is a river that makes a standing wave. You can't do much, . . . but you can stand up on it." The only real chance to practice comes about 24 hours before a Saturday contest when, after a 9- or 10-hour drive from Utah, team members arrive in California.
Competing against some of the best college surf teams in the country—and against all odds—the team is ranked 13th out of 36 teams in the Collegiate Southwest Division.
Ultimately, the Brigham Young Surf Team wants not only to ride waves—they want to make some. "With surfers there's a stereotype of bad language, partying, and laziness," says club president Joshua T. Collins ('22). The BYU crew has a different flavor, with prayer circles and lots of family at competitions. "Surfing can be a tough scene to grow up in. We want to . . . show that you can be a surfer in a positive environment."