---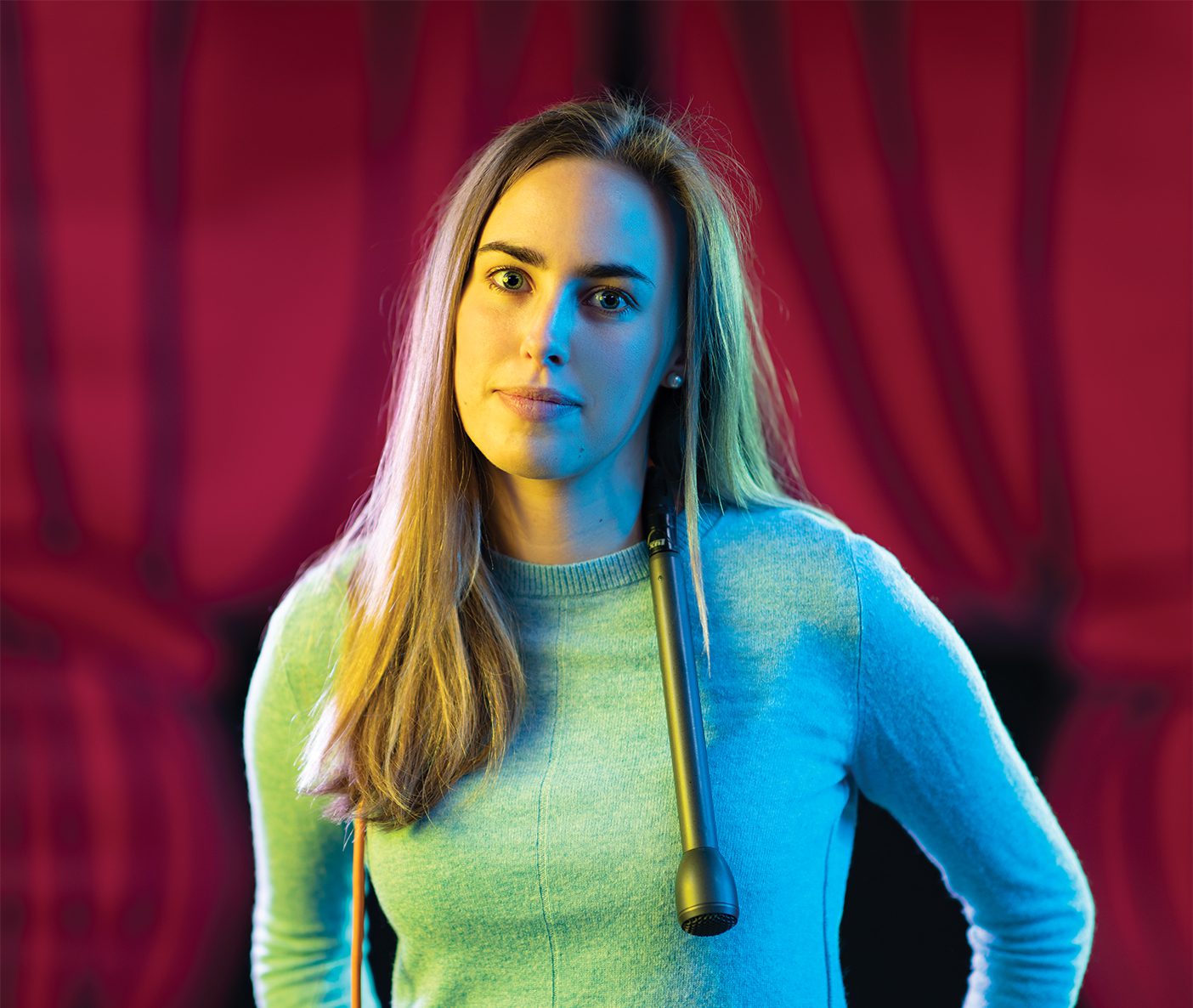 Each BYU Homecoming, George H. Brimhall descendants sponsor an essay contest honoring a BYU founder. This Homecoming's honored founder: BYU's beloved mascot, Cosmo. Below is the winning essay, by communications major Hope P. Thomas (BA '20).
---
Testing, testing—is this thing on?"
I squinted under the blinding spotlight. The audience rustled. Someone coughed.
"So," I began, "my mom used to tell me I was pear-shaped. You know, that old euphemism for being a lot fatter on the bottom half? Well, I told her it wasn't politically correct to say things like that anymore. I'm a millennial—I'm avocado shaped."
Shallow laughter washed over the stage and quickly ebbed away. I cleared my throat.
"Which is actually a lot better, because if someone ever calls me fat, I can be like, 'Yeah, but it's good fat.'"
Besides a pitying soul who snorted, the loudest feedback I got was from the mic. Mental note: cross stand-up comedy off the list.
I had made the announcement to my roommates the night before. "This," I declared, "is going to be my putting-myself-out-there semester." Rebecca, sprawled on the couch, inclined her head slightly. I threw my arms up. "I'm going to enter every contest I can, try all the things I've been too afraid to. I mean, I've failed so many times at this school, why not just throw caution to the wind?"
---
Failures are stitched into the fabric of Cosmo's costume. Each oversized head and set of furry arms sees dozens, if not hundreds, of losses before it's retired. Missed free throws, fumbled footballs, penalty kicks gone awry—Cosmo has a front-row seat to BYU's entire blooper reel. But these are actually the moments that make him great.
When BYU is winning, his backflips, thumbs-ups, and crazy antics are just another hit of Pixy Stix in an already insane sugar high. What makes or breaks a mascot is what it does when its team is losing.
In 2017 Boise State crushed BYU football 24–7. There are probably still a handful of people who remember that score, but nowhere close to how many remember the halftime dance.
The music began with the Cougarettes in formation on the field. Then, Cosmo ran in. The stadium exploded in cheers as he showcased his perfectly synchronized moves, ducking, tucking, twisting, and ending it all with a perfect flip. Fans lost their minds, and more than 5.6 million people have viewed that performance on YouTube.
---
My HumorU audition marched triumphantly at the head of a long parade of failures during that "semester of putting myself out there." There were essay, photography, and graphic-design contests; three business ideas I spent dozens of hours validating (or rather, invalidating); more than 20 internship interviews; and a contemporary-dance class my teacher kindly suggested I might want to retake.
By the end of the semester, I had cultivated a strange pride in seizing opportunities, no matter how slim the odds.
---
Cosmo will outlive all of us. He will be walking down the bleachers on his hands long after current students have developed arthritis. His secret: he knows it's not just this one game. He will go on to see thousands of wins and thousands of losses. His optimism isn't pinned to an event but to a team.
BYU has been my personal incubator of failure. I've bombed and flopped, been blindsided and befuddled. But each failure is just one drop in a lifetime of experiences. And alongside all the failures, I also succeeded in winning $1,400.
---
Some days at BYU, I can't wait to rise and shout. Most days I twitch and grumble. But BYU has cultivated in me a relentless resilience in the face of failure. Like most, I came to college expecting to learn how to succeed. Instead, I learned something infinitely more valuable: how to be a failure.