---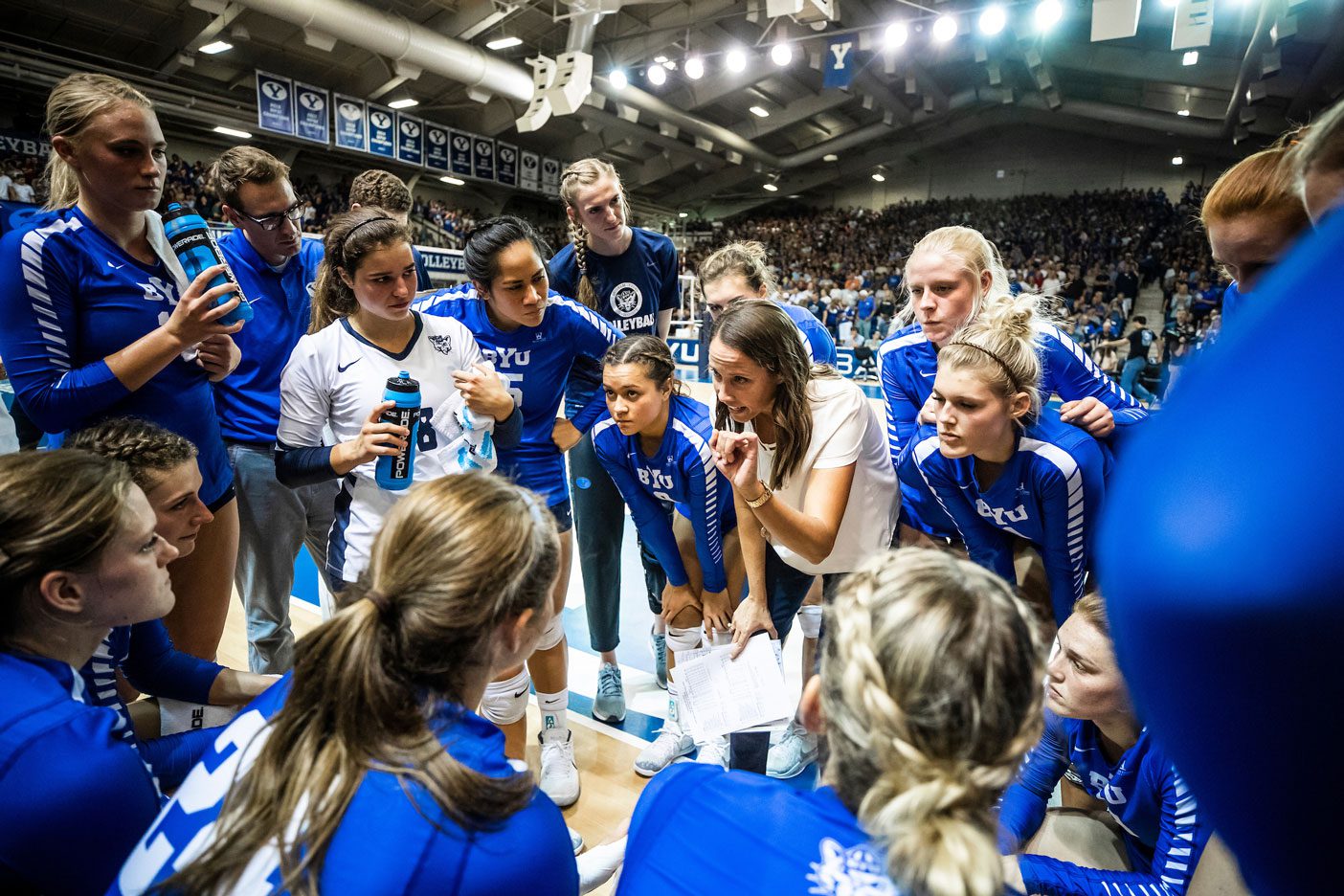 In a near-perfect season, the BYU women's volleyball team ranked No. 1 in the nation for 11 weeks, the most consecutive weeks at the top by any BYU sports team—ever. The run drew sellout home crowds and culminated in a Final Four showing, six All-American honors, and a crown for coach Heather Olmstead—the AVCA National Coach of the Year.
Currently at .901, Olmstead is on track to have the highest career winning percentage in NCAA women's volleyball history—she's one year shy of the required five for that stat to be official.
The Cougars' 31-2 record this year came through a rotating cast of playmakers, like outside hitter Veronica "Roni" Jones-Perry ('19), whose hops and power put her in the conversation for national player of the year. Or setter Lyndie Haddock-Eppich ('19), the team "quarterback," who called quick-paced trick plays. Or libero Mary E. Lake ('20), whose defensive prowess was best described in an @NCAAVolleyball tweet: "71% of the world is covered by water. The rest is covered by @BYUwvolleyball's Mary Lake." And don't forget the AVCA National Freshman of the Year, Heather M. Gneiting ('22), top 10 nationally in blocks per set. BYU had enough All-Americans to field an entire starting lineup.
Haddock-Eppich attributes their success to a strong work ethic across the whole team. "We're a very no-drama team," she says. "We get to work and do what we need to do. I think that is what has made us so strong."
As dominant as the Cougars were this season, you'd think they would have smashed school records. But it's hard to rack up kills, blocks, and digs when you're closing matches in just three sets. The Cougars gave up only 14 of 107 sets the entire season and played only one five-set game—in September, when they toppled Stanford in BYU's first defeat of a No. 1 team since 2000.
As a team, they have claimed one school best—biggest following for a women's volleyball team. A raucous crowd broke the all-time home attendance record when the Cougars played the University of Utah in September. And the 2018 season home-game attendance—more than 58,000 attendees—was more than 25,000 more people than the next best season.
"It's been [a season] obviously that we'll remember for the rest of our lives," says Olmstead. "Every single win was blood, sweat, and tears. . . . I could not be more proud of this group, what they accomplished. Looking forward, I think the future is bright."