---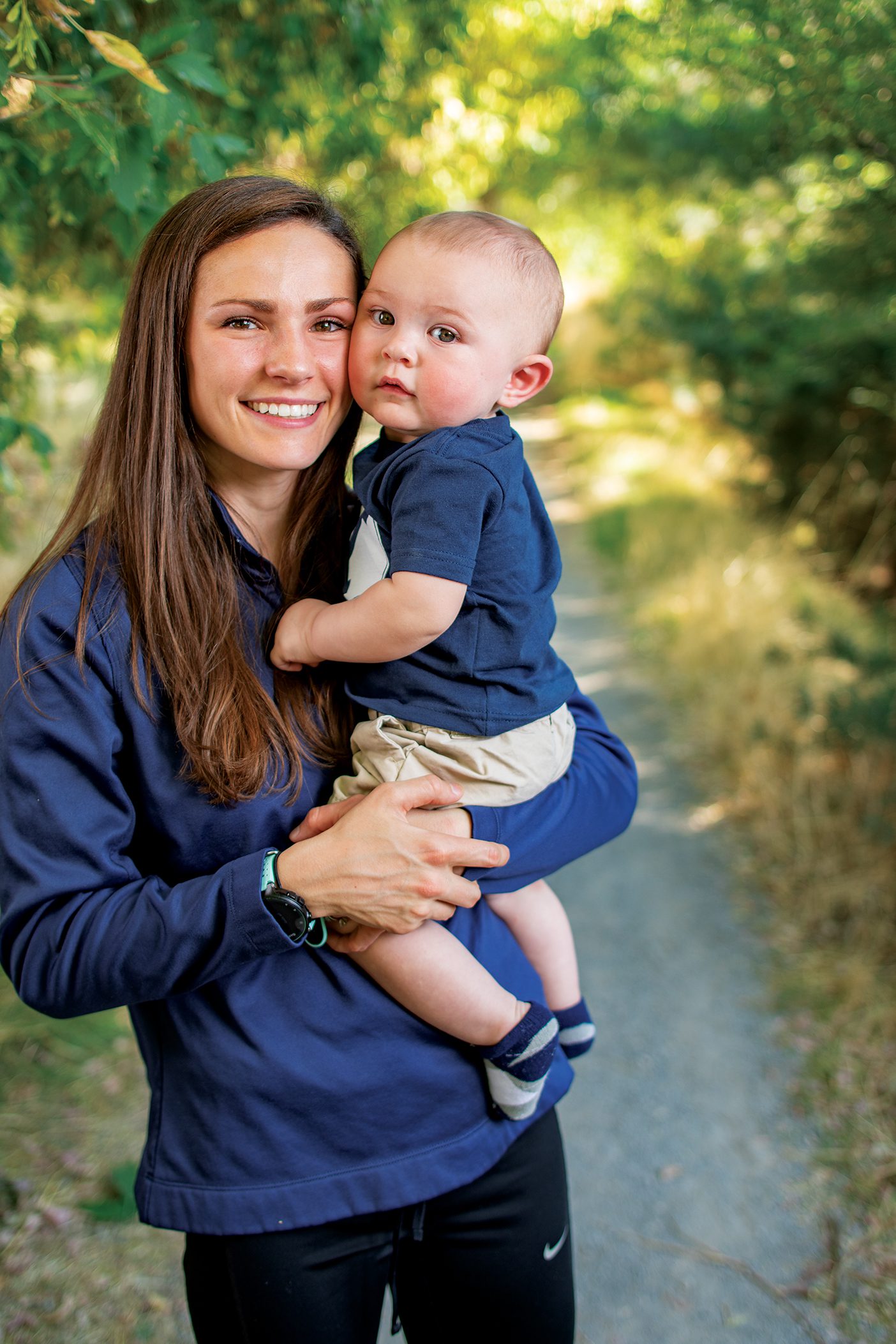 Running shoes? Check. School bag? Check. Pacifier? Check. BYU cross-country runner Erica Birk-Jarvis ('19) is no stranger to juggling a lot of responsibilities, but her schedule has become a bit more complex this school year with the needs of her new training partner—her 8-month-old son, Jack.
As a sophomore in 2016, Birk-Jarvis was at her best, often finishing in the top 10 as she made her way to nationals, where she came in 34th and earned All-American honors. The following year Birk-Jarvis took time off from school and competition after getting married and later becoming pregnant. After running hundreds of miles on her own, she's back to team training with her eyes focused on a return to nationals.
Birk-Jarvis's typical week entails running at least 50 miles, attending 13 hours of class, doing homework, and taking care of Jack, often in the middle of the night. Despite the lack of sleep, she says that Jack pushes her to work her hardest. "Each success . . . means 100 times more because I have Jack," she says. "I think of him in every single workout. I think of the time I sacrifice [while I'm] away from him, and I want to make it count."
Although running is an individual sport, Birk-Jarvis says she owes a lot to her mother, former BYU runner Nicole Keller Birk (BS '91), who often watches Jack while Birk-Jarvis trains. The coaching staff, especially women's cross-country coach Diljeet Taylor, have also been invaluable. "When I found out I was pregnant, I thought [my running career] was over," Birk-Jarvis says. "Coach Taylor was the reason I came back. She told me, 'We'll do everything we can to help you.'"
Taylor has also inspired others on the team. Throughout the season, Taylor goes the extra mile to support her runners: she writes each of them a personalized note before every race and hosts team dinners in her home, decorating the walls with big printouts of the team members. "She just puts so much effort into everything," says Birk-Jarvis. "And she's also a mother with two kids of her own. Now that I have Jack, I can appreciate more the sacrifices she makes for us."
Taylor believes that motherhood has made Birk-Jarvis better than ever. "She's back stronger," says Taylor. "I think the strength that she's gained mentally and emotionally from having a baby and being a mom, it's going to pay huge dividends." This strength is already showing. In her first meet back, Birk-Jarvis finished first in the 5K with a career-best time of 17:00.9.
Birk-Jarvis hopes all her sacrifices will be an example to Jack. "I want him to look back and think, 'My mom didn't quit, even though she had me,'" she says. "Hopefully, he thinks, 'Oh, that's cool my mom graduated from BYU,' and . . . he'll know that I did it so he can do it."