---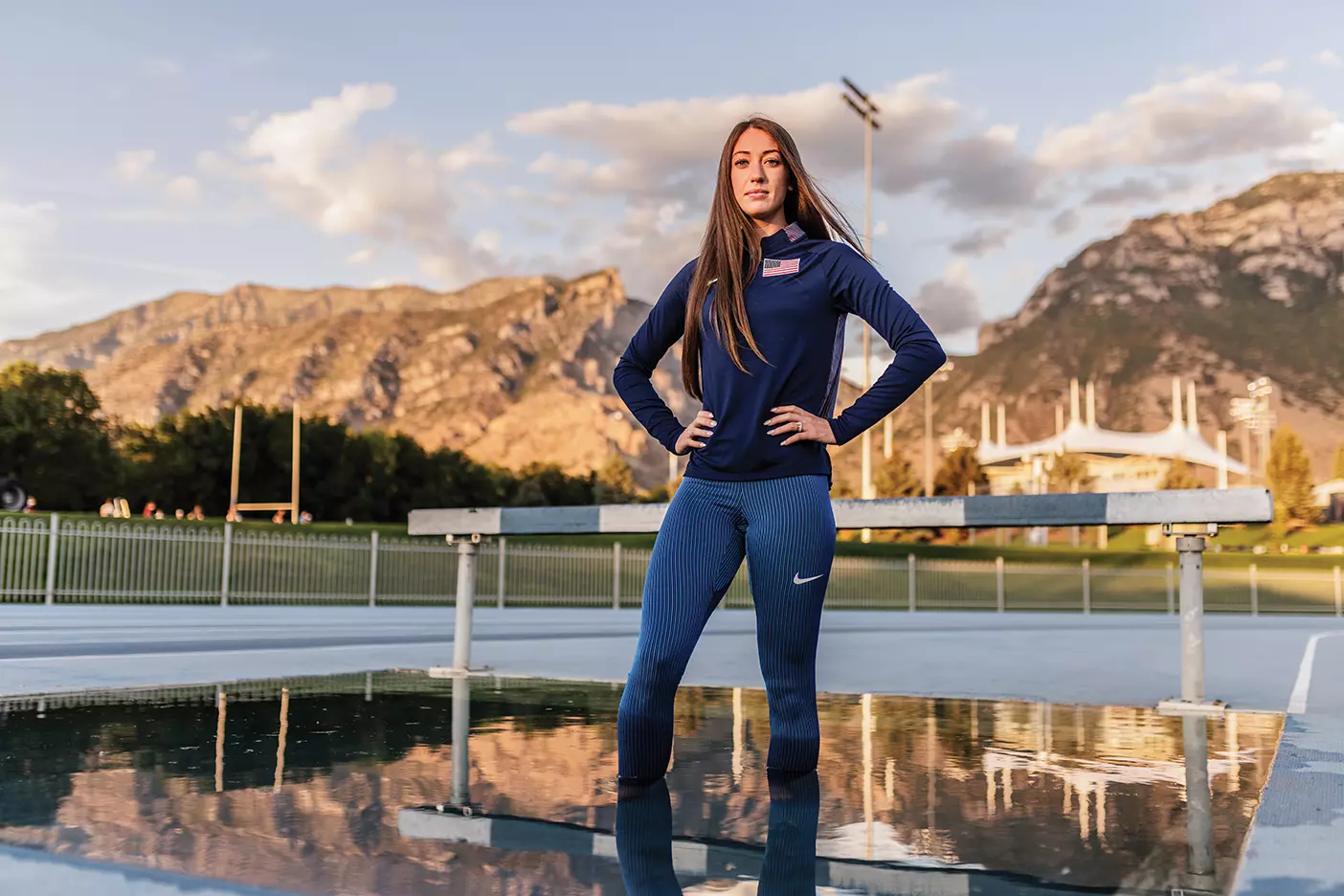 As the steeplechasers toed the line at Hayward Field, Courtney Wayment's (BS '20) heart raced in anticipation. After a promising freshman year on BYU's cross-country and track teams, Wayment found herself at the 2017 NCAA Outdoor Track and Field Championships in Eugene, Oregon.
Only Wayment wasn't on the track. Having come up short at regionals, she was there watching from the stands. Although she was riveted on the race—she still remembers every detail—her biggest memory is feeling longing and resolve: "I remember being really sad because I was like, 'Oh, I would love to be on that track. I would give anything to be racing in that race.'" And she made herself a promise: "One day, I'm going to be there and I'm going to be the national champion."
That resolve was tested the very next year, when Wayment was sidelined by a stress fracture. After not running for five months, she nearly called it quits in a midnight phone call to Coach Diljeet Taylor. "I want to stay with running," she explained, "but all I'm getting is heartache." In the hours-long discussion that followed, Taylor counseled, "Keep the faith, keep the faith."
After another injury and then COVID-19 delays, Wayment's time finally came. In June 2022 Wayment was back at the NCAA Championships steeplechase finals in Eugene, this time with a place on the track, this time as a favorite to win. Even so, nobody but perhaps Wayment and Taylor anticipated her stunning performance.
As she cleared the last water hurdle and rounded the final turn, she was so far ahead that the camera operator struggled to keep both her and the next-fastest runner in the frame. In her final collegiate race, Wayment streaked down the home stretch with powerful strides and flying fists, crossing the line at 9:16.00. She'd beaten the collegiate record by more than eight seconds and run one of the fastest steeplechase times ever recorded by an American woman. It was Wayment's fourth national title—having won indoor championships in the 3000m and 5000m and anchoring BYU's distance medley relay team.
Now running professionally, Wayment sometimes lets a mid-race smile slip through her steely game face.
"She is the most passionate person about this sport," says Taylor. "She does it with so much joy. It's never an 'I have to' but an 'I get to' attitude."
Wayment says her setbacks have made her appreciate how precious it is to get to run at this level. "I don't know how you can't have joy when you're racing."
Stats from a Stellar Collegiate Finish
8.41 Seconds: Wayment's 2022 NCAA championship steeplechase time of 9:16.0 blew past the previous record (9:24.41), which had stood for six years.
4 Titles: With NCAA championships in the steeplechase, indoor 3000m, indoor 5000m, and indoor distance medley relay, Wayment has won more NCAA titles than any other female BYU athlete.
2nd: Wayment was the steeplechase runner-up at the US Track and Field Championships, her first competition after BYU. With a new personal best of 9:12.1, she won a place on the United States world championship team.