---
On the third floor of the Harold B. Lee Library, a small group of students clusters around a bank of computers loudly discussing a group project. And even though this is the library, no one is quieting them or giving them dirty looks. In fact, another group is seated at the table next to them, designing a poster, and a library employee in a blue vest joins in the conversation when needed. A blue sign with "No Shh! Zone" printed in white letters is posted nearby. Welcome to the Information Commons.
"In the past students had to go different places to get different types of services," explains Therrin C. Dahlin, '73, assistant university librarian for public services. "They would go to the library to look up an article, somewhere else to get a computer, somewhere else to get computer support." In feedback from students and faculty about the library and the services it offered, the library found that students needed places to meet for group projects where they had access to today's current technology. The library listened and, with the help of the Office of Information Technology and the Center for Instructional Design, opened the Information Commons in February 2004.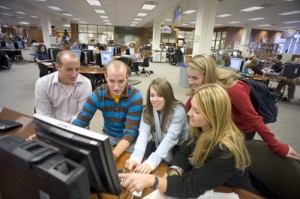 "We want to continue giving the excellent reference services we've given in the past," says Dahlin, "but we've added extra technology support services, particularly with productivity software. The idea is that a patron can go in to work on a paper or a project and not only get help finding library materials but put the information in a paper, print it, and do a PowerPoint presentation based on that paper."
In addition to tables and computers available for group work, the Information Commons features creative-learning rooms supplied with projectors, laptops, and other technology. "In one of the rooms you can project a PowerPoint slide or a graphic and draw on the board to make changes. Those changes can then be downloaded and put in electronic format," says Dahlin.
Another available resource is the publication lab. "If you do a great presentation or article and want to try to get it published, you can go to the publication lab," says Dahlin. "They will help you edit your paper, prepare it for publication, and suggest publishers you might send it to."
Dahlin says the library is seeking to expand the popular information commons by creating satellites. More collaborative stations will be put in the periodicals room and the social sciences section of the library, while additional creative learning rooms will appear in the periodicals, humanities, and management areas by April 2005.