The Alumni Association recognizes alums for lifelong learning and service.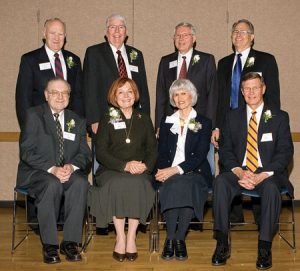 At its annual awards luncheon in March, the Emeriti Alumni Association honored eight alumni for their service to communities, professions, church, and family. Award recipients included Dell K. Allen (MS '66) of Logan, Utah; Marilyn McMeen Brown (BA '62) of Springville, Utah; C. Max Caldwell (MA '71) of Lehi, Utah; Gordon G. Conger (BS '59) of Bellevue, Wash.; Lloyd Brent Dickson (BS '63) of Sunnyvale, Calif.; Nan Greene Hunter (BA '61) of Oakland, Calif.; Norman L. Nielsen (BS '63) of Orem, Utah; and Jerry C. Washburn (BA '69) of Orem, Utah.
Allen enjoyed a distinguished career at BYU, where he was an engineering professor and was honored with a Karl G. Maeser research award. Among other achievements, Allen received the Governor 's Medal for Science and Technology and was awarded a software patent on the first knowledge-based generative process planning system, which was used by more than 120 companies around the world. He teaches a manufacturing processes course at Utah State University.
Brown has written several novels, nonfiction books, and plays reflecting LDS culture. She has received many awards, including first prize from the Utah Fine Arts Council in 1991. She was the cofounder of the Villa Playhouse Theater in Springville, and she established a $1,000 annual award for Utah novelists, administered through Utah Valley University.
Church service typifies much of Caldwell's life: he was a member of the Second Quorum of the Seventy, taught seminary, was on the BYU religion faculty for nearly two decades, and has performed more than 500 temple sealings. He served in the U.S. Army as a second lieutenant and completed a 13-month tour of duty in Korea. He also served in the U.S. Army Reserve.
Conger was a partner in a Seattle law firm and chief legal counsel at KIRO Television. He has been a bishop, president of the Bellevue Washington Stake, an Area Seventy, and a member of the North America Northwest Area Presidency. He has volunteered for Church public affairs and was the first Latter-day Saint to serve on the Seattle Interfaith Council.
Dickson, an engineer, established a business so he could employ members of his family and ward; the electronics firm he created does business worldwide. Dickson served a mission with his wife in England and is patriarch of the Los Altos California Stake.
Hunter combined her love of children and learning by founding a private school in San Jose, Calif., 27 years ago. It fulfilled a dream she had as a young woman of starting a school where children could enjoy drama, fine arts, and sciences and discover a love of learning. Her educational service prompted the Silicon Valley Women's Club to give her its Women of Achievement Award in 1991.
Nielsen took the helm at the Scera Center for the Arts in the 1970s and transformed it from an aging Orem landmark into a vital community center. He built the Scera Shell amphitheater and spearheaded the expansion of the 75-year-old arts facility. He also served in the Utah House of Representatives and was the director of the Miss Utah Pageant for nearly 20 years.
For most of his adult life, Washburn served his hometown of Orem, Utah. He has been its mayor since 1999, served as president of the Orem Chamber of Commerce, and was one of the founders and chairs of the Commission for Economic Development in Orem. For many years he owned a car dealership, and he has served on many community and state boards.
---
Learn about other emeriti activities at alumni.byu.edu/emeriti